Iranian President Hassan Rouhani Reaches Out to Christians; Leaders Reject 'Hollow Words'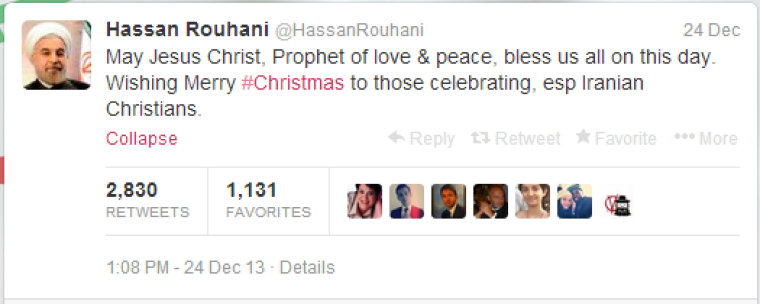 Iranian President Hassan Rouhani reached out to Christians over the Christmas holiday in three visible ways. But Christian leaders have denounced his "hollow words."
In a Christmas statement, Rouhani "wished a new year full of cooperation, peace, security and tranquility for the Christians," Fars News reported. He also reached out to Christians through his Twitter account, proclaiming, "May Jesus Christ, Prophet of love & peace, bless us all on this day. Wishing Merry #Christmas to those celebrating, esp Iranian Christians."
But some were wary of his seemingly friendly words especially as Christians, including Iranian American Christian pastor Saeed Abedini, continue to be persecuted.
"The words of President Hassan Rouhani ring very hollow in the light of the continuing arrest, sentencing and imprisonment of Christians in Iran," Jerry Dykstra, director of media relations for Open Doors USA, told The Christian Post on Thursday.
Dykstra insisted on Rouhani's falseness. "If he truly wants to walk the talk, he would release the reportedly dozens of Christians languishing in terrible conditions in Iranian prisons, especially releasing them during the Christmas season," the Christian representative declared. "Iran is ranked No. 8 on the 2013 World Watch List of the worst persecutors of Christians and I don't expect that ranking to change much when the new list comes out on Jan. 8, 2014."
Rouhani, who has been described as a moderate, was elected this year to succeed Mahmoud Ahmadinejad, a hardline religious conservative.
Jordan Sekulow, executive director of the American Center for Law and Justice, also denounced Rouhani's outreach as false. "Once again President Rouhani's words do not match his actions," Sekulow wrote in a statement to The Christian Post on Thursday. "His statement wishing Christians health, success and happiness in the new year is nothing more than his continued push to redefine his radical regime in an effort to make it appear more moderate on the world stage."
"By continuing to hold American Pastor Saeed Abedini in prison for more than a year simply because of his Christian faith, Iran continues to show its blatant disregard for religious freedom and human rights," Sekulow declared.
Abedini was detained on Sept. 26, 2012, on the grounds that his Christian activities threatened Iran's national security. A Facebook group calling Christians to "Pray for Pastor Saeed Abedini" has garnered over 21,000 "likes."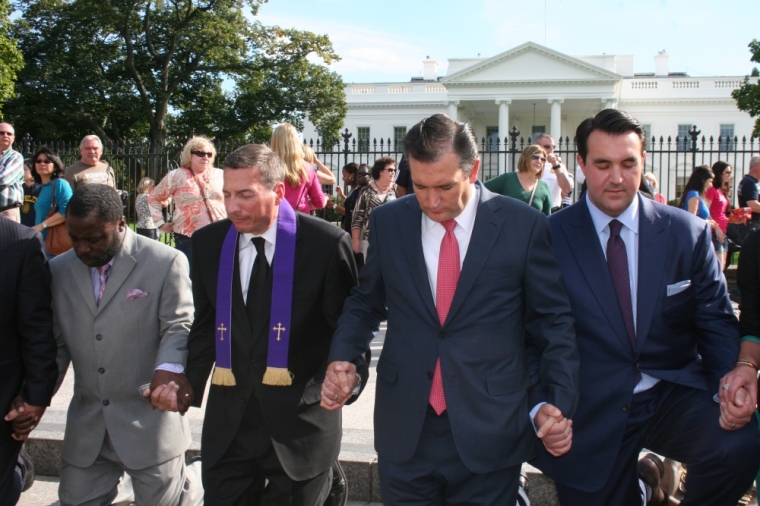 Sekulow elaborated on Iran's poor treatment of Abedini. "Pastor Saeed's health continues to deteriorate and his captors refuse to provide him with prescribed medication," the ACLJ leader explained.
Abedini is currently in Iran's deadliest prison, Rajaï Shahr, where his life is constantly threatened. Early this month, Abedini was robbed at knifepoint in prison.
In September, Sekulow led a prayer vigil for Abedini, attended by Texas Senator Ted Cruz, who urged President Obama to renew the call for Abedini's release.
Sekulow said if Rouhani was "sincere about his wish for Christians – his wish for health, success and happiness – he would release Pastor Saeed immediately so he could be reunited with his wife and children without delay."
The Rev. Majed El Shafie, a human rights activist who fled Egypt after nearly being killed for his conversion to Christianity, was also unconvinced by the Iranian president's words.
"President Rouhani's statement does not fool us," Shafie, founder of One Free World International, said.
"If President Rouhani really wants to show solidarity with the Christian community in Iran, not only does he have to release Pastor Saeed Abedini, but he must stop the persecution that is happening to Christians there every single day," Shafie contended. He highlighted the forgotten martyrs in Iran, noting that Abedini is just one of many suffering in that country.
According to Mohabat News, the Revolutionary Court of Tehran sentenced another pastor to 3½ years in prison this past month. The Rev. Vruir Avanessian, an ordained Iranian minister of Armenian heritage, is suffering from serious heart disease and diabetes, and undergoes kidney dialysis three times a week.
"The court was fully aware of Rev. Avanessian's medical condition and issued a harsh sentence despite such prior knowledge of his health," the news organization reported. It added that "one of the most important presidential campaign promises of [Hassan Rouhani], the current President of the Islamic Republic of Iran, was the improvement of the conditions of the ethnic and religious minorities of Iran."
"This promise has so far remained unfulfilled," the report concluded.