Former 15-Y-O ISIS Fighter Details Islamic State's Dangerous Training Process of Child Soldiers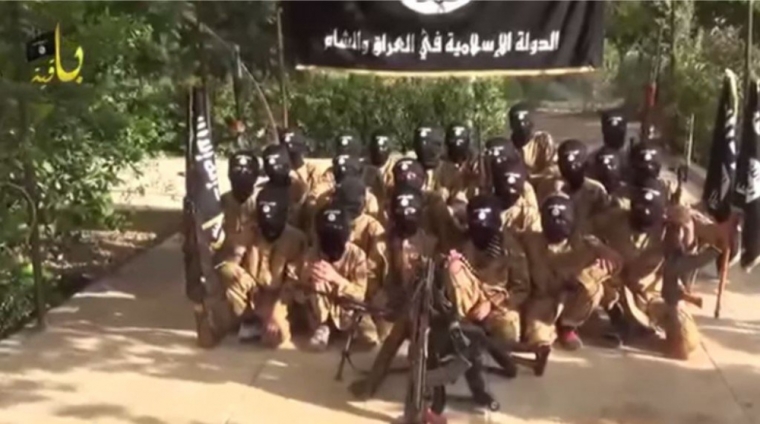 Recent testimony from a former teenage ISIS fighter is providing further insight into the unusual training process that the Islamic State is using to prepare hundreds of children to join the group's military and police ranks. The youth's account also shows how children are being cruelly utilized once they complete the training.
As ISIS has posted much to its social media accounts bragging how it is training the "cubs of the Islamic State," a 15-year-old former jihadi, speaking under the pseudonym of "Yasir," told CNN's Arwa Damon earlier this week that ISIS' training of child fighters requires one month of separation from loved ones, and also includes intense religious indoctrination and deadly military exercises.
Additionally, Yasir's testimony highlights how ISIS is putting child fighters at direct risk of harm once they pass training and join the ranks by forcing them to stand guard while wearing suicide vests.
Yasir originally got involved in the conflict when he and his father joined the ISIS-affiliated al-Nursa Front. Once ISIS took control of the Syrian city of Deir Ezzor, Yasir said he and his father swore allegiance to the Islamic State.
Upon pledging his allegiance to ISIS, Yasir was isolated from his father and taken to a training camp where he could be given a full month of proper jihadi training and where he was not even allowed to see or speak to any friend or family member.
"I spent a month without seeing my family or anyone that I knew," Yasir said. "It was forbidden to see or speak to anyone."
Yasir said that he was joined in the training by about 100 other kids and they would undergo intense religious schooling designed to ingrain ISIS' radical and violent brand of Islam in their young, naive minds.
In describing the military training, Yasir explained that the training was so brutal that if he or any of the other trainees were to fall behind in an exercise they would be at risk of being shot.
"We used to crawl under webbing. There was fire above it, and we would be firing our weapons. We would jump through large metal rings and the trainers would be firing at our feet and telling us if we stop we will be shot," Yasir said. "I was very careful not to stop running, I didn't stop, even if I was exhausted, out of breath, I didn't stop."
Upon completion of the training course, Yasir was sent home and had to begin reporting for duty for the guard position that militant leaders assigned him to.
On a daily basis, Yasir said that ISIS leaders would force him to wear an explosive suicide belt and gave him a pistol and AK-47 semi-automatic rifle to stand guard with. Yasir did not elaborate on what kind of guard position he was asked to fill, but said he lived in fear that the suicide belt would accidentally explode. Nevertheless, he said he felt a sense of pride and purpose in wearing it.
"When we arrived they gave us guns and explosive belt and the radio," Yasir said. "The belt has fertilizers, TNT, and it is prepacked with shrapnel and it has a detonator cord on the side."
He said his mother even "begged" him to leave ISIS, but having had ISIS' violent message indoctrinated in his mind, Yasir refused.
"[My mother] would say that I am too young. 'Please leave, you have nothing to do with this,'" Yasir said. "I would tell her this is jihad and all of us must do it."
Yasir's father eventually decided that ISIS' mission was not one of true Islamic faith and that he and his son had to flee from the conflict. The teen said his father tricked him into fleeing to Turkey with him.
At first, Yasir was so entranced by the religious indoctrination he received that he did not agree with his father's decision to desert the Islamic state.
"I was asking him 'why are you doing this? What happened?'" he said. "My father turned to me and said they are not on the right religious track."
Yasir initially wanted to go back to ISIS to join the friends he met and continue getting paid.
"My friends and buddies are all there. They would pay me $150 a month. My father, $1,000," Yasir said.
Although Yasir initially wanted to return to the caliphate, he said that he now regrets joining the Islamic State.
While it is unknown how many child soldiers have joined the Islamic State, the United Nations says it has seen reports that children as young as 12 are being used as ISIS child soldiers.
As IJR Review points out, children as young as five are being influenced by ISIS members, who give the children toy guns and encourage them to play "the execution game." The game entails having kids putting the toy guns to the back of pretend captives' heads and practicing execution.