Former American Idol Finalist Danny Gokey Pours Pain, Hope Into First Book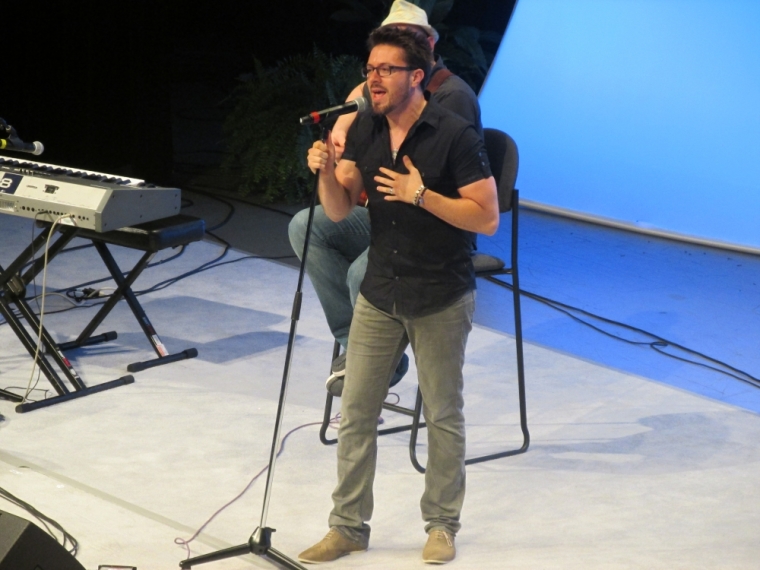 ST. LOUIS, Mo. – When former "American Idol" finalist, now country music singer, Danny Gokey's first wife Sophia died just a month before he auditioned for the iconic show in 2008, he wanted to wallow in the pain of a loss he thought he would never get over.
"It was almost like, at that point I doubted everything I knew about God, I doubted everything that I've ever walked [spiritually] for because you don't understand that me and Sophia, my first wife, we believed that God was gonna do a miracle and He didn't show up," Gokey told an audience that had gathered for the "New Voices Showcase" segment of the International Christian Retail Show that began at the America's Center Convention Complex in St. Louis on Sunday.
"It really messed me up on the inside because everything I believed all of a sudden I started questioning," he added. Gokey didn't understand what was happening with his life then because he was in the middle of a story for a book that God had told him he was going to write in 2007.
This fall, Gokey is expected to deliver the book God spoke into his life five years ago titled Hope In Front of Me.
"Some of you are probably wondering in your head, 'why did Danny Gokey write a book?' I was thinking the same exact thing when God told me in 2007, that I was going to write a book. I thought it was the oddest thing," he told the audience.
"When the Lord spoke it to my heart, I said 'God, you know I love you Lord and I serve you with all my heart but who would want to hear anything that, I'd have to say? Little did I know, a year from that point I was gonna lose my first wife, little did I know that a year from that point I was gonna be trying out for a show called 'American Idol,'" he explained.
"I had no idea what I was about to face. But God speaking that word to me, and though I doubted it so many times, speaking that word to me became a point of hope."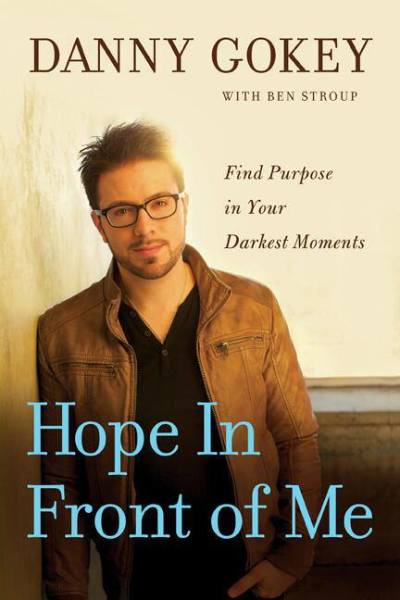 Hope In Front of Me is expected to take readers on a very personal journey into Gokey's loss. "I don't know how many people have experienced loss here but I experienced loss on a level that most people don't experience at such a young age. You know I tell people I feel like I've lived a life twice my age of what I've had to experience," he said.
"When I tried out for 'American Idol' it was a month after she (Sophia) passed away. People asked, 'why'd you do that?' Believe me, I didn't want to try out for this show. But I had made a promise to my wife that year that I was going to try out for 'American Idol' and when she passed away, everything inside of my heart said I don't want to try out for the show because I had nothing to say to anybody," Gokey recalled.
"I was so hurt, I wish I could go the next year but if you don't understand my story, is that I was 28 at the time and you only have until 28 years old to try out. So I was placed in a rock and a hard place and little did I know that God was writing my story before I got there. He put me in that place."
"And so I tried out for the show, very broken, very hurt," he continued. "I remember I started going through the 'American Idol' process. I remember when I woke up it felt like this depression came around me, like I was falling in a black hole … I was falling because I had nothing to stand on."
Despite his depression, Gokey soldiered on as he continued advancing on the show, finally making it into Hollywood week. "Hollywood week was probably the most difficult weeks of my depression going through the loss of Sophia. I remember right after Hollywood week, I told God, 'God, I do not want to be on the show. Because I have nothing to say to anybody and I was mad and I was angry," he said.
"I was mad at God and I didn't want to be mad at God. I mean you could accuse me of being a horrible person but that's what I was. And literally, this is what the Lord told me, He said, 'let go,'" noted Gokey.
"He gave me the verse, 'be still and know that I am God.' And I kept hearing it but didn't know what it meant. So I looked it up and saw it in the original Hebrew format that it literally was giving a picture. Sometimes, we hang onto stuff. And sometimes the things that we hang onto are the very things that drag us down."
The word became Gokey's turning point out of depression and put him on the road to recovery and reconciliation. "I remember I sat down on the end of my bed because this thing was destroying me. I sat down on my bed with tears coming from my eyes. I said 'God, I refuse to let this thing destroy me,'" said Gokey who explained that he was literally "hanging onto her casket being buried with her" by holding onto his depression.
The relief he experienced when he finally began to let go of his pain and loss immediately began delivering positive results for Gokey.
"At that moment, the moment that I let it go, it's almost as if someone pulled a plug from my heart. And bitterness, toxic anger, all these toxic emotions that I started feeling started pouring out of my heart," said Gokey who now believes God allowed him to go through what he went through in preparation for writing Hope In Front of Me.
"I'm not trying to be cheesy, but I talk about this in the book, your heart is your real set of eyes and if your heart is poisoned with bitterness you start seeing the whole world through that lens. And the more I started to let it go I had a new look on life," he said.
One of the things that came out of Gokey's journey through grief was a nonprofit in honor of his first wife called Sophia's Heart. The nonprofit focuses on helping homeless families get off the street. Last year, Sophia's Heart helped 25 families and this year they are on track to double that number.
"I had no idea. It's so cool how God writes the story. You can't see it and it doesn't make sense but that's why you've gotta live with the points of hope," he highlighted.
"And that's the whole premise of the book because there were so many points of hope."