Former Pro-Wrestling Star Shawn Michaels on Born-Again Christian Faith, Drug Addiction, WWE's 'Attitude Era' vs. 'PG Era'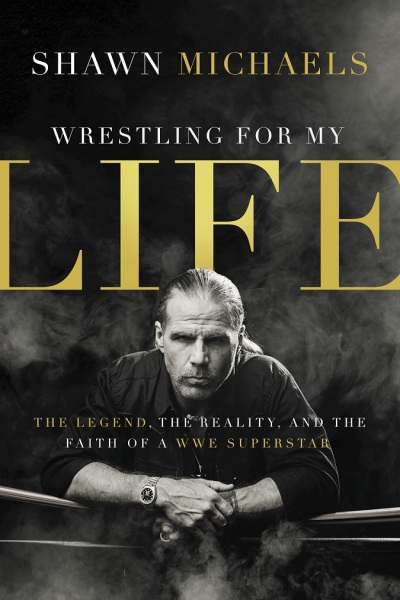 A retired World Wrestling Entertainment superstar has written a new book documenting his coming to Christ and how it affected his public and private life.
Shawn Michaels, a pro-wrestler whose accolades include winning the world heavyweight title three times, talks about his Christian faith in the Zondervan book Wrestling For My Life: The Legend, the Reality, and the Faith of a WWE Superstar.
In an interview with The Christian Post, Michaels explained that the inspiration for Wrestling For My Life came while he was writing up a book back in 2006 about his career for the WWE.
"I thought that would be fun to be able to do one someday based solely on my faith and that the things that are truly most important in my life, that being my faith and my family," said Michaels.
"[I'm] getting the opportunity to do it five years after I retired again. [I'm] in a place where you have a better opportunity to sit down, take your time, and reflect on everything as opposed to 2006 when I was still in the midst of doing it."
Unlike the previous book which was "more geared toward the wrestling fan and wrestling in general," Michaels said this new book focuses more on "my journey and my testimony," and that now is "the right time to do it."
The Heart Break Kid
Born Michael Shawn Hickenbottom in 1965 into a military family that eventually ended up in San Antonio, Texas, Shawn Michaels debuted in the WWE in the 1980s.
Starting out as part of a tag team known as the Rockers, Michaels went into singles competition in 1991 and garnered many nicknames, including the "Heart Break Kid."
On multiple occasions Michaels won the world heavyweight title, including for the first time at Wrestlemania XII in 1996.
Raised Catholic, Michaels recounted in his book how during this time he believed that there was a Jesus Christ but that spiritually he did not know him. "As long as I did the good things associated with religion, I thought I was in good shape spiritually, too," wrote Michaels regarding his upbringing.
During the 1990s, Michaels was known for his over the top behavior toward his WWE peers and outside the ring, writing that even before joining WWE he "began to drink more and started taking drugs and pills and chasing women."
After suffering from pain pill addiction and being forced to retire from WWE in 1998 due to recurring health problems, Michaels at the urging of his wife sought spiritual help.
"I was raised Catholic and I knew of Him and certainly what He did but I never truly experienced knowing Him," said Michaels to CP.
"I found you can believe the man in history that is Jesus who walked the earth. It's a whole different thing altogether to know Him as the Son of God to have reconciled yourself to Almighty God."
The Return
In Wrestling For My Life, Michaels documented that upon being born again he pulled himself out of addiction and was determined to be a strong husband and father.
In 2002, Michaels returned to the WWE to have a second run at being a pro-wrestler. His coworkers and the roster noted very quickly that he had changed greatly since 1998.
In their forwards written for Michaels' book, fellow WWE stars Paul "Triple H" Levesque and "Stone Cold" Steve Austin recalled the positive change they saw.
Michaels told CP that he speculated many in WWE were happy for his born again experience for secular reasons, including his improved demeanor and self-control. "From the standpoint of being happy for me, my life was not headed in a great direction the last time I had been around so just the fact that things were better for me, I think they were happy about that."
Michaels eventually retired again in 2010, with his last match being against the Undertaker at Wrestlemania 26.
"Simply retiring when you're still healthy, you're still having good matches, but you feel like it's time to step away," said Michaels to CP. "Walk away from a very big paycheck just to go home to be a husband and a dad, that is a tough thing in that line of work and I think a lot of livelihoods it just doesn't happen that often."
Family Friendly
Michaels is not the only one in the professional wrestling business that has put more consideration toward family. During the late 1990s, WWE programming became more graphic in its violence, language, and sexual content in a time period called the "Attitude Era."
The change in creative direction was denounced by many social conservative groups, including the Parents Television Council.
However in recent years, much to the chagrin of many Attitude Era fans, WWE has toned down its graphic content. Some have labeled the present product the "PG Era."
When asked his opinion on the current trend in WWE content, Michaels replied that "the wrestling business for the most part has always been more PG than it was the Attitude Era."
"It was very successful and lucrative for the guys in it at that time but when wrestling first went sort of mainstream so to speak in the 80s, with Hulk Hogan in it, that was certainly more PG than it was Attitude Era," said Michaels.
"I would say that way back when in the 50s when it was again on at primetime it was the Gorgeous George era, it was more, certainly more realistic but it wasn't Attitude Era."
Michaels added that at present having a "more family friendly" WWE product is preferable "from a dollars and cents standpoint."
"People talk about the Attitude Era as if it was some kind of longstanding, it was a four-year run out of a line of work that's been around for fifty-plus years," said Michaels.
"I would always have to say that ultimately everything is done more for the bottom line of making a profit. WWE is more profitable if it appeals to more people."
Published by Zondervan and co-authored by David Thomas, Wrestling For My Life was released on Feb. 10.