Franklin Graham: America's New Enemies Are 'Progressives' and 'Godless Secularism'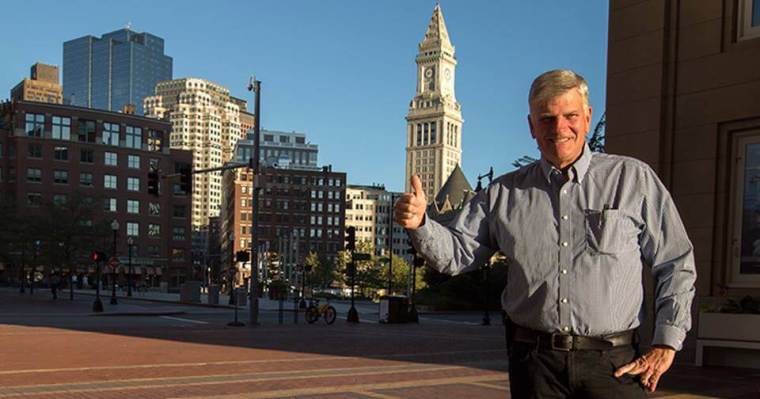 Evangelical preacher the Rev. Franklin Graham says America's enemies today are "godless secularism" and those who "call themselves progressives."
Graham reported on his latest Decision America Tour prayer rally in Boston on Tuesday, which he said on Facebook was attended by over 3,000 people on the Capitol grounds. Graham said that he and the attendees prayed for God's forgiveness and for the healing of America, as he also encouraged Christians to run for office and vote in the coming elections.
In an earlier post, he reflected that Boston is known as the "cradle of liberty" due to its historical connections to the The American Revolutionary War.
"In 1775, Paul Revere's famed signal lanterns hung from the Old North Church steeple to warn that the enemy was coming. I'm not hanging lanterns, but I am going state to state warning the people of our nation about the enemy," Graham wrote.
"The enemy is not the British today, but godless secularism and people who call themselves progressives who are undermining the morals and the God-given biblical foundation that our Founding Fathers gave this nation. These foundations are under attack, and the election coming up is so critical for America's future."
He revealed that Boston is the 39th state capital he has visited in his Decision America Tour, with 11 more to go before the tour is completed. The evangelist urged Christians to pray and vote in "record numbers," which he said could make history again for the good of the nation.
Graham, who serves as president of the Billy Graham Evangelistic Association, has warned on a number of occasion that America is in trouble for what he says is the 'celebration of sin,' such as the Obama administration's embrace of gay marriage.
After reports came out earlier this month that Vice President Joe Biden presided over a gay marriage ceremony between two White House aides, the evangelical leader expressed strong criticism for the decision.
"He [God] is clear in His Word that marriage is between a man and a woman and that homosexuality is wrong," Graham wrote.
"Sadly, as a nation we have a reputation for celebrating what God has defined as sin, and there will be a price to pay," he added.
Back in March, Graham said that the goal of the Decision America Tour is to restore the will of God in America's political debate.
"The only hope for this country is God and we have taken God out of the political debate, and we have taken Him out of the public space, and I want to put Him back in," he told "Fox & Friends" at the time.