Franklin Graham: 'We've Taken God Out of the Political Debate ... I Want to Put Him Back In'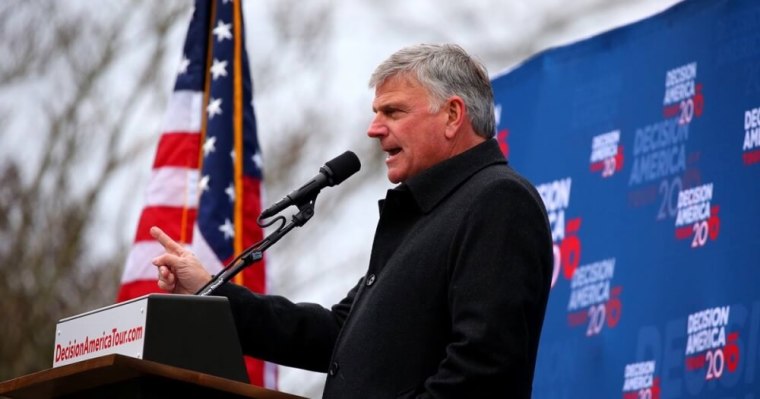 While speaking on his 50-state 2016 Decision America Tour in nationally televised interviews this week, Leading evangelist Franklin Graham says he aims to encourage evangelical Christians to run for local public offices so that the will of God can be restored in America's political debate.
Graham, who is the son of legendary evangelist Billy Graham and the president of the Billy Graham Evangelistic Association, is in the midst of a tour to all 50 state capitals where he holds prayer rallies at the steps of each capitol building to ask Christians to pray for the forgiveness of America's sins and for them to get involved in America's political system.
Graham warned during an interview with Fox & Friends Wednesday that God has been taken out of the political conversation in the United States. He stated that his goal with the tour is to put God back in the political conversation.
"The only hope for this country is God and we have taken God out of the political debate, and we have taken him out of the public space, and I want to put him back in," Graham said. "We are asking people to come to the capitol steps and we are going to all 50 state capitals and we asking people to join me."
"We actually spend half the time in prayer — people just holding hands with the person next to them and praying to God, confessing the sins of our nation, confessing our own sins," Graham continued. "This is what Nehemiah did in chapter 1 of Nehemiah and God gave him favor, and we need God's favor."
As Graham has already held rallies at a number of state capitals, Graham is scheduled to host three prayer rallies next week. According to the tour schedule, Graham will hold a rally in Denver, Colorado on March 15, another prayer rally in Santa Fe, New Mexico on March 16 and one in Phoenix, Arizona on March 18.
An an interview with CNN's Carol Costello, Graham explained that evangelical Christians are angry with the political system. The Samaritan's Purse CEO added that the only thing that can fix the broken system is God.
"There is a lot of anger in this country but I am angry too. I am angry at the Republicans and I am angry at the Democrats," Graham asserted. "They are angry at the government and they are angry at the politicians. They're voted to go to Washington and then they end up doing absolutely nothing, just like the Republicans right before Christmas. They voted on the spending bill and they didn't even try to get anything. They just voted for it and went home. That is the kind of thing that I think the American voter is sick and tired of."
In order to reinsert God back into the American political debate, Graham is calling on evangelical Christians to do more than just pray but to also run for political office.
"I pray that God will give us leaders, not just in Washington. We need Christian men and women in politics. We need mayors, city council. We need Christians on school boards," Graham explained. "We need Christians at every level and I am encouraging people to run for public office. Run at the local level, the state level. Washington is broken. I think there is a lot we can do at the state level."
With a plurality of evangelical Christians supporting Republican frontrunner and billionaire Donald Trump for president in the 2016 election, Costello asked Graham why he thinks so many evangelicals are willing to put aside real estate mogul's sins and religious shortcomings to embrace his campaign.
"People are fed up and Donald Trump, to his credit, he is shaking up the Republican Party. The Republican Party needs to be shaken up and he is certainly doing that," Graham responded. "I am not going to tell [Christians] who to vote for but I want them to go to the polls and vote. Last time, I think it was 20 or 30 million evangelical Christians stayed at home. They didn't vote. That is a shame."
Graham argued that politicians can't take evangelical Christian voters for granted.
"The Republicans especially are going to have to understand they cannot take the evangelical vote for granted," Graham said. "The evangelicals would like to find a Christian or someone that understands their values and supports their values but more importantly, I think they are looking for a strong leader. I am not going to endorse any of them. I am not going to get behind any of them."