Franklin Graham Hails Trump Win as 'Biggest Political Upset' of Our Lifetime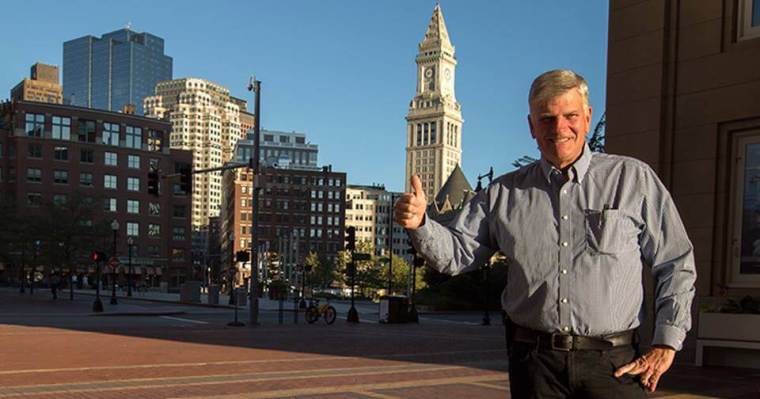 Evangelical leader the Rev. Franklin Graham has responded to what he called the "biggest political upset of our lifetime" in the face of Republican Donald Trump winning the U.S. presidential election, and said that America's new leadership will need daily prayers every step of the way.
Graham, who engaged with Christians around the country this year in his "Decision America" tour to all 50 state capitals, sent his congratulations to Trump and Vice President-elect Mike Pence on Wednesday morning.
"This election has been long, it's been tough, and it's been divisive. It's time to put that behind us. Now is the time to come together in unity and work together. Our nation has so many problems that need fixing. Even more important are the spiritual needs of our country," Graham wrote in a Facebook message on Wednesday. 
"Whether we are rich or poor, without Jesus Christ we are the most desperately in need, the poorest of the poor. We cannot ignore His hand and His supreme authority," he added.
Graham didn't endorse any specific candidate during his tour, but encouraged Americans to vote based on biblical values, declaring: "One thing is for sure, we need to pray for our new president, vice president, and our other leaders every day — whether we agree with them or not. They need God's help and direction. It is my prayer that we will truly be 'one nation under God.'"
Numerous times during his speeches in different states, Graham emphasized that he doesn't have faith in America's leading political parties.
"I have no hope in the Democratic Party. Before you Republicans start doing back flips, I have zero hope in the Republican Party. The only hope for this country is God," he said in October during a stop in Virginia, as reported by The Christian Post. 
The president of the Billy Graham Evangelistic Association and Samaritan's Purse spoke with CP in an interview ahead of the election, in which he said that despite the various controversies surrounding Trump, such as his lewd comments toward women, he believes the Republican to be a changed man.
"You may have to hold your nose and vote," Graham advised.
"I have people that say, 'Well, I don't like Donald Trump, I don't like what he says.' Well, I don't like what he said either, I promise I don't like it. But those are things that he said 11 years ago, not something that he said today. I think Donald Trump has changed. I think God is working on his heart and in his life. But people have to make up their own mind."
In one of his last messages to the nation before Election Day, Graham urged believers to keep praying that God will guide them "according to His will and purpose."
"God may choose to bless our country again, or He may bring judgment, which we deserve. My prayer is that He would show us His grace and mercy."