Franklin Graham: 'I Don't Hate Gays; God Defines Sin, Not Me'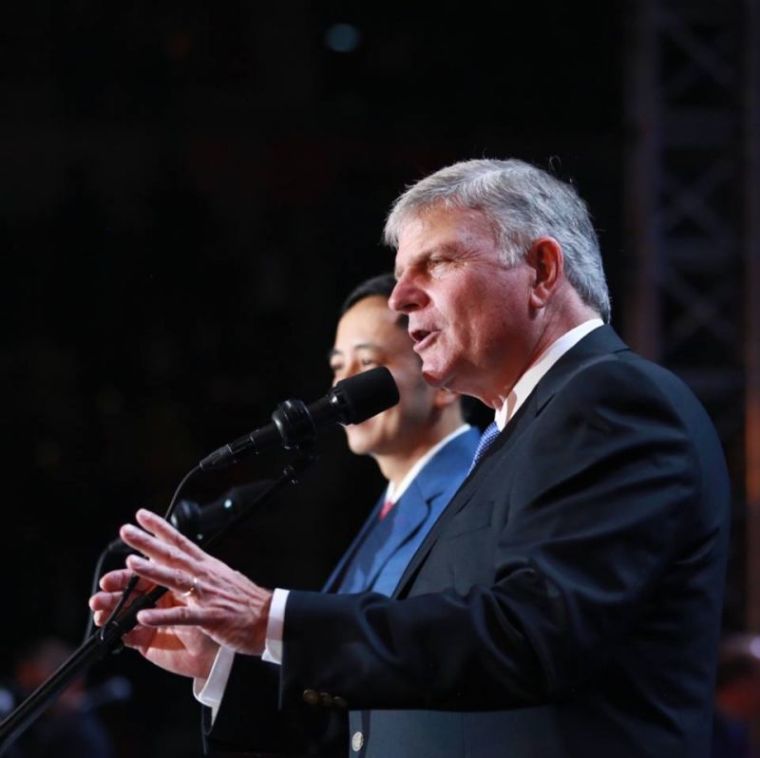 Evangelist Franklin Graham has insisted that he does not hate gay people, but said that LGBT activists need to "take it up with God" if they don't like homosexuality being called a sin.
"Why can't Christians have the freedom to say 'No' to what they want to say no to? The LGBT community continues to target Christians to try to get us to accept their lifestyle. It ain't gonna happen," Graham wrote on Facebook Wednesday, referring to Christian business owners being pressured to provide services for same-sex marriage ceremonies.
"God calls homosexuality sin — take it up with Him if you don't like it. He is the one who defines sin, not me. As a Christian of course I don't hate gays, I love them and want them to know the truth," he added.
"If they choose to live that lifestyle, they certainly have the freedom to do so in this country — but don't tell me what I have to believe or participate in."
The president of the Billy Graham Evangelistic Association and Samaritan's Purse linked to a KTNV report last week that said a California judge has ruled in favor of Cathy Miller, the owner of Tastries Bakery in Bakersfield, who is being sued for refusing to make a wedding cake for a gay couple.
"Here at Tastries, we love everyone. My husband and I are Christians and we know that God created everyone and He created everyone equal," Miller has said of her beliefs.
"It's not that we don't like people of certain groups ... there is just certain things that violate my conscience."
Graham pointed out that there will be another hearing in the case in February, and urged Christians "to pray for Cathy and for our religious freedoms to be upheld."
"The courts should never be able to force Christians to go against what the Word of God teaches," he added.
The evangelist's outspoken views on LGBT issues and radical Islamic teachings have prompted pushback, however, as earlier in December members of the U.K. parliament and over 6,100 people signed a petition calling authorities to deny him entry into the country.
The Change.org petition in question argues that Graham promotes "prejudice and hatred," with some local clergy also warning against his planned speech in September 2018 at the Lancashire Festival of Hope in Blackpool.
Gordon Marsden, a member of Parliament who represents Blackpool, has said that Graham might have violated the U.K.'s rules against hate speech.
"I think frankly the evidence is piling up that his visit to the U.K. ... would not be a good thing and not probably in my view a very Christian thing," Marsden said, claiming that the evangelist's beliefs were "incompatible with what Jesus said in the Bible."
A BGEA representative told The Christian Post in a statement at the time that Graham "is currently traveling in Vietnam, sharing the same message of hope he has been invited to share next year in England."
"The Billy Graham Evangelistic Association is working in partnership with local churches to hold an event next year in Blackpool. It will be a positive and encouraging event with music and a message from Franklin Graham about the hope that can be found through a relationship with Jesus Christ. It will be free and everyone is invited to attend," the statement added.