Franklin Graham: It's Time for the Confederate Flag to Be Taken Down, 'Set Aside as Part of Our History'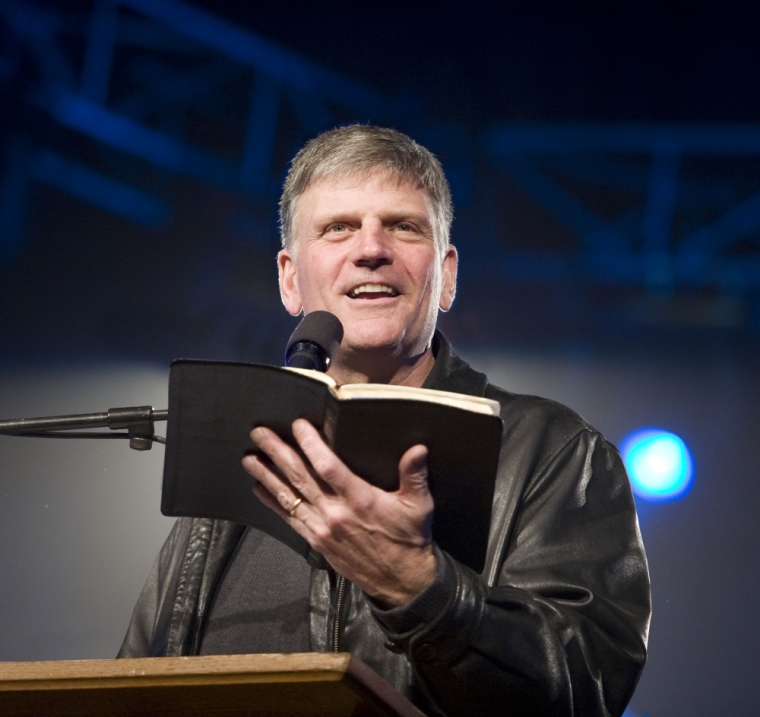 Leading evangelist Franklin Graham has joined the growing chorus of voices calling for Southern states to put the Confederate flag to rest and leave it in the history books.
After a white gunman killed nine African-Americans during a Bible study at the historically black Emanuel AME Church in Charleston, South Carolina, on June 17, numerous activists and leading voices from both sides of the political spectrum have called on states that raise or present the Confederate flag on government property to stop honoring a symbol of "hate."
Graham, a North Carolina native and president of the Billy Graham Evangelistic Association, took to Facebook this week to explain that even though some of his own ancestors were injured fighting for the South in the Civil War, the Confederate flag stands in the way of racial unity in America.
"My great-great-grandfathers fought for the South under the Confederate flag during the civil war — both were wounded at Gettysburg and lost limbs," Graham explained. "Growing up, many people in the South flew the Confederate flag; but I believe that it's time for this flag to be set aside as a part of our history."
In the last year, racial tension in America has risen after altercations with police led to the deaths of African-Americans such as Freddie Gray, Michael Brown and Eric Garner and stirred protests and violence in Ferguson, Missouri, and Baltimore because of what was perceived to be police abuse of force.
When you combine those incidents with the racial motivations behind Dylann Roof's shooting at the AME Church, Graham asserts that America needs racial unification more than it ever has before.
"We are all Americans, and we need unity today more than ever," Graham said. "Through faith in Christ we can have love and reconciliation with one another — regardless of race."
Although bigotry continues to exist in America, Graham contended Jesus can alter even the most racist of attitudes.
"Jesus Christ can change the human heart and take away the prejudice, racism, and hatred that lies within," Graham emphasized.
On Wednesday, Alabama Gov. Robert Bentley ordered the Confederate flag standing at the foot of a Confederate memorial on the state's Capitol grounds to be removed. Although the flag was quietly taken down without much attention around 8:20 a.m., Bentley admitted to reporters that he ordered the flag's removal.
"This is the right thing to do," Bentley said. "We are facing some major issues in this state regarding the budget and other matters that we need to deal with. This had the potential to become a major distraction as we go forward."
Also on Wednesday, Virginia Gov. Terry McAuliffe announced that the Confederate flag will no longer be allowed on any of the state-issued license plates. He ordered those who have Confederate flag license plates to get new license plates within 120 days.
"In the next 120 days, every license plate in the commonwealth with the Confederate flag will be eliminated," McAuliffe asserted.
In South Carolina, both Republican Gov. Nikki Haley and Republican U.S. Sen. Lindsey Graham, a 2016 presidential candidate, issued their desires to see the Confederate flag removed from the state's Capitol.
Although many people are calling for the extinction of the Confederate flag, there is at least one African-American conservative who feels that the movement to rid of the Confederate flag is filled with hypocrisy.
"It's absurd," former presidential candidate Alan Keyes told Newsmax TV. "The American flag, the one we revere, used to fly on slave ships plying the slave trade back and forth."
"Fifty, sixty years from now when America has, I pray, come to its senses about killing innocent babies in the womb, you think they ought to ban the American flag that now flies over that atrocity because people in this country were going down a path that sanctioned it as if it were some kind of right — when in fact it's the deepest kind of wrong?" Keyes continued. "We ought to be more forgiving of the history of our past because we're laying a record that is going to come in for deeper [scrutiny] in the future."