Franklin Graham, Religious Freedom Advocates Urge Senate to Confirm Pompeo as Sec. of State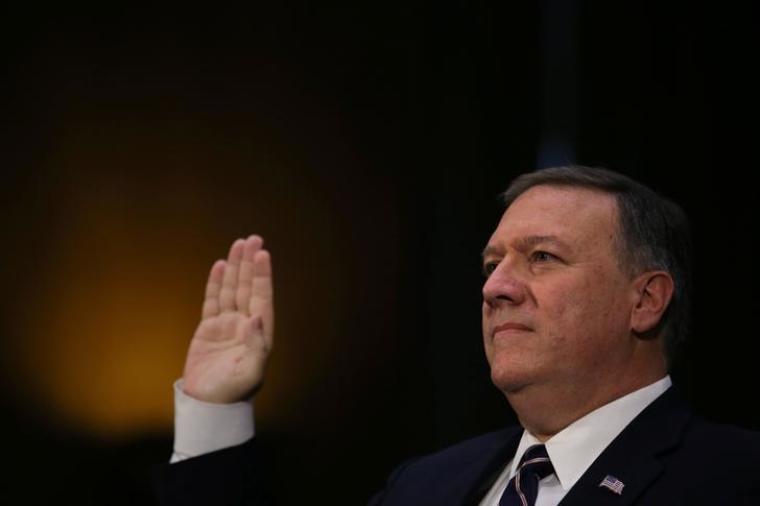 Leading evangelist Franklin Graham and 49 other religious freedom advocates are urging the U.S. Senate to quickly confirm President Donald Trump's nominee for secretary of state, Mike Pompeo.
On Monday, the Family Research Council announced that 50 religious freedom experts signed onto a letter that was sent to Senate Majority Leader Mitch McConnell, R-Ky., and Senate Minority Leader Chuck Schumer, D-N.Y. in support of Pompeo's confirmation.
Pompeo, the director of the Central Intelligence Agency and a former Congressman, was nominated to be the nation's next top diplomat last month after former Sec. of State Rex Tillerson resigned. A confirmation hearing before a divided Senate Foreign Relations Committee is scheduled for Thursday.
"Mr. Pompeo is a strong nominee who will make international religious freedom a foreign policy priority — a matter which is especially important given that we now know religious freedom, long protected for its own sake, is also intricately connected to the security and prosperity of nations themselves," the letter states.
"[D]issidents in China, Iran, North Korea, Sudan, Myanmar, Vietnam, Eritrea, and elsewhere need us now," the letter continued. "Just as President [Ronald] Reagan did back then, we, today, should boldly, clearly, and publicly state our support for human rights and religious freedom, and let every nation know we are prepared to defend these ideals."
The letter was signed by Graham, president of the Billy Graham Evangelistic Association and the evangelical humanitarian organization Samaritan's Purse. The letter was also signed by Family Research Council President Tony Perkins, former Congressman Frank Wolf, Open Doors USA President David Curry, China Aid founder Bob Fu and prominent human rights lawyer Nina Shea of the Hudson Institute.
Additionally, Muslim reformer Zuhdi Jasser from the American Islamic Forum for Democracy, and Faith McDonnell of the Washington, D.C.-based Institute on Religion & Democracy also attached their names to the letter.
The letter points to Regan's example from over 30 years ago when Natan Sharansky, a Jewish dissident in the Soviet Union, spoke out against the communist government and was imprisoned for the act.
"This dissident enlisted his wife and others in the fight for freedom, and they took his campaign to the West. He was likely only spared from execution because the Soviet government knew that Ronald Reagan knew — and cared — about his imprisonment," the letter reads. "On February 11, 1986, after President Reagan applied enough pressure on the Soviets, Natan Sharansky was freed, flown to West Germany, and then emigrated to Israel."
"Some of the very same people signing this letter knew Mr. Sharansky and assisted in the struggle for his freedom," the letter adds. "This compelling story helps us see why it is just as important today that the United States continue to defend human rights around the world."
The letter contends that because of Pompeo's security experience, he is especially equipped" to "advance American influence" and protect religious freedom and religious minorities.
"While Soviet-style Communism was the ideological challenge of President Reagan's time, radical Islam are the problems of our time," the letter explains. "Yet guns, bullets, and money alone won't do the job. Working with willing partners, we must cultivate religious freedom within communities the world over — and all of this helps achieve their security as well as our own security at home."
The letter concludes by asserting that a "sustainable, long-term peace" will only happen "if we actually make religious freedom a foreign policy priority."
"Mike Pompeo understands this and will make it happen, and should be confirmed as Secretary of State," the letter reads.
While the religious freedom advocates are pushing for the Senate to confirm Pompeo, the 54-year-old has come under scrutiny by many on the political left.
A coalition liberal activist groups have put pressure on Senate Democrats to block Pompeo's nomination.
Although Pompeo was nominated as CIA head last year with 14 Democrats voting to confirm his nomination, fewer are showing support for his latest nomination.
Sen. Tim Kaine of Virginia, a Democrat who voted to confirm Pompeo last year, told media that he has "serious concerns" about Pompeo's qualification to be secretary of state.
"I just want to understand his temperament," Kaine was quoted as saying. "I don't see a lot of evidence about diplomacy, so I want to get that."
Sen. Claire McCaskill of Missouri, another Democrat who voted to confirm Pompeo in his CIA position, said Tuesday that the job of secretary of state is "much broader in terms of policy considerations that are represented on behalf of our country."
Sen. Heidi Heitkamp of North Dakota told media that she needs to "find out where he's at in the committee before I make a decision."