Franklin Graham: Trump's enemies will hurt America, could spark civil war if impeached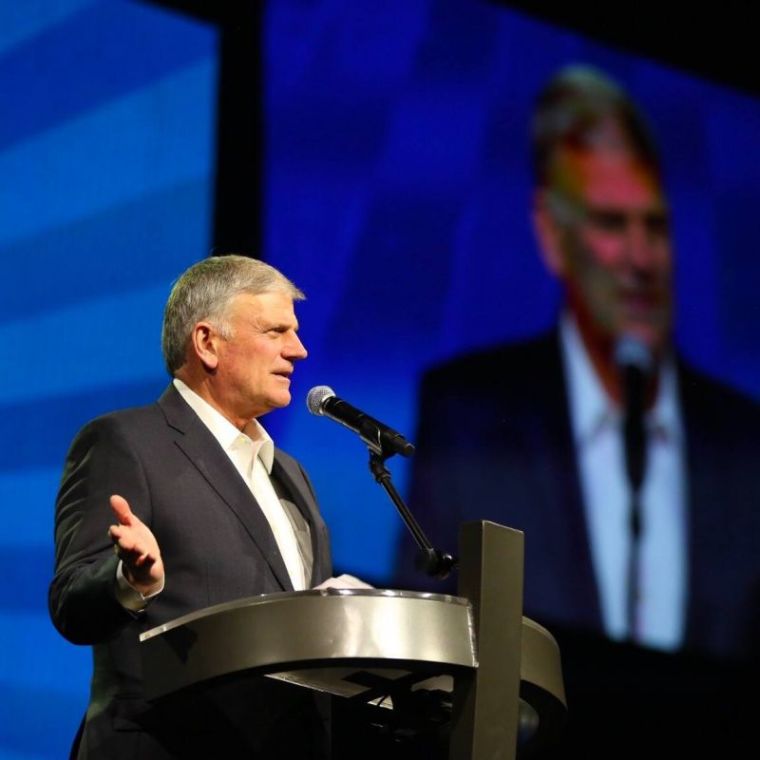 Below is an edited transcript of Christian Post's May 30 interview with Franklin Graham.
Christian Post: What was the inspiration for the call to prayer this Sunday? How did this come to be?
Franklin Graham: That is a hard question to answer because it is just on my heart. And I just felt led to do it. I called another pastor and talked to him and asked what he thought and he said, 'Absolutely, do it.'
CP:As Christians, we are called to pray for people in positions of power. With the timing this week with Mueller's press conference the other day, some might look at the call to prayer as a response to everything that is going on with the claims of obstruction. Does it have anything to do with that?
Graham: No question. I think what is going on in Washington has something to do with it. It has bothered me and it has been a burden on my heart because this president is being attacked more than any president in modern history, attacked by the press more than Abraham Lincoln.
So, he is the president of the United States. You had two years of investigation that came up with nothing. So, now the media and his opponents in Washington are doing everything they can to destroy him. What we need to remember is that he is the president. That doesn't mean that he is a perfect person. He is flawed like all of us. He has made plenty of mistakes but he is the leader of this nation. We have got huge problems in front of us.
We have trade problems with Canada and with Mexico and China. We have the Iranian situation right now. Venezuela is in meltdown mode. There is so much that needs to be done. We still have North Korea that still hasn't been solved. The president, for him to be distracted with false accusations, with people doing all they can to destroy him, it hurts this country. It hurts all of us.
My prayer is not an endorsement of the president. I am not asking people to [issue] an endorsement. Its to just call on God to give him wisdom because if he makes a good decision, it is good for all of us. If he makes a bad decision, it is bad for all of us. Whether we are Republican or Democrats or independents, this is just asking God to guide him and direct him as he makes decisions everyday that impacts our lives.
CP: How should churches and Christians pray for the president? You mentioned in your video that Trump is being attacked by enemies. Should people be praying that Trump survives these attacks or should it be a broader prayer for him to not only survive the attacks but also for his personal repentance and him to conform to the will of God?
Graham: I think, first of all, people as they pray, need to pray as they feel God leading them to pray. I don't want to tell them exactly how to pray or what to pray. But it is to lift up Donald Trump's name [in a tone of] grace. And for me, I am just going to ask God to protect him, guide him and direct him. I want Donald Trump to know at the end of the day that God's hand is on him and leading him and guiding him and directing him.
I think for all of us to be led by God and to know that every step that we take is directed by Him, that is a comfort for all of us. I want the president to sense the power of prayer behind him. As he goes to England this next week and as he continues to deal with the problems that are before us, I am just hoping that millions of Christians — not only in this country but in other countries as well — will pray for him and that God will just protect him and direct him.
When I say protect him, protect him from his enemies. Because these enemies — it is not just the president, but it is tearing down the office of the presidency. This will hurt our country for many, many years if this allowed to happen.
CP: How do you define 'enemies,' especially when we are talking about enemies of Trump? There are some Christians out there who maybe oppose things like the immigration policy that his administration has advanced. Would they be considered enemies of Trump?
Graham: I am not talking about people who may disagree with certain policies. I am talking about those who are trying to destroy this presidency and destroy him. Those are the enemies. It is not people that disagree. I don't agree with everything that he says or does. But he is still the president of the United States. The people voted for him and he won it fair and square and his enemies have not accepted that.
The election hadn't been over 12 hours and they were making accusations about Russian interference and collusion with Russia. All that was nothing but a lie. For the last two years, the media has gone after our president day-in and day-out with collusion, cover-up, collusion, collusion, cover-up. None of that is there.
Mueller could not find any of that and he had an army of attorneys. They were sifting tens of thousands of emails, subpoenaing witnesses, taping all of these depositions. They couldn't find one shred of evidence that there was collusion.
So since the Mueller report has come out, they are talking about impeachment. It is just crazy. It is destroying our country.  Enough is enough. Tulsi Gabbard, the Democratic congresswoman from Hawaii, she made a great statement. She said, 'It is time to move on.'
CP: The statement released as part of the June 2 call to prayer says that 'the nation is at a crossroads' and that we are at a dangerous 'precipice.' Could you elaborate a little more on what this precipice is?
Graham: This precipice is the failure of our democratic system. It is just a handful of people that are able to control the media and are able to dictate what comes across the media into a person's home night after night, day after day. If the president was brought down for whatever reason, it could lead to a civil war. There are millions of people out there that voted for President Trump that are behind him that are angry and they are mad. We are just living a very dangerous territory and we need God's help.
Our country is in a mess. We're in political turmoil. Our government cannot be fixed without the hand of God. We are just too broken, too fractured, too segmented. The only way our country can make it is with God intervening and beginning to change the hearts of people. The only hope for this country is the Lord Jesus Christ, who paid for our sins with His life when He shed his blood on the cross. God raised Him to life.
He can come into every heart that is willing to trust Him. Every time a person yields their life to Christ, that heart is changed. America needs a heart transplant. America needs a new heart. We have become vicious. We have become angry. We have become bitter. It is just wrong. The only hope this country has got, we need to pray. We need to pray for our president.
CP: In your interview the other day with Tony Perkins, you said that the attacks against Trump are 'demonic.' Would you consider the attacks against Bill Clinton demonic, or the attacks against Richard Nixon?
Graham: No. Our country has changed so much since Bill Clinton. First of all, when you look in hindsight, what our country went through with Watergate and how that ripped our country apart. Then, the Clinton impeachment, that ripped our country apart and people who were critical of Clinton were rejoicing and happy that Democrats were getting angry and mad. None of that served the purpose of this country.
To go through this kind of turmoil only hurts our country. It does not help our country. We got big problems out there that need to be solved and this is a distraction.
CP: A lot of critics are accusing you of making this call to prayer political. How do you respond to the critics who say that you are politicizing prayer or that you are 'engendering support for Trump by whipping up prayer?' How do you respond to critics who make such accusations?
Graham: I am not asking people to endorse him. That is not that point of this prayer. This is not an election year. So, I don't see how it could be political. He is the president. People have voted for him. He is in office and he is carrying out the duties of the presidency. He needs our prayers.
CP: The point of the prayer is for Trump and the government to be successful. But his administration has cut back on the number of asylum seekers being allowed into the U.S. Do you, as a leader of one of the world's most influential evangelical humanitarian agencies, do you pray for his success with those endeavors as well?
Graham: The decisions that the president has to make everyday, my prayer is that God would lead him in making the right decisions. He has to make decisions every day. Some of these decisions are life-and-death decisions. So we look at immigration, we look at all the problems in that area. My prayer is that God would give him wisdom as to what to do and what is the best thing to do for our country, our neighbors, for our people. I am praying that God will just give him that wisdom. Whatever his policies are, if God guides him and directs him then they are going to be the right policies.
CP: The Bible verse that you used to support the call to prayer, 1 Timothy 2: 1-2, says that Christians need to pray for those in leadership. But in the U.S., that also includes the Democrats that are leading the House of Representatives right now. Should they be included in this call to prayer as well, especially since they are the ones that are pushing this idea of impeachment for what they say is possible obstruction of justice or using his office for financial interests?
Graham:  I have called this to be a focus of prayer on the president. Of course, the Bible commands that we pray for all those that are in authority. If a person feels led to pray for those that are in Washington and represent their state or their district, then absolutely pray. But the focus of my call was to be a focus on prayer for the president.
First of all, he needs to be encouraged. It is discouraging when you wake up every day and it doesn't matter if you do something good or not. They only report the bad. That gets discouraging. I pray that the president will be encouraged knowing that there are millions of people praying for him.
CP: You are often accused of being a Trump supporter/endorser. But you have never made an endorsement. Is it fair for the media to label you as a Trump supporter or Trump "apologist?"
Graham: No. I do not campaign. I didn't campaign.
I will speak and if he does something right, I want to support that. He is our president and I want to encourage him. If he makes bad policy, I will say something about that. But agree with a lot of what he has done for our country.
He's got more people working than we have had in modern history. That's across the board: Hispanics, blacks, whites. People work and the economy is booming. That's because of his business savvy, his business smarts. He probably will go down as one of the great presidents of our country.  I think we need to pray for him that God will protect him.
CP:Tell me more about your decision to be an Independent rather than Republican.
Graham: When President Reagan was running, I joined the Republican Party. I was a Reagan Republican. I think in recent years, I have been very discouraged with the leadership in both parties.