Fred Phelps of Westboro Baptist Church Reportedly 'on Edge of Death;' Christians Call for Grace, Wish Him Peace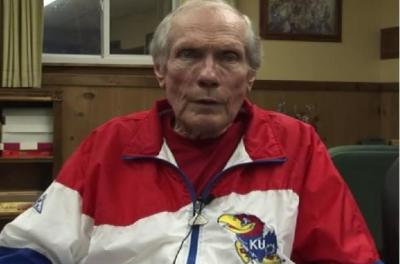 Pastor Fred Waldron Phelps, Sr., who founded the controversial Westboro Baptist Church in Topeka, Kan., nearly 60 years ago, was reportedly on the "edge of death," according to his two sons.
"I've learned that my father, Fred Phelps, Sr., pastor of the 'God Hates Fags' Westboro Baptist Church, was ex-communicated from the 'church' back in August of 2013. He is now on the edge of death at Midland Hospice house in Topeka, Kansas," reads a Facebook post published by Nathan Phelps on Saturday.
Nathan Phelps, who broke away from the controversial religious group years ago, continued, "I'm not sure how I feel about this. Terribly ironic that his devotion to his god ends this way. Destroyed by the monster he made."
"I feel sad for all the hurt he's caused so many. I feel sad for those who will lose the grandfather and father they loved. And I'm bitterly angry that my family is blocking the family members who left from seeing him, and saying their good-byes."
The Topeka Capital-Journal confirmed on Sunday that Phelps was admitted to the Midland Hospice and had been a patient there for "not too long," according to Westboro Baptist Church spokesman Steve Drain.
Drain suggested, however, that Nathan Phelps' claim that his father was "on the edge of death" was inaccurate. Also, when asked to comment on Pastor Phelps' health, Drain told the publication, "He has a couple things going on."
In regards to Phelps' alleged ex-communication from the church he founded in 1955, Drain refused to give details. When asked who was leading the Westboro congregation, notorious for picketing the funerals of soldiers and damning homosexuals, pop stars, and others who run afoul of their standards, Drain said, "The church of Jesus Christ doesn't have a head. The Lord Jesus Christ is our head."
Pastor Phelps' other son, Mark Phelps, also estranged from the Westboro Baptist Church community, told The Topeka Capital-Journal that its initial report on his brother's Facebook remarks, including his father's failing health and 2013 excommunication, were accurate.
The publication reports that, unlike previous instances involving dubious reports of Pastor Phelps' death or impending death, Drain declined last month to put the 84-year-old minister on the phone.
"In the past, Phelps would take the phone to chat a while, sometimes chuckling because he understood the purpose of the call was to check on his health in the face of rumors he was ill or dead," The Topeka Capital-Journal reports.
Pastor Phelps and his wife, Margie M. Simms, reportedly lived in the same building that houses the Westboro Baptist Church, an independent group with no religious ties to any denomination or governing body. The couple has three other children, besides Nathan and Mark Phelps: Rebekah Phelps-Davis, Margie Phelps and Shirley Phelps-Roper, who also occasionally speak for the virulently anti-gay religious group.
Phelps' controversial group draws criticism from both Christians and non-Christians alike due its public preaching and protest tactics that many deem "hateful" and a misrepresentation of the Christian message.
Various leaders from within the Southern Baptist Convention have denounced the group for its "hate-filled" and "un-Christ-like" behavior and messages in an effort to assure the public that the SBC has no ties with Phelps' congregation.
Meanwhile on Sunday, some Christians were calling for grace toward Phelps amid the report from Nathan Phelps that he was "on the edge of death," and wishing him peace in his supposed final days of life.
"Let's extend to Fred Phelps — and those at Westboro — the grace they will not extend to us. I wish him peace in his dying days," tweeted journalist Jeff Chu, who authored Does Jesus Really Love Me?: A Gay Christian's Pilgrimage in Search of God in America.
Billy Hallowell, a reporter for The Blaze, added: "Regardless of how vile Fred Phelps' statements, 'ministry' and work were, good people should be above wishing death on anyone."
Westboro Baptist Church, which makes its home online at godhatesfags.com, posted a link on its Twitter account Sunday to a "faq" page concerning Pastor Phelps. The information reiterates what the group's spokesman, Steve Drain, has told the press. The final, "frequently asked question," however, addresses possible concerns about Phelps' health and current standing with the church.
In response to "What do any of these issues change," the Westboro Baptist Church website states:
"Nothing. The church of the Lord Jesus Christ does not rise or fall with any man – in fact, the Lord doesn't need ANY of us. This is still a nation and world awash in sin. We will still warn you of this condition, out of our love and fear of the Lord, and out of our love for our neighbors. Here is the message of Westboro Baptist Church: God still hates fags, God still hates fag enablers and any nation that embraces that sin as an 'innocent' lifestyle can expect to incur the wrath of God. Repent or Perish. 'The wicked shall be turned into hell, and all the nations that forget God.' – Ps. 9:17"