Gay Activists Target Russia's New Anti-Gay Law as Olympian Defends Pursuit of Traditional 'Family Values'
Russian two time gold medalist and pole vaulter Yelena Isinbayeva has offered her public support to her country's new law banning "the promotion of unnatural sexual relations" at the Track and Field World Championships in Moscow, and has asked the international community to understand that countries are different and should respect each other's laws.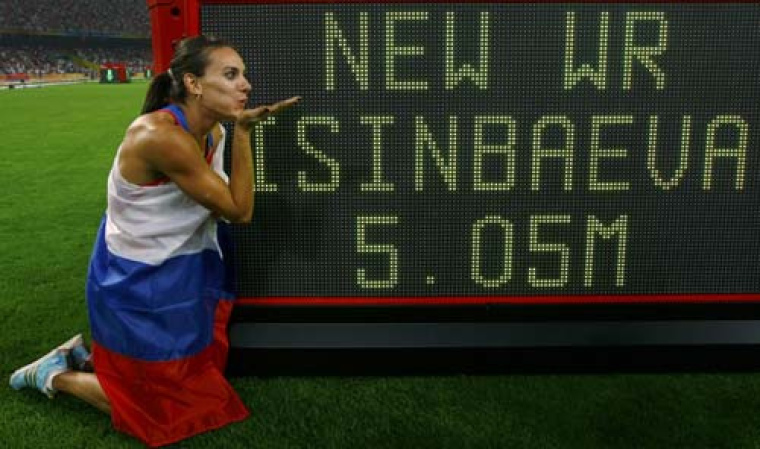 In her initial comments Isinbayeva said this week (in English, not her native tongue): "If we allow to promote and do all this stuff on the street, we are very afraid about our nation because we consider ourselves like normal, standard people. We just live with boys with woman, woman with boys."
She added, "It comes from history. We never had any problems, these problems in Russia, and we don't want to have any in the future."
She also said about the protests against Russia's legislation, "It's disrespectful to our country, disrespectful to our citizens because we are Russians. Maybe we are different than European people and people from different lands. We have our law which everyone has to respect. When we go to different countries, we try to follow their rules. We are not trying to set our rules over there. We are just trying to be respectful."
Those comments attracted strong criticism from gay activists, however, on Friday she released a statement insisting that people had misunderstood what she was trying to say, highlighting that was not speaking in her native Russian at the time.
On Friday she said: "English is not my first language and I think I may have been misunderstood."
She clarified, "I am opposed to any discrimination against gay people on the grounds of their sexuality. What I wanted to say was that people should respect the laws of other countries, particularly when they are guests."
The remarks come at a time of intense, international criticism directed at Russia's passage of a bill, ahead of the country hosting the Sochi Winter Olympic Games in February 2014. Human Rights Watch have labeled the bill "regressive and discriminatory" and a "threat to human rights standards in Russia and internationally." Since its introduction, some LGBT and human rights activists have called for countries to boycott the games in Russia, however, the proposals for a boycott have gained little traction, with President Barack Obama and other world leaders refusing to support it.
In the opinion of the Russian officials who back the law, which forbids public discussion on LGBT relationships and civil rights anywhere children could hear and be influenced by it, much of the impetus for the law comes from Russia's demographic crisis. Faced with dramatically low birthrates and high mortality rates, Duma members like Yelena Mizulina, who authored the bill and who has taken a leading role in advocating for social change in her country, have pushed for "family values" meant to encourage the stabilization of the traditional family unit to increase the country's waning population. To that end, the Duma has also passed a divorce tax that financially penalizes couples who split, with the mindset being that divorce goes against and damages the traditional family unit.
Further, traditional views held by the Orthodox Church have also been influential, athough the church has so far been unable to effectively help counter high rates of divorce and abortion in the country. That, however, has not led to laxer views about homosexuality, and according to Fox News, there was little dissent among Russians themselves when the bill passed.
Sports minister Vitali Mutko explained that Russia constitutionally protected citizens to live out as they pleased and reminded athletes and organizations to respect Russia's sovereignty.
"It is not intended to deprive people of any religion, race or sexual orientation but to ban the promotion of non-traditional relations among the young generation," said Mutko in a news conference. "I was in Sochi yesterday and all the athletes and organizations should be relaxed, their rights will be protected...but of course you have to respect the laws of the country you are in."
Without addressing the law itself, the International Olympic Committee (IOC) released a statement last week, explaining that the organization had received confirmation from Russia that LGBT athletes and attendees would not be affected by the new law.
"The Games themselves should be open to all, free of discrimination, and that applies to spectators, officials, media and of course athletes. We would oppose in the strongest terms any move that would jeopardise this principle," it said. "To that end, the IOC has received assurances from the highest level of government in Russia that the legislation will not affect those attending or taking part in the Games."
However, LGBT activists remain dissatisfied and have announced proposals to pressure corporate sponsors supporting the Games in Russia. But when addressing how their companies intended to handle the host country's new law, the majority of Olympic sponsors seemed to be comfortable taking the IOC at their word.
According to Buzzfeed, both McDonalds and Coca-Cola expressed their support for human rights and the notion that the Games should be "open to all," though they did not specifically address calls from the LGBT activists demanding that Russia be pressured and forced to change its legislation.
"There's no room for discrimination under the Golden Arches," Heidi Barker, a spokeswoman for McDonald's, said in an email to Buzzfeed. "Regarding the recent Russian legislation, we support the International Olympic Committee's belief that sport is a human right and the Olympic Games should be open to all, free of discrimination, and that applies to spectators, officials, media and athletes."
Coca-Cola spokerperson Kate Harman expressed a similiar sentiment.
"We have long been a strong supporter of the LGBT community and have advocated for inclusion and diversity through both our policies and practices," C Harman told BuzzFeed. "We do not condone human rights abuses, intolerance, or discrimination of any kind anywhere in the world."
Harman continued, arguing that the Olympics served as a way to unite people, without acknowledging Russia's actions.
"As a sponsor since 1928, we believe the Olympic Games are a force for good that unite people through a common interest in sports, and we have seen firsthand the positive impact and long-lasting legacy they leave on every community that has been a host," she said.
Many sponsors, including other names like General Electric, Visa and Adecco, have traditionally used the Games as opportunities to increase their global brand recognition and market penetration. While domestically, many companies have more openly adopted an LGBT-friendly stance in recent years, the current face-off between Russian policy-makers and the international LGBT community puts them in a difficult spot as they seek to grow their bottom line globally and remain loyal to the IOC and their tradition of sponsorship; for many companies their relationships with the Olympics date back decades.
Jennifer Rubin, a Washington Post columnist, argued in her blog the "The Right Turn"  that applying pressure to corporations was potentially the only efficacious option for those frustrated with Russia's actions. She went on to cite examples of harassment of activists and journalists, migrant abuse, non-profit crackdowns, and political corruptions as other reasons why the Olympics and Russia were "incompatible."
"The International Olympic Committee is hopeless, and Vladimir Putin is indifferent to public criticism, but sponsors are another matter altogether…There are many reasons not to patronize the Olympics or patronize those companies getting blood money for the mockery of the Olympic spirit," she wrote.