Gay Marriage Licenses Being Issued by New Mexico County Clerk, Claims Nothing Legally Prohibiting It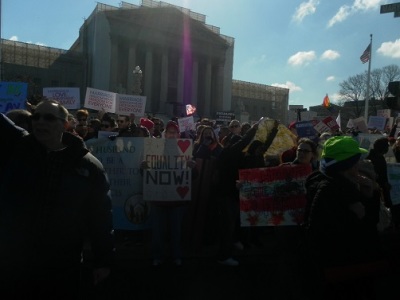 A New Mexico county clerk has begun issuing marriage licenses to same-sex couples, even as several court cases challenging the legality of it are currently making their way through the state's judicial system.
Lynn Ellis, a county clerk out of Dona Ana explained that after a meticulous reading of the state's marriage laws, he could find nothing legally keeping him from distributing licenses.
"The state's marriage statutes are gender neutral and do not expressly prohibit Dona Ana County from issuing marriage licenses to same-gender couples," he told The Associated Press.
New Mexico Attorney General and current gubernatorial candidate Gary King, said he would not challenge Ellis or other county clerks that might issue marriage licenses, reversing a statement in June where had asked county clerks to refrain because of the current same-sex marriage litigation. King did mention that the licenses could be invalidated per the future decisions of the New Mexico Supreme Court.
Ellis' decision came on the heels of a request that the New Mexico Supreme Court expedite a same-sex marriage decision by consolidating the current group of same-sex marriage cases, assign them to a district judge and send the decision head directly to the Supreme Court.
Current Republican Gov. Susanna Martinez has said in the past she does not support gay marriage, though she recently voiced her support to allow the people to vote on its legality, rather than leave it to a court decision.
Ellis, who originally had wanted to start issuing licenses as early as June, said that that the country and state's own founding documents provided the foundation for his actions.
"Any further denial of marriage licenses to these couples violates the United States and New Mexico Constitution and the New Mexico Human Rights Act," he said in statement. "I see no reason to make committed couples in Dona Ana County wait another minute to marry."
There is some precedent of county clerks acting outside the realms of state law and issuing their own marriage licenses. In 2004, in San Francisco a county clerk issued licenses, though they were eventually invalidated, same-sex marriage was ultimately legalized in the state. Also in 2004, in Sandoval County, New Mexico, a county clerk also issued licenses, but the attorney general voided them and halted the clerk's actions.
Currently, other New Mexico county clerks have declined to hand out gay marriage licenses, saying they would let the court make a decision first.