Girl Impregnated by 3 Boko Haram Fighters Details Horrors of Sex Slavery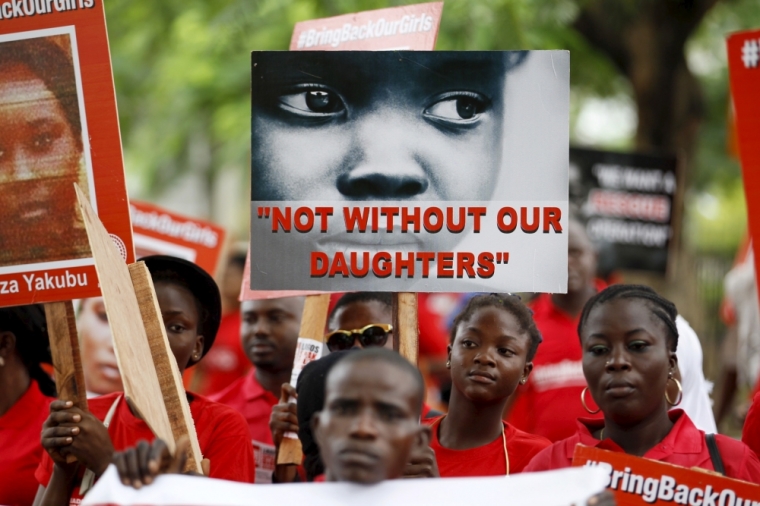 Amina was finally able to flee from her abusive captors after five years as a sex slave. She took her three children with her, but her 28-day-old baby was not fortunate enough to make it out alive.
Amina explained that when she escaped, her youngest child was very sick and eventually passed away in her arms. Not wanting to return to the camp, Amina left her deceased child underneath a tree.
"I told my baby, 'If you were alive I would never leave you. I have no choice, please forgive me,'" Amina recalled telling her baby.
Amina's escape occurred before the Nigerian military was able to rescue over 1,880 civilians from Boko Haram in the Sambisa Forest and capture over 500 Boko Haram fighters in mid-December.
"Five-hundred and sixty four Boko Haram terrorists were arrested while 19 others surrendered to our troops," Major-general Leo Irabor said in a statement. "Also, seven suspected kidnappers and 37 foreigners were equally arrested."
According to the Daily Mail, Boko Haram has been blamed for the killings of at least 20,000 people since 2009 and has also led to the displacement of over 2.6 million people.
Boko Haram's most notorious kidnapping happened in April 2014 when the militants abducted 276 girls from the Government Secondary School in the town of Chibok.
While some of the Chibok girls have turned up pregnant or with babies and 20 others were released in a deal struck in October by the International Red Cross, it is believed that at least 200 of the girls remain in Boko Haram custody, BBC reports.
One of the other sex slaves that Amina had gotten to know was one of the Chibok girls.
"She was also forced into marriage and has a child," Amina stated. "She is very unhappy. Her husband has two other wives senior to her and they don't give her food. She is hungry and he beats her."
Labaran Babangida, a child protection worker with the United Nations Children's Fund, told the Daily Mirror that the youngest Boko Haram sex slave he encountered was just 10 years old.
"She was repeatedly raped and because she is very small she now cannot control her bladder," he said. "We cannot find her family."
As Boko Haram is increasingly using abducted women and girls to carry out suicide bombings, Amina said she was never asked to give her own life in order to kill innocent people.
"[Another girl] told me she had been told to carry a bomb to a market," Amina explained. "I told her 'Run away, think of the elderly, the children you would kill.' And she did."
Most recently, a girl believed to be only 10 years old and connected to Boko Haram blew herself in the city of Maiduguri on New Year's Eve. Another girl who was planning to carry out a suicide bomb was caught and lynched by an angry mob, Borno state police spokesman Victor Isuku said.
In December, two girls between the ages seven and eight, carried out suicide attacks in Maiduguri in which 19 were injured.
Boko Haram was founded in Nigeria in 2002 by Islamist cleric Mohammed Yusuf. Its objective is to establish strict sharia (Islamic) law in northern Nigeria and the rest of the world.
In 2014, Boko Haram was reported as the deadliest terrorist group, overtaking Islamic State with 6,644 killings, according to the Global Terrorism Index. In 2015, Boko Haram was responsible for 5,478 deaths and has expanded into neighboring countries Niger, Cameroon and Chad.
Nigeria is ranked as the 12th most dangerous country in the world in terms of Christian persecution on Open Doors USA's 2016 World Watch List
One of Boko Haram's most egregious attacks on Christians, according to Nigerian human rights expert Emmanuel Ogebe, came in September 2013 when the group set up a road block and killed over 150 Christians with a chainsaw.