Gold-Medal Gymnast Shawn Johnson Shares How Olympic Success, 'Failure' Led Her to Christ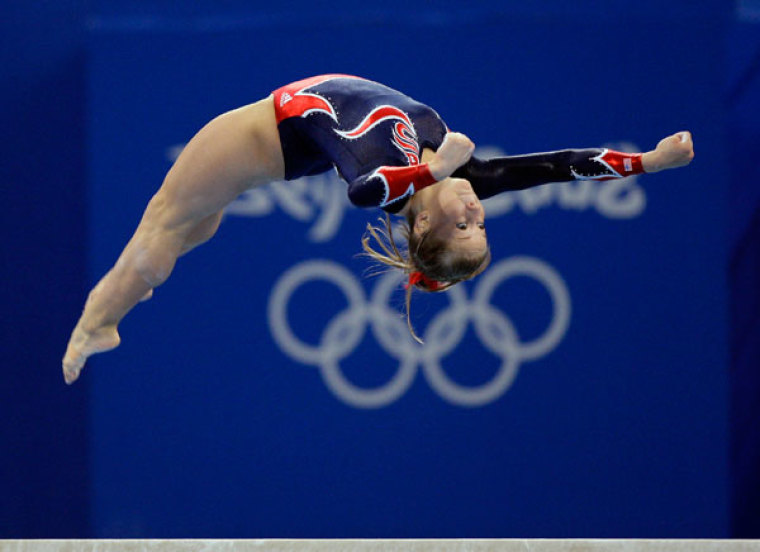 In a candid "I Am Second" video, Shawn Johnson, the 2008 Olympic balance beam gold medalist, pours her heart out, sharing her fear of failure and disappointment with success and how those experiences led her to Jesus, who gave her freedom.
"I remember being given the silver medal on the podium, the person who did it gave me a hug and told me, 'I'm sorry,'" Johnson says in the video, recalling the 2008 Beijing Olympic games. "I was being given a silver medal at the Olympic games and being told I'm sorry was kind of like a validation in my heart that I had failed."
She continues, "If I failed at being a gymnast then I failed at being a human being."
Johnson tells the viewers that she can remember "every detail" about Beijing, "the smell, the lights, the crowd."
"I remember Nastia Liukin go up and compete and give a beautiful routine. And I remember looking at her score and it was one point higher than the highest score I had conjured up in my mind. That it was impossible for me to get a gold medal. I remember my heart just sinking."
Johnson did her best for the gold medal, giving the best routine of her life, and received a standing ovation from the audience, but not the gold. "I told everybody it was the biggest honor of my life, but really it kind of crushed my heart."
Johnson got two more silver medals before receiving a gold.
"Once I got the gold, it didn't matter," she says. "I felt like the damage was done. I had given 200 percent that day in competition and laid it out on the floor, but I felt I had failed the world. I felt like since the world saw me as being nothing else, then if I failed at being a gymnast, I failed at being a human being."
A year later, Johnson joined the season eight cast of ABC's "Dancing with the Stars."
"It was now about what I wore and how I looked," she recalls. She won the competition, along with her partner Mark Ballas, and yet she was criticized. "I remember at 16, 17, from 'Dancing With the Stars' reading all these blogs and reading newspaper articles and seeing headlines of people criticize my weight and my appearance and my personality and my character. It affected me immensely."
It wasn't easy, she says. "Trying to act like someone you aren't and trying to look like someone you'll never be is exhausting and draining. And feeling like the world doesn't accept you for who you are — it hurts your heart."
Six months before the 2012 Olympic Trials, Johnson found herself at an all-time low. She would spend 40 hours a week training, trying to lose weight without success, losing hair, unable to sleep and eating improperly. She was no longer 16 years old, a fact that she found difficult to accept.
However, one day in the gym, she had a life-changing moment while standing at the edge of the 4-inch-wide balance beam.
"It's one of those moments that's really hard to explain and really hard for a lot of people to understand. But in that one moment, I felt like God was telling me, 'You've been so distraught over this decision. You've been afraid of disappointing a lot of people and not being yourself, but it's OK to follow your heart and to put it behind you.' In that instant, I felt the entire world was just lifted off my shoulders," she shares.
"I was giving my heart and soul and getting to a place that I was not proud of at all for that gold medal again. When I stood up there and got that gold medal, yes, it's a monumental experience and wonderful thing. But it's not the end-all, be-all," she recalls.
Describing her experience further, she adds, "I think it's just kind of that validation that there's always more. God is the answer to everything, and Jesus sacrificed everything on the cross so that when I stood up there and I was given that gold medal, yes it's a monumental and amazing experience and wonderful thing, but it's not the end-all be-all. He will always be my greatest reward and my proudest reward."
Johnson quit competitive gymnastics in June 2012. She recently married professional football player Andrew East of the Oakland Raiders.