GOP Presidential Hopeful Carly Fiorina Says If Supreme Court Legalizes Gay Marriage, She 'Wouldn't Reverse It'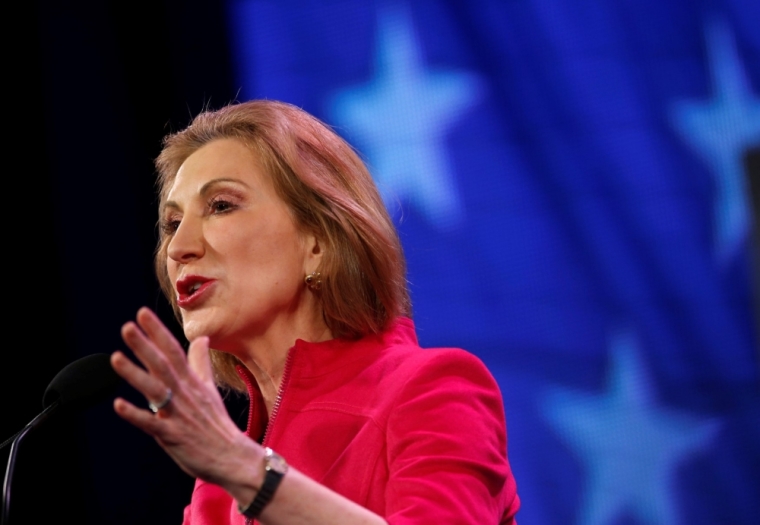 Carly Fiorina, a candidate for the Republican presidential nomination, has stated that if the U.S. Supreme Court strikes down state-level gay marriage bans, she "wouldn't support an amendment to reverse" their decision.
Fiorina, the former CEO of Hewlett-Packard who announced her candidacy earlier this month, spoke with the blog Caffeinated Thoughts last week and was asked: if the Supreme Court strikes down state laws banning gay marriage would she support a hypothetical amendment overturning the decision.
"I think the Supreme Court ruling will become the law of the land, and however much I may agree or disagree with it, I wouldn't support an amendment to reverse it," said Fiorina.
"I very much hope that we would come to a place now in this nation where we can support their decision, and at the same time support people to have, to hold religious views and to protect their right to exercise those views."
Regarding businesses owners who've been legally punished for refusing service to gay weddings, Fiorina stated that there is a "need to protect religious liberty in this country."
"I think this is a nation that should be able to accept that government shouldn't discriminate on how it provides benefits and that people have a right to their religious views and those views need to be protected," continued Fiorina.
From 1998 to 2012 over half the states in the nation approved amendments to their state constitutions to ban same-sex marriage.
However, since 2013 many judges at the district and appellate level have declared these amendments unconstitutional.
On April 28, the Supreme Court heard oral arguments in an appeal on one of the decisions, the result of which is expected to be nationally binding.
Given that many court watchers feel the Supreme Court will strike down the remaining state level bans, some conservatives have called for an amendment to overturn the expected pro-gay marriage decision.
Fiorina's position stands in contrast with the statements of other Republican presidential hopefuls, including U.S. Sen. Ted Cruz, R-Texas, and former Arkansas Gov. Mike Huckabee.
"I hear governors and even some aspirants to the presidency say, well, 'that's settled, and it's the law of the land.' No, it isn't the law of the land," said Huckabee in a radio interview in January.
"Constitutionally, the courts cannot make a law. They can interpret one. And then the legislature has to create enabling legislation, and the executive has to sign it, and has to enforce it."