Greg Laurie, Jack Graham Among Global Pastors Named to Board of New Congress of Christian Leaders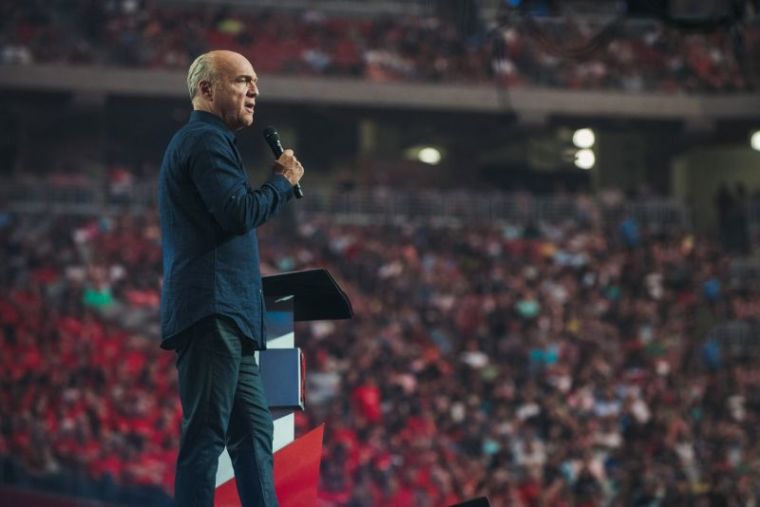 American megachurch Pastors Greg Laurie, Jack Graham and Jentezen Franklin are among the international church leaders expected to join the inaugural board of the recently launched Congress of Christian Leaders.
The new interdenominational representative body, which was launched by influential Hispanic evangelical leader Samuel Rodriguez and evangelical communications executive Johnnie Moore this spring to build "Gospel unity across the global body of Christ," will hold its first meeting sometime in the coming months. 
The CCL issued a news release Thursday listing the names of 16 church leaders from across the globe who are a part of the initial wave of board members to the body. The leaders represent many of the largest Christian movements worldwide and have "collective influence exceeding many millions of Christians on six continents."
"What I love the most about this initial set of board members is that they lead or are deeply connected to vast local church communities around the world," Moore said in a statement. "The CCL is not meant to replace or even subsidize the work of the global church but to bring together leaders and to serve those leaders and their communities. This group can move mountains; actually, they can move continents."
The initial wave of board members will be followed by a second wave to be announced in the coming weeks. Moore told The Christian Post that no date has been set for their inaugural meeting.
The first group of board members is expected to include Graham, the senior pastor of Prestonwood Baptist Church in Plano, Texas; Laurie, the pastor of the multi-campus Harvest Christian Fellowship based in California; and Franklin, the pastor of the multi-site Free Chapel Worship Center based in Georgia.
Along with Rodriguez and Moore, Laurie, Graham, and Franklin have engaged as informal evangelical advisers to the Trump administration.
Others included in the first group of board members include:
At Boshoff of the Christian Revival Church in South Africa
Tiago Brunet of the da Casa Destino in Brazil
Joseph D'Souza of The Good Shepherd Church in India
Russell Evans of Planetshakers in Australia
Leon Fontaine of Springs Church in Canada
Fermin Garcia of Grupo de Unidad Christiana de Mexico
Sergio Hornung of the Comunidad Cristiana Agua Viva in Peru
David Ingman of Comunidad de Fe in Ecuador
Canon J. John, an evangelist in the United Kingdom
Cash Luna of Casa de Dios in Guatemala
Peter Mortlock of the City Impact Church in New Zealand
John Milton Rodriguez of Mision Paz a las Naciones in Colombia
Wanda Rolon of Iglesia La Senda Antigua in Puerto Rico
Moore told CP that although the church leaders are listed as nominees, the "nominee" title is just a minor technicality.
"They are board members. It's just that they will not be officially, legally voted in until the first meeting," he wrote in an email, adding that they are tentatively shooting for mid-October to hold the first meeting. 
Rodriguez, who is the president of the National Hispanic Christian Leadership Conference and the pastor of New Season church in Sacramento, California, will serve CCL's founding president.
"It is really impossible to surmise the influence of those on this list," Rodriguez said in a statement. "Simply put, these leaders are not only notable Christian pastors but leaders whose influence far transcends the Christian community in their respective countries. It is an indication of the energy coalescing around the mission of the Congress of Christian Leaders, and an affirmation that this is a vision from God and for now."
The formation of CCL comes as the evangelical movement has grown exponentially over the last 50 years, especially in in areas of Central and South America.
Moore, who has traveled the globe to speak with a wide variety of persecuted believers and church leaders, said in May that the CCL hopes to provide these growing independent evangelical movements with a "support structure of peers" to partner with.
"The fact is that the majority Church around the world is a Church that is growing exponentially. It is incredibly diverse," Moore, a CP senior editorial adviser, said. "There are these pastors around the world that have massive, massive churches and massive, massive movements. Some of them have been around for five or six years, some have been around for 10 years. Most of those leaders somewhat operate entirely independent without the support structure of peers serving them from an organization that exists just to serve them."
Moore and Rodriguez both serve on the board of directors for the National Association of Evangelicals. Moore previously said that he suspects CCL will seek memberships with NAE and the World Evangelical Alliance.
"These are all great organizations and this is not meant to be a substitute for them or compete with any of them," Moore explained. "We want to cooperate with them in response to what I feel we are being asked and called to do. The Congress of Christian Leaders will not be exclusively for evangelicals. That is a key defining factor."