'Guitar Hero Live' coming to Apple TV, 10 new songs added to playlist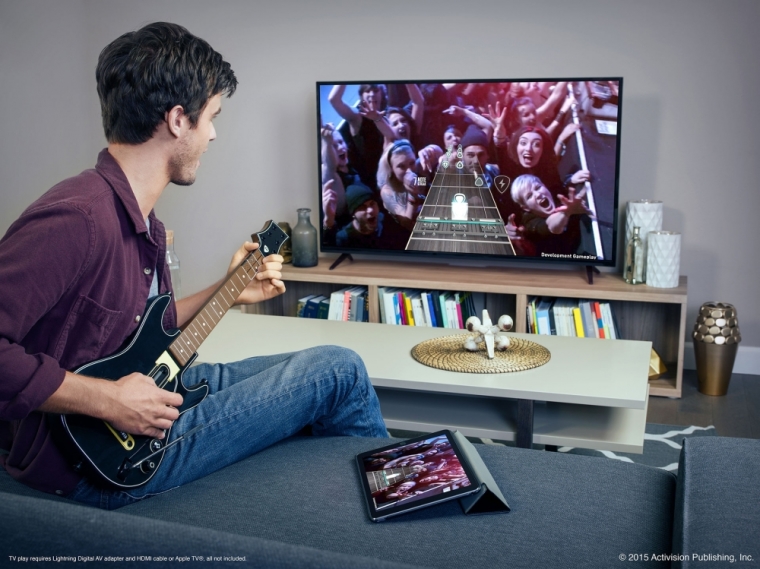 Apple has just announced an exciting news for all the "Guitar Hero Live" video game fans. During the 2015 Apple event, the tech giant revealed that the latest guitar simulation game is coming to Apple TV this autumn, along with other video games such as "Skylanders: Superchargers" and "Geometry Wars 3: Dimensions Evolved" among others. And the great news doesn't even stop there.
According to Develop, Activision confirmed that aside from the newly announced Apple TV, "Guitar Hero Live" will also be playable via iPhone, iPad, and iPod Touch this autumn as well. This can only mean that avid fans of the game can play anywhere and anytime they want, allowing them to share the game to friends outside of home. Such gaming experience is made possible through the use of the newly designed Bluetooth "Guitar Hero Live" instruments which works across all Apple devices.
And it's not going to be a problem if someone ever needs to take over the Apple TV while in the middle of the game. Engadget noted that from the Apple TV, players can play the rock star game in the living room and then just switch and continue playing in the iPad, iPhone or iPod Touch. The syncing is guaranteed to work seamlessly with cloud save support under the same Game Center account.Jamie Jackson, co-studio head and creative director, talked in Activision's official website about the arrival of the game to Apple TV.
""We jumped at the opportunity to bring back Guitar Hero in a cool new way with Guitar Hero Live," said Jackson. "We can't wait for the game to launch next month and think people are going to get a kick out of living their rock star fantasy on consoles, mobile devices and Apple TV this autumn. It's going to be rad!"
In other news, another set of fun songs have been added in to the game. The latest include songs from artists like Haim, Surfer Blood and Gerard Way. The latest addition to the playlist according to Billboard include:
1. Passenger -- "Let Her Go"
2. Pearl Jam -- "Sirens"
3. Gerard Way -- "No Shows
4. Tonight Alive -- "The Ocean"
5. Surfer Blood -- "Demon Dance"
6. Haim -- "The Wire"
7. Orianthi -- "According to You"
8. Lamb of God -- "Ghost Walking"
9. Wavves -- "Demon to Lean On"
10. 36 Crazyfists -- "Also Am I"
"Guitar Hero Live" will hit store shelves on Oct. 20, 2015.