Gunman Kills 26 Worshipers in Mass Shooting at Texas Church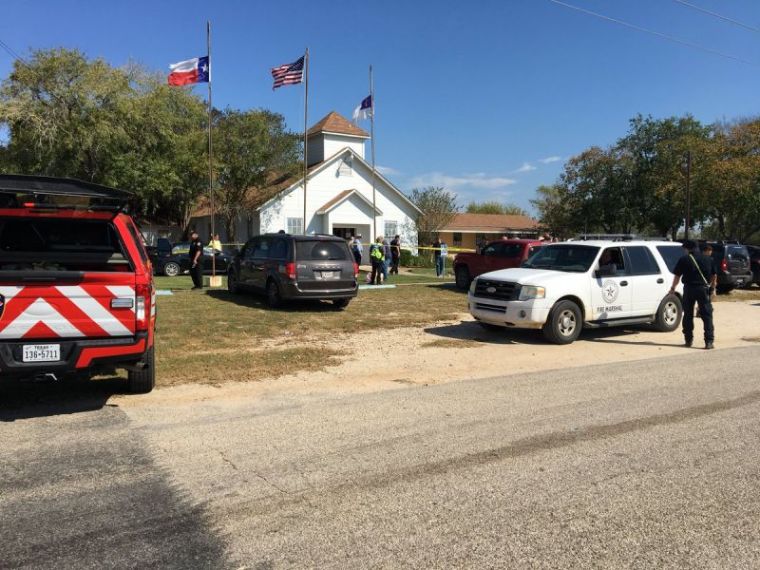 UPDATE: 5:30 p.m. EST The suspected shooter has been identified as 26-year-old Devin Patrick Kelley from New Braunfels, Texas. Kelley served in the U.S. Air Force from 2010 to 2014, and was court-martialed in May 2014. The pastor's 14-year-old daughter, Annabelle, a 5-year-old child, and a pregnant woman were among the worshipers killed on Sunday.
A gunman opened fired inside First Baptist Church of Sutherland Springs, Texas, on Sunday, killing as many as 26 people before being shot dead by police. At least 20 others were wounded.
Sheriff Joe Tackitt confirmed with Wilson County News that there were "multiple casualties and fatalities" when the gunman opened fire at First Baptist Church of Sutherland Springs, a community that lies about 40 miles east of San Antonio.
Police official Albert Gamez Jr. confirmed the death toll to CBS News Sunday afternoon, saying: "The details are kind of sketchy but what I know right now, what they're telling me, like 27 deceased and over 20, 25 injured.
"They're talking about the shooter is dead also," Gamez added.
Local news station KENS-TV reports that a witness claimed that a 2-year-old child was shot.
"If the number of people dead is confirmed, Sunday's shooting would be the deadliest at a church in modern U.S. history," Fox News reports.
President Donald Trump is in Tokyo and tweeted his condolences and message of support for the community.
"May God be with the people of Sutherland Springs, Texas. The FBI and law enforcement are on the scene. I am monitoring the situation from Japan," the president wrote on Twitter.
According to KSAT, witnesses say that the shooter walked into the church and began shooting around 11:30 a.m. in full gear. Neighbors recalled hearing the gunman unloading several rounds before fleeing the scene in a car.
KSAT reporter Max Massey, who is on the scene, reports that about 50 people usually attend the Sunday service at First Baptist. The service begins at 11 a.m.
Massey also reports that the FBI has arrived on the scene. A number of helicopters and ambulances have also arrived on scene.
"Our prayers are with all who were harmed by this evil act," Texas Gov. Greg Abbott tweeted Sunday afternoon. "Our thanks to law enforcement for their response."
Massey shared a video on social media of local family and friends praying and sobbing as they wait to hear if their loved ones survived.
According to Massey, people have gathered at the Sutherland Springs community building in hopes of learning about the fate of their family members.
The church shooting in Sutherland Springs comes just months after a gunman killed a woman and wounded six others in an attack on a Tennessee church after Sunday worship in late September.