Gunman Who Attacked FRC Sentenced to 25 Years; Guard Says 'God Took Over' in Shooting, Prays for Attacker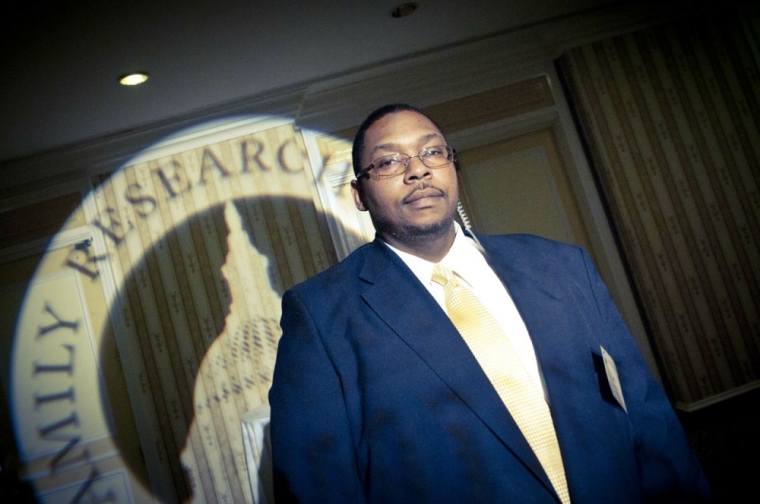 WASHINGTON – Floyd Corkins II, a gunman who attacked the conservative non-profit Family Research Council (FRC) last year, received a 25 year prison sentence for plotting a mass shooting. Leo Johnson, the guard who stopped him, credited God for saving both of their lives, and said he continues to pray for Corkins.
"As I was punching him to get the gun, I was using the arm that I was shot with, so God definitely took over and He gave me the strength to take care of that situation," Johnson told The Christian Post after the sentencing on Thursday. "He also gave me the strength, once I got the gun from him, not to shoot him."
Johnson said it would have been "within my right" to take Corkins' life, but God told him to spare the shooter. He also said he prayed for Corkins before the sentencing, and continues to pray for the shooter.
During an FBI interrogation, the shooter said he targeted FRC because it was listed as an "anti-gay group" on the Southern Poverty Law Center's (SPLC) website. But even after the shooting, SPLC refused to remove the organization from its "hate map."
Referring to the shooting on its website, SPLC acknowledged the claim made by FRC's President Tony Perkin that it had "'given a license' to Corkins' attack because it had named the FRC an anti-gay hate group starting in 2010." But SPLC It vehemently disagreed with Perkins' assertion.
"In fact," the website retorted, "the SPLC designation was based on FRC's distortion of known facts to demonize gay men as child molesters and similar false claims, and had nothing to do with FRC's support of 'natural marriage' or its belief that homosexuality is a sin."
"I realize resorting to violence to achieve a political end is never OK," Corkins said in the courtroom Thursday. Nevertheless, he still expressed disagreement with FRC's beliefs.
Noting the "hate group" designation which SPLC has given his organization, Perkins accused Corkins and the liberal organization of attempting to shut out debate about the issue of homosexuality. "His goal and that of the SPLC is to silence those with whom they disagree," he said. "In a civil society, shutting down debate is not how reasonable people and organizations operate."
"I worked at FRC for fourteen years. There's nothing hateful about this group," Johnson told CP. "Just because we disagree on policies doesn't give you the right to kill someone."
In the courtroom, the guard listed the grievous toll the shooting took on his body while asking for the maximum legal punishment for Corkins. "My quality of life has been altered, possibly forever, as a result of this crime," he argued. The guard listed the emotional stress on his family and on FRC, as well as his new physical disabilities – that he can no longer easily work out, must refrain from some favorite foods and beverages, and must take pains to avoid any internal or external bleeding due to blood thinners.
Nevertheless, Johnson looked the shooter in the eye in the courtroom and said he forgave him.
The guard told CP that the solution to the culture wars isn't violence or name-calling but communication. "You have to have an open mind," he said, encouraging people to do their own research and not just trust whatever they read on the internet.
With a keen sense of gratitude for surviving the attack, Johnson also reached out to victims of other acts of violence. "My thoughts and prayers go out to those victims of the Navy Yard massacre and also the Boston Bombing," he said, adding that he feels blessed to be able to return to his family every day.