'Hear No Evil' Exclusive: Director Russ Parr Talks Daughter's Near Death Experience Inspiring Spiritual Thriller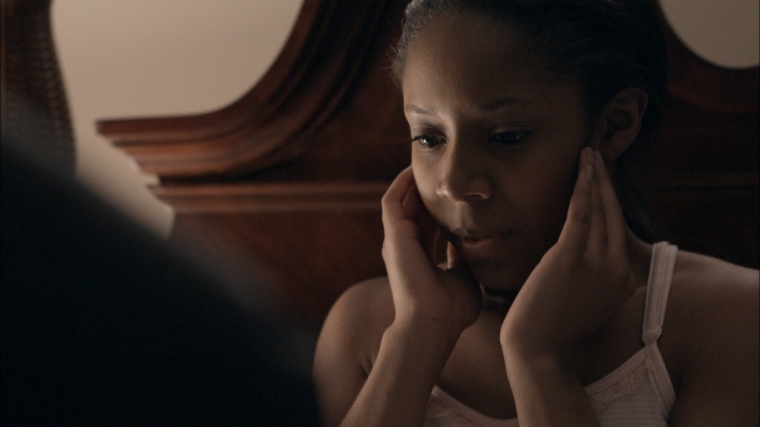 Spiritual thrillers are few and far between on the big and small screens these days, but screenwriter, director and radio personality Russ Parr believes God gave him a story to tell with the film "Hear No Evil."
The new film will give audiences a unique approach to faith, when a 15-year-old hearing impaired girl named Shelby Carson suddenly gains the ability to hear after an unexpected accident. Although she's no longer forced to hear silence because of her disability, she begins to hear messages from God that reveal more than she bargains for about her loved ones and strangers.
When Shelby begins to get acquainted with her new auditory sense, she's forced to battle the burden of knowing people's secrets, health issues and unbelief. Parr, the film's writer and director, has a personal spiritual journey that prompted him to write "Hear No Evil." While he created films such as the popular "35 & Ticking," and faith-based drama "The Undershepherd," "Hear No Evil" was birthed out of a situation that strengthened his own belief in God.
He recalled a time when his daughter became very ill a couple of years ago, which made him fear for her life. Since Parr's "Russ Parr Morning Show" is syndicated in 45 cities, he used it as a platform to call for prayer and told The Christian Post about the moment that changed his life.
"I felt unworthy of asking people to pray for my daughter — that other people have worse problems than I do, but I did. I went on the radio and I asked everybody to pray for my daughter," he recalled in his interview with CP. "The next day, she was better. And if there was any doubt, that solidified my faith in God and the power of prayer."
The ordeal inspired Parr to write "Hear No Evil," in order to demonstrate the power of God and prayer.
"In this movie we see the transformation of someone who is a nonbeliever become a believer. I just wanted to show the power of God, the power of prayer," Parr told CP.
In one scene, Parr highlights prayer by acknowledging that some people have issues with the spiritual practice. Some question if they are praying in the right way, which is something that the film's creator can identify with all too well.
"One of the characters realizes (they) don't know how to pray. And they're told God will listen to you, there is no set way," he revealed. "That's me personally, I'll start to pray and feel like I'm praying wrong. That was a powerful moment for me."
Parr added, "there is no wrong way to pray, just talk to Him and He will listen."
Even though the writer and director is a Christian, he made sure to include elements in the film that both believers and nonbelievers can enjoy.
"I can do a movie that has some substance, speaks to my belief and a lot of people's belief in God," he said. "It also speaks to those people who are agnostic, and it also brings those together, formulates it into a story and makes it entertaining."
Still, "Hear No Evil" is anything but a cookie-cutter faith based film that makes you feel good for two hours. Parr began writing it with the intention of focusing on people with disabilities.
"This movie is what I call a spiritual thriller. I wrote it and I wanted to make a statement about people that have a disability, that are different from us but their world is normal," Parr told CP. "They don't want pity. But as I started writing I said, 'I really needed to show the gift that this young lady received.'"
Parr wrote "Hear No Evil" in seven days, a pattern that seems to be consistent with some of his previous films such as "A Christmas Blessing." Still, he is careful not to glorify himself in the process.
"Once God has grabbed me and grabbed my pen, it's like: boom. It just comes together," he insisted. "Sometimes I go back and read and I go, 'I wrote that?' Really, I don't take credit for stories, it's my personal walk."
Although Parr has released comedies such as "Something Like A Business" and "35 & Ticking" starring Kevin Hart, creating unique approaches to faith-based films is important to him because he knows there are people out there who can relate to them even if they're not watching a reflection of their exact story.
"We all have our own personal relationship with God. We interpret things differently, we interpret the Bible differently," he told CP. "We may have the same common goal but our journeys are different. We're not exactly walking in the same shoes, but at the end of the day, we do share a commonality of our personal belief in God."
Parr has been successful on the radio for years and admits he doesn't make much money from his passion project films. Still, there's a reason why he continues to make movies like "Hear No Evil."
"I've only had one movie that's been fairly successful. I don't make the movies for money, I have small budgets," he told CP. "Getting started was tough because I had a lot of actors that just didn't want to mess with me because they were like, 'oh he's just a radio guy. 'But I really take pride in writing and being able to tell these stories even if they were controversial."
Parr's "Hear No Evil" stars Jahnee Wallace as Shelby Carson, Jill Marie Jones ("Girlfriends") as Kate, Richard T. Jones ("Why Did I Get Married?") as Samuel and Jackie Long ("ATL") as Jason. The movie premieres at 8 p.m. ET Saturday, March 14 on TV One.