'Heaven Is for Real' Set for Easter Opening; Movie Trailer Released by Sony Pictures (VIDEO)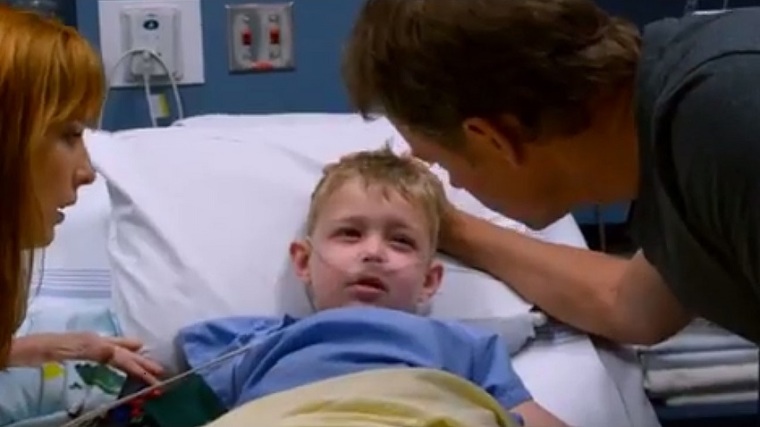 The much-anticipated screen adaptation of Todd Burpo's best-selling book Heaven is for Real: A Little Boy's Astounding Story of His Trip to Heaven and Back, is set to open in movie theaters next Easter on April 16, 2014. A film trailer about the movie, a story which chronicles the near death experience that reportedly brought a 3-year-old boy face-to-face with Jesus Christ, has just been released (see trailer below).
The movie was filmed in Winnipeg, Manitoba, under director Randall Wallace, who wrote the Academy Award-winning film "Braveheart" and directed "We Were Soldiers," "Secretariat," and "The Man in the Iron Mask." T.D. Jakes, pastor at the Potter's House in Dallas, best-selling author and producer of the movie "Jumping the Broom," is a producer of the film.
The Sony Pictures film stars Greg Kinnear, Kelly Reilly, Thomas Haden Church and child actor Connor Corum.
In 2003, 3-year-old Colton Burpo nearly died after his appendix burst. While in surgery, he reportedly went to heaven and saw Jesus. "It wasn't until four months after we got out of the hospital that we finally listened to our son," Todd explained, in a 2011 interview that has received more than 16 million hits on Youtube.
"Jesus and some angels came and flew me up to heaven," Colton explained. He identified Jesus through the "markers" on his hands and feet. "I was in the throne room of God to start with, so I got to see what that looked like."
"God used people or things that I liked to calm me down," Colton said. While reportedly in heaven, Colton met Todd's grandfather, Pop, who was Todd's "most significant male role model" but died when Todd was six years old. "He's really nice," the revived boy told his father, "you used to play with him as a kid and work with him on the farm and shoot stuff with him." Speechless, Todd verified the story.
Colton also knew that he had two sisters, one of whom died in a miscarriage. "You had a baby die in your tummy," he told his mother Sonja. She asked, "How do you know you have two sisters?" He responded, "Well, she told me." Colton told his mother that his sister is "just waiting for you guys to come to heaven."
When Jesus reportedly told Colton he had to go back, the boy didn't want to leave. "Even though I didn't want to go back, he said that he was answering my dad's prayer," the boy explained.
The book, published in November 2010, has sold more than 8 million copies and has been translated into more than 30 languages. It has also spent more than two years on the New York Times paperback nonfiction best-seller list.
Christian Post reporter Tyler O'Neil contributed to this story.
Heaven Is For Real - Official Trailer - In Theaters Easter 2014