Hobby Lobby: First Evangelical-Led Business Files Lawsuit Against HHS Mandate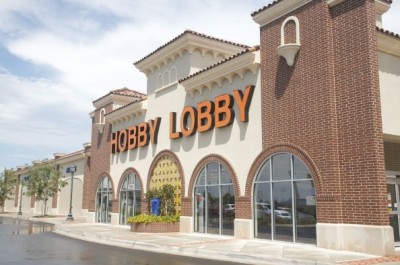 Hobby Lobby Stores, Inc., a privately held retail chain with 22,500 employees led by a Christian family, filed a lawsuit in the U.S. District Court for the Western District of Oklahoma, opposing the Health and Human Services "preventive services" mandate, the company announced Wednesday. The company becomes the largest and only non-Catholic-owned business to file a lawsuit against the government's contraception mandate.
The company's CEO and founder, David Green, said Wednesday that the mandate would force the Christian-owned-and-operated business to provide, without co-pay, the "morning after pill" and "week after pill" in their health insurance plan, or face crippling fines up to 1.3 million dollars per day.
"We simply cannot abandon our religious beliefs and comply with this mandate," Green said during a teleconference press meeting. "We know that we have been blessed by God's grace and believe it is because we have chosen to live our lives and to operate our business according to His Word and we are very grateful for that. But our faith is being challenged by the federal government."
Headquartered in Oklahoma, Hobby Lobby has 500 arts and crafts stores in 41 states and is the largest and only non-Catholic-owned business to file a lawsuit against the HHS mandate. The suits focus sharp criticism on the Obama administration's regulation that forces all companies, regardless of religious conviction, to cover contraception, abortion-inducing drugs, and sterilization.
There are now 27 separate lawsuits challenging the HHS mandate, which is a regulation under the Affordable Care Act (aka "Obamacare"). These HHS challenges were not affected by the Supreme Court's June 28th ruling on the constitutionality of the "individual mandate."
"These abortion causing drugs go against our faith and our family is now being forced to choose between following the laws of the land that we love or maintaining the religious beliefs that have made our business successful and have supported our family and thousands of employees and their families," said Green, whose company is being represented by the Becket Fund, a religious freedom law group.
"The nationwide litigation against this HHS mandate is a fight for religious freedom for all Americans," said Kyle Duncan, general counsel for the Becket Fund, during the teleconference. "Today, [Hobby Lobby and its owners] are asking the federal court to protect their right to run their business as they always have in harmony with their Christian faith."
The deadline for complying with the mandate for businesses (other than nonprofits, which have been given an extra year to comply) is Jan. 1, 2013, less than four months away, said Duncan.
"The Green family has therefore reluctantly filed this lawsuit to protect their right to religious freedom. The government cannot fine any American, including business owners like the Greens who are refusing to violate their faith," he said.
Duncan said he did not know whether any other Christian-based businesses would follow the lawsuit with others of their own but said, "We do hope that this lawsuit on behalf of such a large and prominent evangelical Christian business will draw attention to the fact that the government is trying to force people of all different faiths to violate their faith. This is not by any means a Catholic-only issue.
"Some of the drugs involved in the mandate can cause an early abortion and many Americans who are not Catholics have a problem with this and so we certainly hope it draws attention to the issue. Whether or not it results in other lawsuits we cannot know."
Hobby Lobby is also seeking an injunction from the federal court similar to one given to a Catholic-owned private business in which it was determined that "emergency relief" was needed to freeze current insurance law in place during litigation as to not jeopardize the business' finances.
Founded in an Oklahoma City garage in 1972, the Green family began Hobby Lobby with a $600 loan to open its first store that had 300-square-feet of manufacturing space in the back and 300-square-feet of retail space in the front.
Green said he felt like "an outsider going into retail," partly because both his parents were pastors. However, he said he found a way to minister through his company.
"Hobby Lobby has always been a tool for the Lord's work. For me and my family, charity equals ministry, which equals the Gospel of Jesus Christ," he said.
Hobby Lobby Retail Store