Hobby Lobby Founders Praise God, Hail Religious Liberty Victory After Supreme Court Decision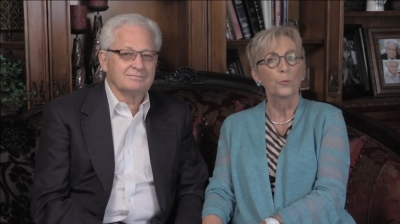 Hobby Lobby co-founders David and Barbara Green praised God and thanked the Supreme Court for its ruling in favor of religious freedom. The high court ruled on Monday that the company can refuse to provide insurance coverage for abortion-inducing drugs based on their religious belief.
"The Supreme Court re-affirmed what our family has always believed – that America is a country founded on and sustained by religious liberty. It's been a long journey, but an important one for our family and for those who wish to be guided in all areas of life, including their businesses, by faith and conscience," Barbara Green said in a video message posted on The Becket Fund For Religious Liberty website.
"We are truly thankful for a decision that allows us to continue operating our family business according to our principles," Green continued. "One of those principles is gratitude, and we are deeply grateful to our employees, to our customers, to the many individuals from all walks of life who have shown their support through word, action and prayer. We thank God for His many blessings and ask for His continued grace to shine on our nation."
In a 5-4 decision on Monday, the highest court in the land ruled that the Religious Freedom Restoration Act applies to privately owned businesses like Hobby Lobby and Conestoga Woods Specialties.
While several conservative groups have also praised the ruling as a major victory for religious liberty in the U.S., the Obama administration said that it jeopardizes women's health.
"Today's decision jeopardizes the health of women who are employed by these companies. As millions of women know firsthand, contraception is often vital to their health and wellbeing. That's why the Affordable Care Act ensures that women have coverage for contraceptive care, along with other preventative care like vaccines and cancer screenings," White House Press Secretary Josh Earnest said.
But the Green family, who has seen their arts and crafts business expand to more than 550 stores across the country since its founding, said that it is "by God's grace and provision that Hobby Lobby has endured."
Described as "devout Christians" on The Becket Fund website, the family has said that it seeks to honor God by "operating their company in a manner consistent with Biblical principles."
The Greens also noted that its stores are closed on Sundays and only operate 66 hours per week, allowing employees to spend more time with families. Hobby Lobby has also increased the pay of its full-time and part-time hourly workers for four years in a row, striving to apply Christian teachings of respect and fairness.
As for the family's objection to potentially life-terminating drugs and devices, it clarified that it has no moral objection to the use of 16 of 20 preventive contraceptives required in the Health and Human Services mandate, and will continue covering these contraceptives for its employees. The Greens said, however, that they could not provide coverage for abortion-inducing drugs such as Plan B and Ella, the so-called morning-after pill and the week-after pill, as that would violate their religious belief that life begins at the moment of conception.
"The Hobby Lobby success story is a true example of the American dream. Now the Greens want to live another American dream: that every American, including business owners like the Greens, should be free to live and do business according to their beliefs," the Becket Fund stated.