Hobby Lobby Raises Minimum Wage to $14 for Full-Time Employees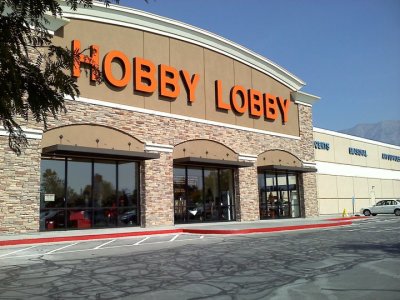 Arts and crafts giant Hobby Lobby Stores Inc. announced on Monday that effective immediately, the minimum wage for its full-time hourly employees at its stores and affiliate Hemisphere was increased to $14. The hourly wage for part-time employees was also increased to $9.50.
In a report on Thursday, founder and CEO of the company David Green said the decision was simply an acknowledgement of the hard work and dedication of his employees.
"We are very fortunate to be able to increase hourly wages for our employees, because we know our company would not be successful without the great work they do each day in our stores across the nation," said Green.
"We know that if we reward our employees for their hard work, we will be rewarded in turn with their loyalty and dedication to their job and to our customers," he added.
Hobby lobby, one of America's largest privately owned companies headquartered in Oklahoma City, Okla., employs 22,000 workers in 525 stores nationwide. This is the fifth successive year the company has increased wages for hourly paid full-time workers and the fourth for those working part-time. In 2012, full-time workers were paid $13 per hour while part-time workers earned $9. Full-time employees at Hobby Lobby and its affiliate now earn nearly two times more than the national minimum wage set at $7.25 per hour.
"As a family-owned business, we want our employees to feel like they are part of a family," said Green. "This is one way we can show our appreciation for their work and make them feel like part of a team."
Last fall, Green whom Forbes calls the "largest evangelical benefactor in the world," told that publication that everything in his $3 billion empire belongs to God.
"If you have anything or if I have anything, it's because it's been given to us by our Creator," Green told Forbes. "So I have learned to say, 'Look, this is yours, God. It's all yours. I'm going to give it to you.' "
According to Forbes, Hobby Lobby is 100 percent family owned and on their list of America's 400 richest people, Green sits at No. 79 with an estimated net worth of $4.5 billion.
"I don't care if you're in business or out of business, God owns it," Green told Forbes. "How do I separate it? Well, it's God's in church and it's mine here? I have purpose in church, but I don't have purpose over here? You can't have a belief system on Sunday and not live it the other six days."
This year, Hobby Lobby plans on opening 33 additional stores creating 1,200 jobs across America. Stores will open in Maine and Connecticut in a few months.
On their website, the company notes loyal customers, fair appreciation for excellence in their employees and the pursuit of biblical values as factors behind their growth.
"The constant element throughout Hobby Lobby's growth is our loyal customers and our outstanding employees. The foundation of our business has been, and will continue to be strong values, and honoring the Lord in a manner consistent with Biblical principles," states the company.
Hobby lobby offers some 65,000 crafting and home decor products in its stores such as candles, scented products, art canvas and picture frames. All Hobby Lobby stores are closed on Sunday.