Illinois Church Faces Lawsuit From Ex-Choir Director Fired After He Married a Man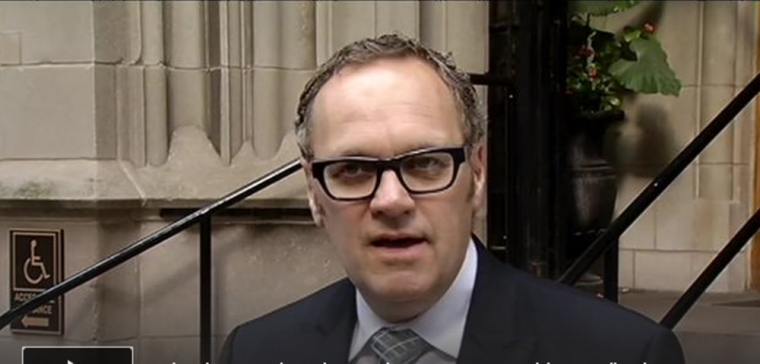 An Illinois man who was fired from his job as the music director at a Catholic church after he announced that he got married to a man, has filed a lawsuit against the church and its archdiocese.
John Colin Collette filed the lawsuit Monday against his former employer, Holy Family Catholic Community in Inverness, and the Archdiocese of Chicago in U.S. District Court for the Northern District of Illinois Eastern Division.
"[Collette] was treated less favorably than other similarly situated employees when it was discovered that he was engaged to and intended to marry a man," reads the suit.
"Defendants employ many similarly situated females that have become engaged to and eventually married men in both traditional Catholic marriages and in marriages not sanctioned by the Catholic Church."
The lawsuit claims that Collette's "sex, sexual orientation, and marital status were motivating factors in his termination."
Collette is seeking in his legal action reinstatement at Holy Family, back pay, and compensation for damages rendered, as well as attorney fees and costs.
In an interview with the Chicago Tribune published Tuesday, Collette explained that he was not doing this lawsuit with ill intentions toward the Church.
"When 'Spotlight' won the Academy Award (for best film), Rome was so quick to say, 'This is not an anti-Catholic film. It's calling us to an issue the Catholic Church needs to deal with'," argued Collette.
"That's how I felt about this. I'm not trying to be anti-Catholic. … This is an issue the church needs to deal with. There are a lot of good people that are hurting."
In the summer of 2014, Collette was fired from his position as music director at Holy Family when it was revealed that he was engaged to a man.
"Pastors hire and dismiss all parish personnel and govern according to the teachings of the Church and archdiocesan policies," stated the archdiocese.
"Those that serve as ministers of the Church, including worship ministers, are expected to conform their lives publicly with the teachings of the Church."
In September 2014 Collette had a meeting with then Cardinal Francis Eugenie George about the matter, with Collette describing it as a positive experience.
Nevertheless the archdiocese and the church refused to reinstate Collette, who then filed a complaint before the Equal Employment Opportunity Commission that December.
Last November the archdiocese announced that they were no longer open to mediation in the case, or for a similar case regarding Sandor Demkovich, who accused Saint Andrew the Apostle Parish in Calumet City of firing him for marrying his male partner.
Kerry Lavelle, attorney for Collette, said in a statement released last November that her client was disappointed in the archdiocese's refusal to engage in mediation.
"Naturally Colin is disappointed that the archdiocese is unwilling to commit to working together to find a resolution to his case," stated Lavelle. "It has been a year since we filed with the EEOC, and we will now await their finding in the matter."
Monday's district court lawsuit states that the EEOC "investigated plaintiff's claim of
discrimination and issued a 'right to sue letter' authorizing plaintiff to proceed in this court."
Collette's lawsuit may have some challenges ahead, as the U.S. Supreme Court previously ruled that religious employers could fire an "unwanted minister."
In 2012, the court ruled unanimously in Hosanna-Tabor Evangelical Lutheran Church & Sch. v. EEOC that religious groups could not be treated the same as other groups regarding anti-discrimination.
"Requiring a church to accept or retain an unwanted minister, or punishing a church for failing to do so, intrudes upon more than a mere employment decision. Such action interferes with the internal governance of the church," read the decision.
"The EEOC … acknowledge that employment discrimination laws would be unconstitutional as applied to religious groups in certain circumstances."