Imprisoned Iranian pastor's kids denied school certificates for refusing to study Islam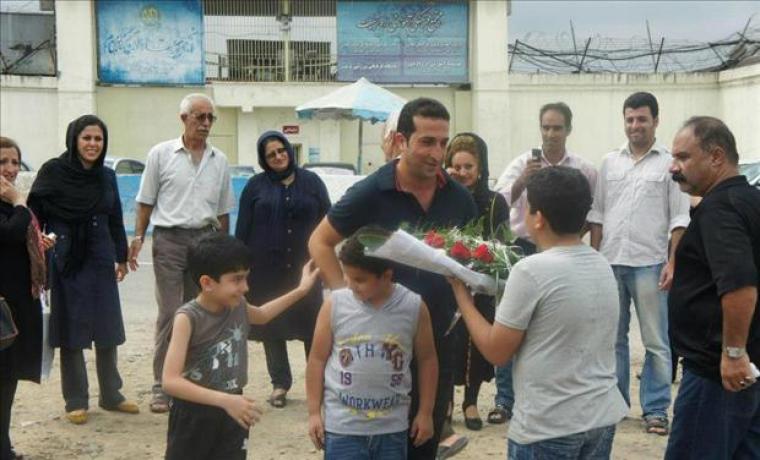 Imprisoned Iranian pastor Yousef Nadarkhani has gone on a hunger strike to protest the regime's attempt to bar his children from completing their education because they refuse to study Islam and read the Quran. 
According to Article 18, an organization that promotes religious freedom and tolerance for Christians in Iran, Nardarkhani's children went back to school last week but were told they hadn't completed the previous grades.
While their youngest child was told he can't go back to school because he hasn't received credit for completing the previous grades, 17-year-old Daniel has been accepted back as a "guest" in the 12th grade but still has not received a certificate telling him that he completed the previous grades. 
Nadarkhani, a Muslim convert who pastored a house church in the Gilan Province, is serving a 10-year prison sentence in Iran's notorious Evin Prison in Tehran on charges of "acting against national security." 
He was arrested in May 2016 and charged with promoting "Zionist Christianity," and violating the national alcohol prohibition through communion and acting against national security. 
Nadarkhani was first arrested in 2009 for protesting the same education policy that is penalizing his children today. The policy requires all students to take a course on the Quran. 
With Nadarkhani and his wife being Muslim converts to Christianity, they protested against their children being taught Islam in school. For that reason, the pastor was charged with apostasy and sentenced to death. However, he was acquitted in 2012.
Article 18 reports that Nardarkhani tried to ensure his children were recognized as Christians before he was sent back to prison in 2018 so they wouldn't have to take Islamic studies. However, the matter has yet to be resolved with local authorities despite a court ruling in the family's favor. 
Because of this, the Nardarkhani children were not given certificates to show that they are Christians and have completed their studies.
Although Youeil, 15, was set to start the 10th grade this fall, he has not received certificates to show that he completed the previous grades.
The certificate denials come as the children were accepted to school as fully paying students but labeled as "guests" until the family's legal case is resolved. 
According to Article 18, religious minorities are typically exempt from Islamic studies classes. However, Iran provides less freedom for Muslim converts, such as the Nardarkhanis, whom the state still considers to be Muslim. 
The U.S. State Department lists Iran as a "country of particular concern" for egregious violations of religious freedom. Iran is ranked as the ninth-worst country in the world when it comes to Christian persecution, according to Open Doors USA's 2019 World Watch List. 
Despite severe persecution against Christians, the underground church movement in the Islamic Republic continues to grow as there are over 800,000 Christians in Iran, according to Open Doors. 
"Converts from Islam are considered apostate and do not enjoy religious legal protection under Iranian law," Open Doors reported in a December 2018 dossier on Iran. "They are subject to the death penalty under Sharia law. They lose their right to inherit family possessions. They are still considered Muslim and (their children) are therefore obliged to follow Islamic education."
According to Open Doors USA, which monitors persecution in dozens of countries, Christians are prohibited from sharing their faith with non-Christians. Additionally, Muslims are not allowed to visit church services. Christians that do reach out to non-Christians run the risk of having their churches closed by authorities. 
In August, a Christian convert was sentenced to one year in prison for "acting against national security." Mahrokh Kanbari was arrested at her home last Christmas Eve. According to International Christian Response, she was directed to receive instruction from a religious leader to return to Islam.
Earlier this year, authorities arrested a bookseller from the Kurdish town of Bukan for selling the Bible. 
An Iranian Christian whose family is imprisoned in Iran met with President Donald Trump in July as part of a White House meeting with survivors of persecution. 
Dabrina Bet Tamraz, who's family's house church was shut down in 2009, told Trump that her father was sentenced to 10 years in prison for "acting against national security by forming home churches, attending seminars abroad and proselytizing Zionist Christianity." 
"[Christian converts] have no rights in our country," Tamraz stressed. "I am standing here today to raise awareness."