In Protest of Texas' Abortion Laws, MSNBC Host Melissa Harris-Perry Wears Tampon Earrings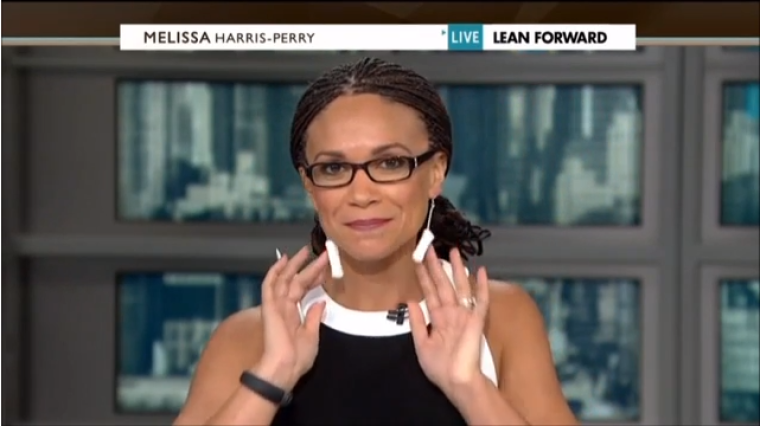 MSNBC host Melissa Harris-Perry made a bold statement for abortion rights when she ditched her regular earrings for a pair made from tampons on her nationally televised show on Sunday.
Harris-Perry's shocking stunt comes just days after Texas Governor Rick Perry signed a sweeping bill into law enacting some of America's most stringent abortion restrictions despite earlier efforts by pro-abortion activists to disrupt the process in a most unsanitary way.
The MSNBC host's tampon stunt piggybacks on reports just over a week ago that police had confiscated a variety of missiles pro-abortion protesters had planned to throw at Texas lawmakers who supported a ban on abortion beyond 20 weeks. Among the confiscated missiles were jars of feces, urine and used tampons.
A Texas Tribune report published information from the Texas Department of Public Safety (DPS) which listed the details in lurid fashion.
"For safety purposes, DPS recommended to the Texas Senate that all bags be inspected prior to allowing individuals to enter the Senate gallery, which the Texas Senate authorized," noted DPS.
"During these inspections, DPS officers have thus far discovered one jar suspected to contain urine, 18 jars suspected to contain feces, and three bottles suspected to contain paint. All of these items – as well as significant quantities of feminine hygiene products, glitter and confetti possessed by individuals – were required to be discarded; otherwise those individuals were denied entry into the gallery," it noted.
In protest of the thwarting of those efforts, Harris-Perry noted while smiling wryly: "You'll remember that the Texas state legislature said that you couldn't bring tampons in when … these women [were going] to, in fact, stand up for their own reproductive rights. You weren't allowed initially to bring tampons. So just in case that ever happens again ladies, you can just bring them on your earrings."
Earlier this month, Governor Perry was forced to convene a second special session in the Texas Senate after Democratic activism derailed the passage of legislation to ban abortions in the state after 20 weeks.
Now passed, along with a ban on the abortion of unborn babies older than 20 weeks, the legislation requires that abortion providers update their facilities in order to meet the same minimum safety standards as ambulatory surgical centers and mandates that doctors obtain admitting privileges at a hospital within 30 miles of their practice. Opponents of the proposal argued that the proposal would virtually shut down abortion clinics in the state.
"The fight over this law will move to the courts, while the bigger fight for women's access to health care in Texas gains steam," Cecile Richards, president of the Planned Parenthood Federation of America and the Planned Parenthood Action Fund, and a daughter of Ann Richards, the former Texas governor, told The New York Times. "People are enraged by this law, and it has created a whole new generation of activists who are in it for the long run to elect leaders who will protect women's health."