Indian Pastor Slashed With Machete by Hindu Extremist Miraculously Recovers, Vows to Continue Ministry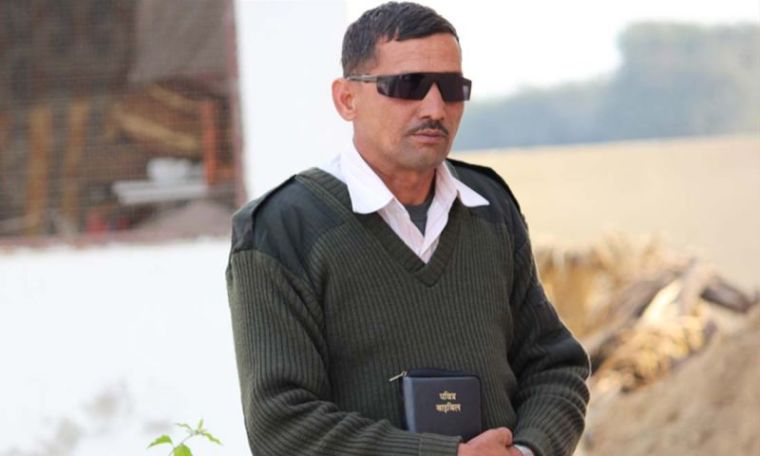 An Indian Christian pastor who miraculously recovered after a Hindu extremist attacked him with a machete said the persecution he's endured for his faith has only increased his passion for the Lord.
Persecution watchdog group Open Doors USA reports that 46-year-old Vipur, a house-church pastor from Madhya Pradesh, was severely injured in the machete attack carried out by a Hindu extremist who struck the pastor five times before fleeing.
Vipur managed to get away and limp home, where his wife and friends rushed him to a local hospital. Due to the large amount of blood he lost, death seemed imminent. However, after three months in the hospital, Vipur slowly regained his strength.
"Now, I can walk and move, but I'm still very weak," he told Open Doors. "I always need someone to go with me. I've lost sensation in my face and am deaf in one ear. My eyes are dehydrated and are ultra-sensitive to light, which is why I have to wear very dark sunglasses."
He identified his attacker to the police, and the man was arrested, then released — and Vipur still sees the man in the local market square.
"People tell me that if he drew my blood, I should draw his," Vipur said. "But God is our judge. I will have to forgive. It's really difficult. My wife wants revenge too.
"Whenever I see him, it's like there's an explosion in my chest. That's how angry I am. But I know I need to listen to what the Lord says and forgive. It's not easy to forgive the man who almost killed you."
Still, Vipur says until God directs him to leave, he will stay in his village and continue in ministry.
"I feel physically weak, but He makes me strong. My passion for the Lord has increased. I firmly believe what the Apostle Peter writes in his first letter: It's good to suffer for the Lord."
"Please pray for me," he added. "Pray that I will recover fully; that's my deepest wish. I want to be able to do what I did before the attack and even more."
Vipur, his wife, and the couple's three teenage children, are accustomed to persecution for their faith in India, where 90.9 percent of the 75 million residents follow Hinduism, according to the 2011 census.
The country is ranked as the 11th-worst nation in the world when it comes to Christian persecution, according to Open Doors USA's 2018 World Watch List. Most of the violence against Christians in the country come at the hands of Hindu radical groups.
The pastor shared how, after leaving Hinduism to follow Christ in 2000, he was shunned by his friends and family. Nearly 20 years later, the persecution hasn't diminished; Vipur said that he and his congregations regularly face persecution from Hindu extremists determined to end his ministry.
"Wherever I go, persecution follows me," Vipur said, adding that the continued violence and threats against his family have strengthened, not weakened, his passion to share the Gospel.
"That's what God tells me to do: to stay and be strong," he says. "Besides, I cannot run. What's the point of fleeing? Wherever I go to serve the Lord, persecution waits for me. Persecution is part of Christian life in India. God's intention with persecution is to test our faith."
Christian persecution, which includes violent attacks, destruction of Christian property and false accusations, has risen since the Hindu Nationalist Party won the general election in 2014.
However, such incidents have long gone ignored or under-investigated by local police officials, notes persecution watchdog International Christian Concern. In the worst cases, local police officials have "crossed the line from passive acquiescence to active participation in attacks on Christians," says ICC.
Earlier this month, at least six Christians in India's Odisha state were badly injured and had to be taken to a local hospital when Hindu extremists attacked and burned down a Christian home over the fact that a deceased Christian child was buried inside the village.
A recently released report by the Religious Liberty Commission of the Evangelical Fellowship of India highlights over 351 cases of Christian persecution in India in 2017. GMES reports that there were at least 12 cases of persecution against its missionaries last year.