Indonesia Earthquake: At Least 98 Dead, Rescuers Battling Massive Destruction to Reach Victims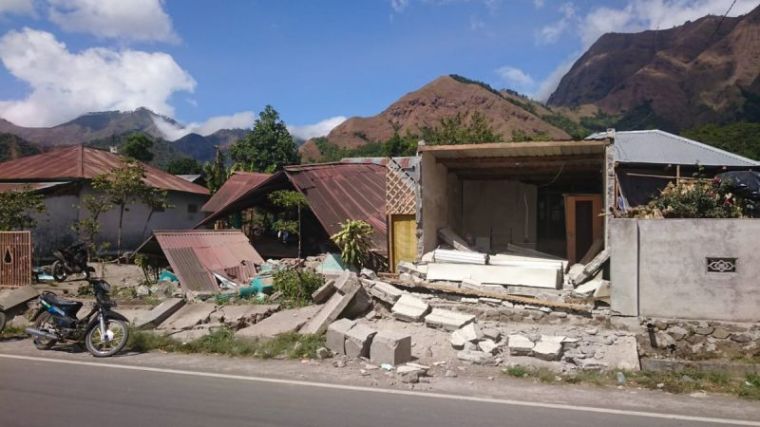 At least 98 people have been reported dead so far in a 6.9-magnitude earthquake that struck the island of Lombok, Indonesia, late Sunday night.
Rescuers said that they are battling against "massive" damage to reach people trapped in the rubble. Officials fear the death toll will rise to over 100.
At least 200 people were injured in nearby Bali, with the quake bringing down thousands of homes and buildings, according to Sky News.
National Disaster Mitigation Agency spokesman Sutopo Purwo Nugroho said that the north of Lombok sustained "massive" damage and most of the deaths resulted from people being hit by falling rubble.
A number of districts on the island are so heavily damaged that rescuers cannot access them to search for survivors.
At least 20,000 people are in temporary shelters, officials added.
CNN reported that hundreds of foreign vacationers are being assisted on the beach on the island of Gili Trawangan. Thousands of people on the island surrounding the epicenter of the quake are in danger and need assistance, emergency personnel said.
Various charities have suffered in the earthquake. Two homes that provided housing to 80 underprivileged children were destroyed.
"The other two that we just finished building this year also have damages, cracked walls, roof partly falling, so it's still not safe to stay inside," said Martina Fetter, founder of the Peduli Anak Foundation.
"We still need tents, setting up emergency kitchen, food, water, generator to pump water," she added.
Christian humanitarian groups, including World Vision, said that they and their partners are ready to help.
"Just In: Photos at the ground zero captured by @WahanaVisi_ID staff showing the damages after #LombokEarthquake hit the island yesterday," World Vision Asia-Pacific said on Twitter.
"Families are evacuating at temporary shelters. #WorldVision responds to the needs of the affected population."
Experts explained that the shallow nature of the quake worsened the damage, with rescuers facing collapsed bridges, electricity blackouts and roads blocked with debris.
Nugroho admitted that the death toll will "definitely increase," as it is unknown how many people remain trapped.
One survivor, British visitor Saffron Amis, described the scene, saying, "There was a lot of screaming and crying, particularly from the locals.
"We spoke to a lot of them and they were panicking about their family in Lombok. It was just a lot of panic because no one knew what was happening."
Helen Brady, 29, a writer from Manchester, revealed that she and her boyfriend barely escaped with their lives, as buildings crashed down around them.
"All the lights went out and most buildings were demolished. If we'd have been one minute slower we'd have been dead, or at the very least severely injured," Brady said.
Endri Susanto, who runs a nongovernmental organization assisting with relief efforts, told CNN that a tsunami warning was issued in the immediate aftermath of the quake, which forced many more people to flee to higher ground.
Sustano revealed that he reached a hospital in the north of Lombok in the rescue efforts, but it seemed to be "totally broken."
"I saw about 80 percent of the houses, 80 percent of the buildings had fallen down or collapsed because of the earthquake," he added.