Iowa Pastor Produces Scathing Video of Newt Gingrich
GOP Presidential Hopeful Compared to Kim Kardashian, Said to 'Trade Wives Like Used Cars'
Iowa Pastor Produces Scathing Video of Newt Gingrich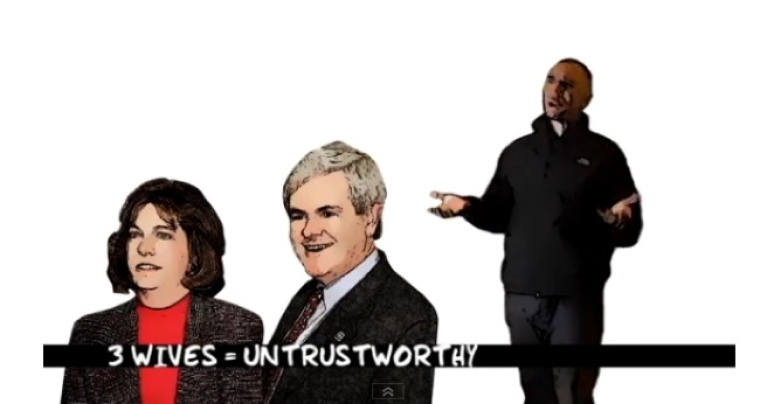 Pastor Cary Gordon from Cornerstone World Outreach in Sioux City, Iowa, is enthusiastically endorsing a satirical YouTube video he produced criticizing Republican presidential candidate Newt Gingrich, comparing the former House Speaker to Kim Kardashian for his "disrespect" of marriage.
Gingrich's popularity in the nation and particularly in the largely conservative state of Iowa has been on the rise, but the video, which features entertainer Molotov Mitchell, launched a scathing attack on the GOP candidate, accusing him of disrespecting the institute of marriage by cheating on his two former wives and for his refusal to sign a pledge that seeks to define marriage as between one man and a woman.
Mitchell is described by Gordon as "the guerilla warrior of Judeo-Christian political commentary," according to the Los Angeles Times.
The video goes into detail by describing how Gingrich left his first wife for his mistress while she was dealing with cancer, but did not last long in his second marriage either, and converted to Catholicism when he married his third wife.
Gordon has been sending the video via text message to just about every Iowan registered as a Republican or who is non-aligned, which numbers at 788,000, according to his press release. The pastor, who says Gingrich "terrifies" him, has been carrying out the campaign because the presidential hopeful's favorability rating with Christians in the state has been increasing.  
In the video, Mitchell says that some people like Gingrich because he is a good speaker, but he pointed out that the same could be said about President Barack Obama. In fact, the entertainer suggests that Obama deserves more respect for his commitment to his wife, and is a better role model than Gingrich – and remarked that the president "at least does not trade in his wives like used cars."
He also compares the candidate to reality show star Kim Kardashian, whose marriage to NBA star Kris Humphries lasted only 72 days before she filed for divorce.
The former House speaker chose not to sign the Iowa Family Leader's "Marriage Vow," which seeks to protect marriage by preserving it as a holy union between a man and a woman. Only Rick Perry, Michele Vachmann and Rick Santorum have signed it so far, the latter of which Pastor Gordon endorsed for president, the LA Times reported.
Lastly, the video questions people who would still vote for Gingrich despite knowing about his dubious past. Mitchell describes him as "unfaithful" and "untrustworthy," and claims that if he would show such a lack of commitment and respect to his former wives, there was no reason to believe he would keep his promises to the "sea of faceless" voters.