Is Tamra Judge Really a Christian? 'Real Housewives' Villain Baptized in Season 10 Trailer, Former Co-Stars Weigh In (Video)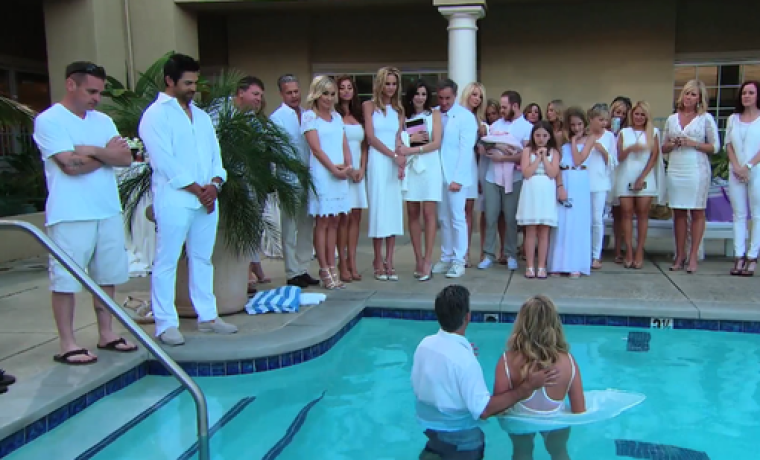 "Real Housewives of Orange County" star Tamra Judge, known for her sharp zingers and feisty attitude, appears to have turned over a new leaf and found Jesus after being dubbed the villain of season nine by viewers of the hit Bravo TV show. Some critics, including a former castmate, are unconvinced that her spiritual journey is genuine.
In a newly released trailer for season 10, Judge, who made famous the term "Jesus Jugs" during a heated exchange with her former co-star Alexis Bellino in season eight, is seen being baptized with holy water to wash all of her sins away as loved ones look on.
"In the name of the Father, the Son and the Holy Spirit," a man believed to be a pastor is heard saying before tilting Judge backwards as she dips into the water.
The mother of four shared recently that viewers will finally get to see her "softer side" when season 10 premieres on June 8. For years, the veteran housewife, who joined "RHOC" in season three, has been at the center of explosive feuds and never-ending drama, but she now seems to be changing her ways.
"I think they will see a softer side of me," Judge told Blogger Real Mr. Housewife. "I become a grandmother and take a spiritual journey in my life that I'm excited to share with everyone."
Last month, unconfirmed reports speculated that Judge might be faking her religious storyline to secure her spot on the popular show. And Bellino, who spent three seasons on the show before departing in season eight, recently expressed doubts about Judge's Christian faith.
"I cannot believe that," Bellino, a devout Christian, told blogger Perez Hilton when asked about Judge accepting Christ as her Savior. "But more power to her. Soul saved, that's what matters. Let's just hope her actions stay with what a baptism really means."
Season eight cast member Lydia McLaughlin, a Christian who used her platform on the show to share the Gospel, was slightly more optimistic about Judge's conversion.
"Well, I heard Tamra got baptized. I'm not sure if this is true but I think she needs the Lord, so that's great; I'm excited. I hope that she can inspire people more to learn about Jesus," said McLaughlin.
Judge, who has been embroiled in a bitter custody dispute with her ex-husband over the past year, is yet to publicly address questions about her faith but alluded to the criticism in a recent Instagram post.
"Show hasn't even started and they are already spreading rumors about me. Bless their broken hearts. It kinda makes me laugh," she wrote alongside a photo that read "rumors are carried by haters, spread by fools and accepted by idiots."
In recent weeks, the Bravo TV star suffered backlash when she weighed in on the Duggar family scandal in a now deleted Facebook post she shared with her 800,000 followers.
Josh Duggar, whose Christian family catapulted to fame in 2008 following the launch of their hit reality TV series "19 Kids and Counting," is accused of molesting his sisters as a teen. Judge recently appeared to support him.
"I don't know the whole story and I know the press likes to blow things up," Judge wrote in a comment. "My question is … did someone do this to him? Is he a victim as well? Just a thought …"
Judge returns to "RHOC" in season 10 along with her best friend and fellow Christian, Vicki Gunvalson, as well as Heather Dubrow, Shannon Beador and newcomer Meghan King Edmonds.
CP reached out to Judge for comment Thursday but she did not respond in time for this report.