ISIS Lone Wolf Suspect Arrested in Arizona Searched Google for 'Midnight Mass,' 'Most Powerful Gun'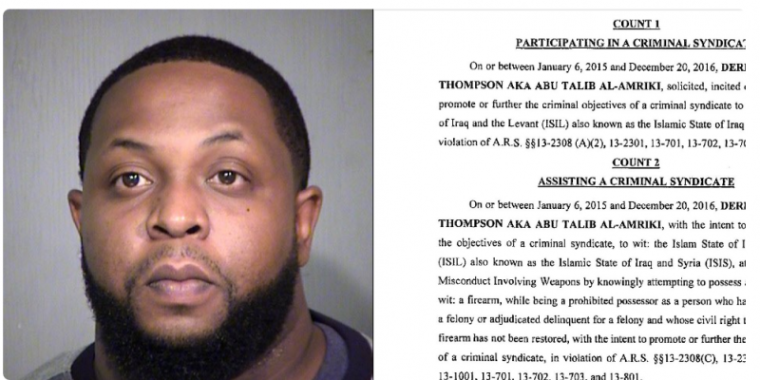 An Arizona man who was arrested earlier this month on suspicion of terrorism was plotting an Islamic State lone wolf attack, according to authorities.
Derrick Thompson of Phoenix, who is also known by the name Abu Talib Al-Amriki, was arrested days before Christmas when authorities noted suspicious activity online and offline.
"According to court paperwork, it was January 2015 when Thompson tried to buy [a] gun from backpage.com with the intent to carry out an attack for ISIL. However, Thompson is a convicted felon, which prohibits him from buying a firearm," reported ABC 15.
"Investigators say since 2014, Thompson has been an 'avowed jihadist,' and has conducted hundreds of Google searches for handguns, rifles, scopes and crossbows."
Local news station ABC 15 also noted that according to officials, during the month of October Thompson made several Google searches that were of concern, including "midnight mass, martyrdom vs. suicide and which type of gun is the most powerful."
"He also reportedly posted on his Google Plus account in October, 'We need to get down with this ISIS s---,'" added ABC 15.
The number of IS-affiliates worldwide has grown from 13 in 2015 to 18 in just one year, as its sympathizers continue to radicalize people in Europe and North America, leading to lone wolf attacks that have resulted in numerous deaths.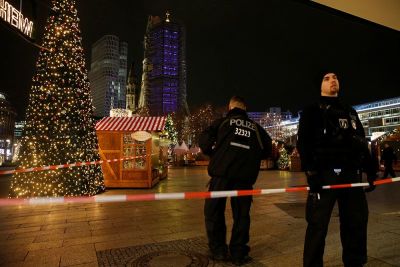 Last week, a tractor trailer was driven into a crowded Christmas market in Berlin, Germany, killing 12 people and injuring 48 others.
"The truck careered into the Berlin market at what would have been one of the most crowded times for the Christmas market, when adults and children would be gathering in the traditional cluster of wooden huts that sell food and Christmas goods," reported Reuters.
The lead suspect in the Berlin attack, a Tunisian named Anis Amri, was killed in a shootout with police in Milan, Italy on Friday. 
Thompson's arrest comes not long after another Arizona resident pled guilty to the charges of attempting to aid and incite terrorism.
In October, 18-year-old Mahin Khan pled guilty to multiple charges connected to his attempt to join the Pakistan-based Islamic terror group Terik-e Taliban Pakistan.
"Khan was arrested in July on terrorism-related charges linking to a conspiracy targeting several Arizona locations, including the Tucson Jewish Community Center, a military recruitment office and Raytheon," reported the Arizona Daily Independent.
"In the agreement Khan cut with Attorney General Mark Brnovich, he will only serve a prison term for no less than five years and no more than 10 years plus an additional two year term for the multiple charges in the Arizona Department of Corrections."
"U.S. State Department documents indicated that in 2014, when the U.S. military began its campaign to destroy the extremists, there were only seven nations in which the fledgling state was operating," noted NBC.
"The current briefing map shows 18 countries where ISIS is fully operational. The map also displays a new category — 'aspiring branches' — and lists six countries where they're taking root: Egypt, Indonesia, Mali, the Philippines, Somalia and Bangladesh."