ISIS Targets Thousands of US Churches, Wants to Turn 'Christian New Year' Into 'Bloody Horror Movie'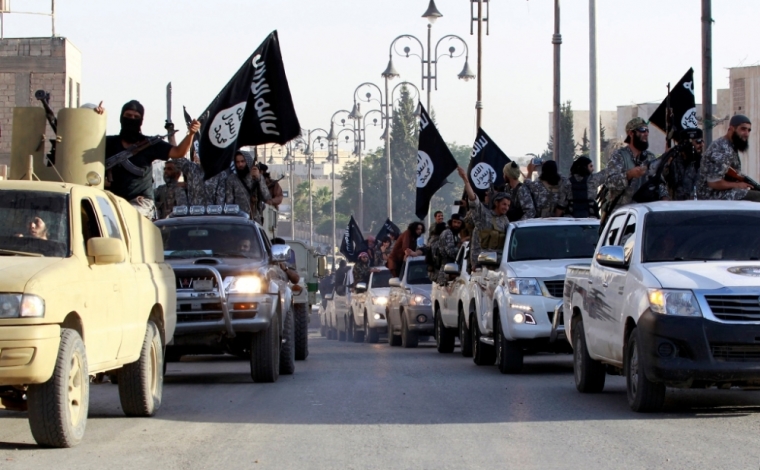 The Islamic State terror group has published the names and addresses of thousands of churches in the United States on its social media outlets, calling for its supporters to turn the "Christian New Year" into a "bloody horror movie."
Vocativ, which monitors and reports on IS' online activities, said the extensive list was published on the "Secrets of Jihadis" social media group's page.
The Arabic-language messages reportedly call for a "bloody celebrations in the Christian New Year," and provide information for potential terrorists, such as manuals for the use and preparation of weapons and explosives.
The radical jihadi sites also included the addresses of well-known hotels, coffee shops, streets, markets and public places across the U.S., as well as locations in Canada, France, and the Netherlands.
Back in June, IS published another similar list, this time targeting nearly 8,000 Americans in the U.S., with a pro-IS hacking organization calling on Islamists to find these individuals and "kill them strongly to take revenge for Muslims."
Vocativ noted that the list, published in June, did not result in any known attacks.
Still, IS has claimed responsibility for numerous attacks in Europe and the U.S. this past year, mostly through "lone wolf" sympathizers who have carried out mass shootings or used lorries to kill civilians.
The terror group, which holds territory in Iraq and Syria, also shocked the Christian community in Europe when two of its supporters killed a French priest during morning mass at his Rouen church in July.
The elderly Rev. Jacques Hamel had his throat slit by two teenagers with allegiances to IS. His last words were directed at his attackers as he tried to push them back, saying: "Go away, Satan."
"Evil is a mystery. It reaches heights of horror that take us out of the human," Archbishop Dominique Lebrun of Rouen said at Hamel's funeral.
"Isn't that what you wanted to say, Jacques, with your last words, when you fell to the ground? After you were struck by the knife, you tried to push away your assailants with your feet and said, 'Go away, Satan.' You repeated it, 'Go away, Satan."'
Col. John Dorrian, the spokesman for an international coalition fighting IS, said earlier this week that the terrorists have also developed a mobile phone application aimed at indoctrinating young children in Iraq and Syria to attack major Western landmarks, such as Big Ben, the Eiffel Tower and Statue of Liberty.
"The reward for learning something in this app is to get points that they can use to select the terrorism target of their choice. Western landmarks that the child can choose and attack using a variety of weapons, including commercial airliners," Dorrian explained, warning that the damage done to children's minds will need to be addressed once IS is pushed back.