ISIS Mass Grave Found Containing 300 Bodies Massacred by Jihadists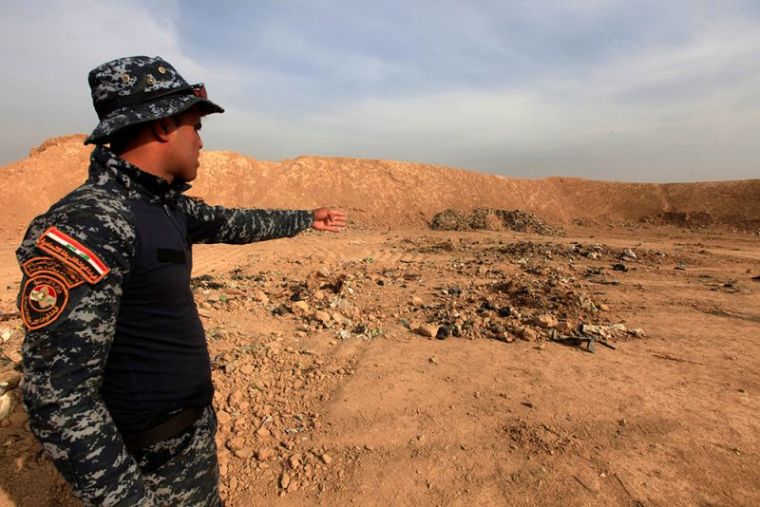 Iraqi forces have found a mass grave containing the bodies of at least 300 former police officers massacred by the Islamic State terror group near Mosul, its last remaining stronghold in Iraq.
Several witnesses told Human Rights Watch, a group that has been tracking the atrocities committed by IS and other radical groups in the region, that the mass executions took place at the end of October, with the corpses dumped near a mass grave on the outskirts of the village of Hammam al-Alil.
"This is another piece of evidence of the horrific mass murder by ISIS of former law enforcement officers in and around Mosul," said Joe Stork, deputy Middle East director at HRW. "ISIS should be held accountable for these crimes against humanity."
HRW relief workers who visited the site of the grave said that they saw "four exposed corpses, as well as piles of trash covering corpses," with the area emanating a "strong, foul smell."
The visible corpses all had bound hands and ankles and were blindfolded.
The human rights group's report included the testimonies of witnesses that claimed IS fighters have rounded up thousands of people in the area, purposefully separating former police officers, loading them into vehicles, and driving them away.
HRW said that IS has been using civilians as "human shields" in its effort to keep control of Mosul as it battles Iraqi ground forces, who are backed by coalition forces including the U.S. military. The terror group has reportedly been committing a number of human rights abuses, such as using chemical weapons on residents.
"Widespread or systematic murder carried out by a state or organized group as part of an attack against a civilian population — as part of a policy to commit murder — constitutes a crime against humanity. The killing of prisoners, civilian or military, during an armed conflict constitutes a war crime," HRW reports.
Untold thousands of victims have been discovered in IS' mass graves across Iraq and Syria in territory it had held since 2014. A report by The Associated Press in August exposed at least 72 such mass graves, but noted that many dozens more remain in territory that is still too dangerous to excavate.
The victim include men, women, and children, with researchers discovering atrocities everywhere IS has reigned.
"This is a drop in an ocean of mass graves expected to be discovered in the future in Syria," said in August Ziad Awad, the editor of an online publication on Deir el-Zour called The Eye of the City, who is documenting the mass graves.
Residents fleeing Mosul, who have managed to escape IS and have been assisted by organizations such as Action Yazidis, have meanwhile confirmed that the radical terror group is using civilians as "human shields," as Father Patrick Desbois, the Paris-based priest behind the organization, told The Christian Post earlier this month.