ISIS Militants Undeterred After US Airstrikes; Say They Are Motivated by Allah's 'Promise of Heaven'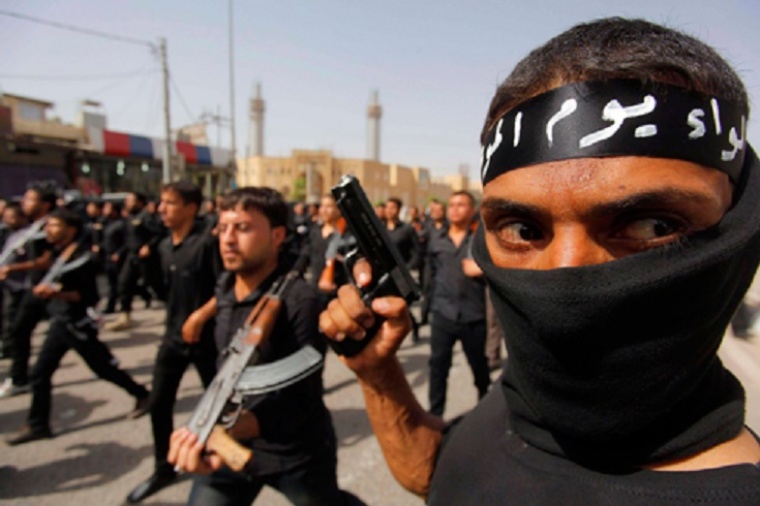 Islamic State fighters in Iraq are said to be unfazed after U.S. Warplanes unleashed bombs on those marching on the Kurdish capital on Friday.
U.S. President Barack Obama authorized airstrikes in Northern Iraq to protect hundreds of thousands of non-Muslims being persecuted by Islamic State jihadists.
The U.S. airstrikes are the first in Iraq since 2011, when Obama pulled out all troops. The move is designed to protect the Kurdish-controlled city of Erbil from the advancing militant group Islamic State of Iraq and Syria (ISIS).
Pentagon Press Secretary Rear Adm. John Kirby said in a statement that "two F/A-18 aircraft dropped 500-pound laser-guided bombs on a mobile artillery piece near Erbil."
An estimated 200,000 Christian civilians and other religious minorities are said to have fled their homes today to avoid ISIS militants, who reportedly overran Christian villages including Tilkaif, Al Kwair and Iraq's biggest Christian town, Qaraqosh, according to the UN Office for the Coordination of Humanitarian Affairs.
ISIS Militants have demanded that all non-Muslims leave, convert, or die. Extremists were seen pulling down church crosses and burning manuscripts during Friday's rampage, in a bid to eradicate non-Muslims.
"Earlier this week, one Iraqi in the area cried to the world, 'There is no one coming to help.' Well, today America is coming to help," Obama said Thursday in a special address to the nation. "We can act carefully and responsibly to prevent a potential act of genocide."
One fighter brushed off the airstrikes and said that ultimately they have "no impact on us," Reuters reported.
He attributed the violence of ISIS militants to their faith and said that they will stop at nothing because "we are promised heaven [by Allah]."
"The planes attack positions they think are strategic, but this is not how we operate. We are trained for guerrilla street war," the unnamed fighter said. "Allah is with us and our promise is heaven. When we are promised heaven, do you think death will stop us?"
As of Friday, dozens of members of the ancient Yazidi sect had been killed by ISIS militants due to their ancient beliefs. They have been denounced by ISIS as "devil-worshippers" and approximately 50,000 Yazidis have sought refuge from the terror group in the barren mountain range after fighters demanded that they leave, convert or die.
"After we fled to the mountain, I returned one day to recover belongings and I saw the bodies of the elderly disabled men who had been shot dead by the Islamic State. They were too old to flee. I can't forget that scene," said Akram Edo, who escaped to Kurdish-held territory with seven children.