ISIS Radicals Chainsaw 9 Iraqi Youths in Half for Belonging to Anti-ISIS Group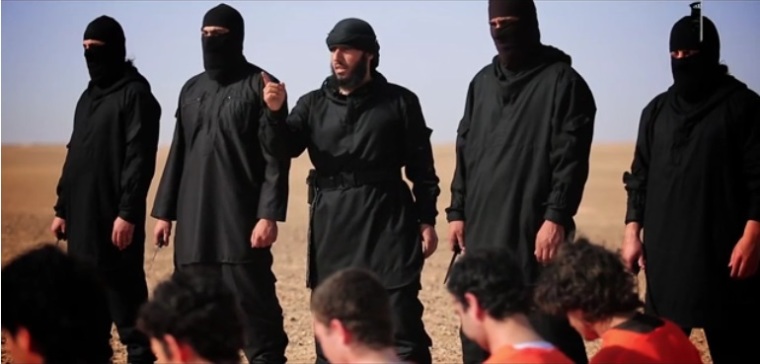 Militants with the Islamic State terror group in Mosul, one of the captured cities in Iraq, reportedly executed nine youths by slicing them in half with chainsaws as punishment for joining an anti-ISIS faction.
Iraqi News reported on Wednesday of a "well placed source" inside Mosul that recalled the graphic execution, which was apparently sanctioned by one of the terror group's courts.
"The death sentence pronounced by ISIS sharia court stated that the men should be tied to an iron pole in the center of Tal Afar Square in Mosul and then sliced into two with an electric chainsaw," the anonymous source said.
ISIS (also known as IS or ISIL), which holds territory in both Iraq and Syria, has executed thousands of people based on different charges and allegations, often times by using shocking and very painful methods.
In May, the Islamic extremists executed 25 civilians accused of spying for the Iraqi government, which ISIS is fighting, by throwing them into a basin of nitric acid. Another anonymous source said that all 25 men were tied with a rope and lowered in the tub "till the victims' organs dissolved."
The militants have executed their own fighters and leaders on a number of occasions as well.
The terror group boiled to death seven of its own soldiers in July, who had allegedly deserted the battlefield in the town of al-Sharqat in the Salahuddin province, where IS was fighting Iraqi forces.
The seven men reportedly had their hands and legs tightly bound, as they were thrown into large pots of boiled water, which burned them alive.
Just last week, another report claimed that militants killed six of their leaders by using a flamethrower, punishing them for allegedly trying to escape.
"The six ISIS leaders were executed by their counterparts using flamethrower," said Ismat Rajab, a Kurdistan Democratic Party official in Mosul. "They were executed as they tried to escape to Syria."
Untold numbers of soldiers and civilians have been killed during IS' reign of terror in Iraq and Syria, which started back in the summer of 2014. An extensive report by The Associated Press released earlier this week found 72 mass graves, which are thought to contain the bodies of thousands of victims, many of them from the Yazidi, Christian, and other religious minorities.
The exact numbers of victims are difficult to establish, as IS still holds significant territory in the region despite ongoing air strikes by the U.S. and other governments in the war on terror.
"We see clear evidence of the intent to destroy the Yazidi people," said Naomi Kikoler of the Holocaust Museum in Washington, D.C. "There's been virtually no effort to systematically document the crimes perpetrated, to preserve the evidence, and to ensure that mass graves are identified and protected."