ISIS Executes 25 by Dipping Them in Nitric Acid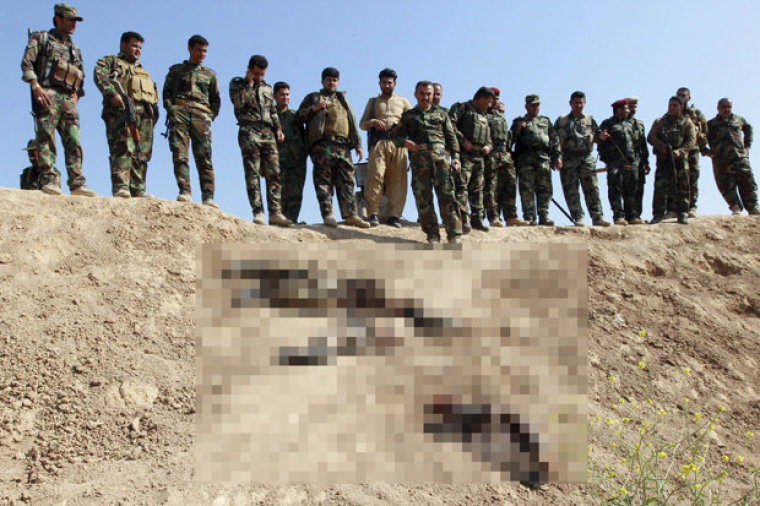 Islamic State publicly executed 25 civilians, who had been accused of spying on the terror group for Iraqi government security forces, by throwing them into a basin carrying nitric acid in Iraq's embattled northern city of Mosul in Nineveh Province, according to reports.
"ISIS terrorist members executed 25 persons in Mosul on charges of spying and collaborating with Iraqi security forces," IraqiNews.com quoted an anonymous source as saying. "ISIS put the citizens in a large tub containing nitric acid inside one of its headquarters."
The source said members of Islamic State, also known as ISIS or ISIL or Daesh, tied all the 25 men with a rope and lowered him in the tub "till the victims' organs dissolved."
Nitric acid is a highly corrosive mineral acid and extremely harmful for the human body.
Last Friday, ISIS terrorists executed 11 residents of Mosul on charges of using mobile phones, according to Alalam, which also reported that ISIS militants burned all the five members of an Iraqi family alive in Kirkuk city a day earlier after accusing them of trying to escape the terror group's territories.
In late April, ISIS members executed 250 women in Mosul after the victims refused to accept their proposal to temporarily marry militants, Alalam said.
Last week, a mass grave of ISIS victims was found in the Suluk town in Syria, about 30 miles from Raqqa and which was controlled by ISIS until recently.
"We discovered thousands of bodies of innocent victims in the ravine," a Kurdish commander told RT.com. "They would bring those still alive to the precipice, blindfold them and shoot above their heads to scare them. People would then start running and fall over the edge. They'd bring the bodies and others, covered in blankets, and throw them off. The proof is these bones and the blood that's there. Nobody knows how deep the gorge is."
However, ISIS, an offshoot of al Qaeda, is increasingly being seen as losing its territory.
In Iraq, ISIS has lost almost half of the territory that it once held in Iraq after it swept across the country in June 2014, a Pentagon spokesman said last week. "The number right now in Iraq is about 45 percent of the territory they once held has been recovered," spokesman Peter Cook said, according to Newsweek. "The number in Syria is anywhere between 16 to 20 percent."