ISIS Sex Slaves Being Bought, Reunited With Family by Mysterious Iraqi Man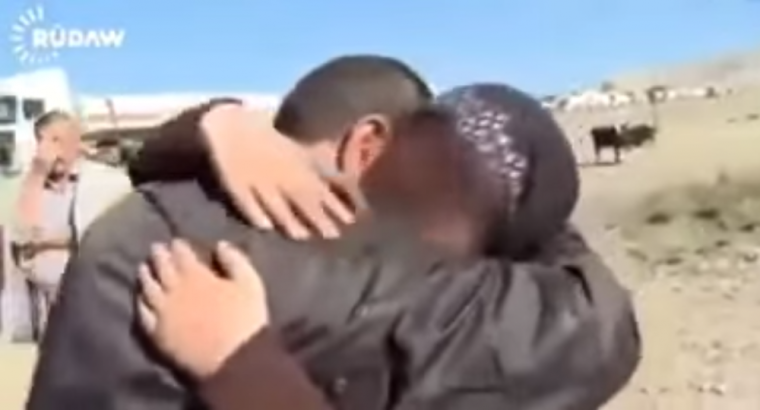 As thousands of women and girls are being raped, abused and victimized as part of the Islamic State's sex slave operation in Iraq and Syria, one Iraqi man is buying ISIS sex slaves in order to free and reunite them with their families.
In the Islamic State's sex slave market, captured religious minority women, girls and even babies are sold to militants and supporters willing to dish out good money for a new jihadi bride or woman they just want to abuse and hand off to their buddies when they are finished.
Although many find it unethical to participate in the Islamic State's human trafficking market that helps fund the terrorist organization that has killed thousands, one unnamed Iraqi man is purchasing ISIS's sex slaves not for phyiscal pleasure but to give them freedom.
As Walid Shoebat reports, an Iraqi man, who remains nameless, disguises himself as a human trafficking dealer in order to "infiltrate" the Islamic State and get the militants to sell him sex slaves. But in purchasing sex slaves, the man finds a way to reunite them with their fathers, husbands, and the rest of their family.
The report cites a video from the Iraqi news site Rudaw, which can be viewed through the YouTube channel StreamDZ, that shows one of the yazidi sex slaves the man purchased finally being reunited with her father. In the video, the woman and her father hug and cry tears of happiness as they are finally reunited.
For many yazidi women taken as sex slaves by ISIS, there is no guarantee that they will ever be reunited with their fathers, husbands or brothers.
The woman in the Rudaw video was fortunate that her father was still living, because ISIS killed most of the yazidi men upon capturing them last summer when they seized most the Yazidi territory. Upon seizing a Yazidi town, the militants captured the yazidi people, separated the males from the females, hauled the females away in the back of large trucks as their male family members were typically shot execution style.
While some of the boys were allegedly spared their lives and forced to start training to become militants, many of the women and girls, who were not already taken as spoils of war by ISIS militants involved in seizing the region, were taken away to the Syrian strongholds where they were to be sold as sex slaves.
Upon arriving in the stronghold, the women were held captive in tight, overpopulated rooms, until they were sold to militants.
After being sold off, the fate of the women vary. The woman in the Rudaw video was lucky because she was sold to someone who reunited her with her father. Others, however, are not so fortunate as they are usually forced to convert to Islam, marry a militant and sometimes change their names.
According to a 15-year-old Yazidi taken by ISIS as a sex slave, she was sold to a militant who tried to force her to convert to Islam and change her name to Abeer, according to The Telegraph. But she found a way to escape from her sex slavery and avoid changing her name or converting.
She drugged tea that she served to the ISIS fighter that purchased her and escaped out the door as he was unconscious.
"He told me, 'I'm going to change your name to Abeer, so your mother doesn't recognize you,'" the 15-year-old Yazidi girl explained. "You'll become Muslim, then I will marry you. But I refused to become a Muslim, that's why I fled."
Some sex slaves are not fortunate enough to escape. Some ISIS sex slaves have taken up the practice of committing suicide just so they don't have to endure the daily abuses they suffer.
One unnamed former ISIS captive explained to Amnesty International how one sex slave named Jilan took her own life.
"We were 21 girls in one room, two of them were very young, 10 to 12 years. One day they were given clothes that looked like dance costumes and were told to bathe and wear those clothes. Jilan killed herself in the bathroom," the woman said. "She cut her wrists and hanged herself. She was beautiful. I think she knew that she was going to be taken away to a man and that is why she killed herself."