ISIS Video Shows Beheading of Britain's Alan Henning; Threatens US Hostage to be Next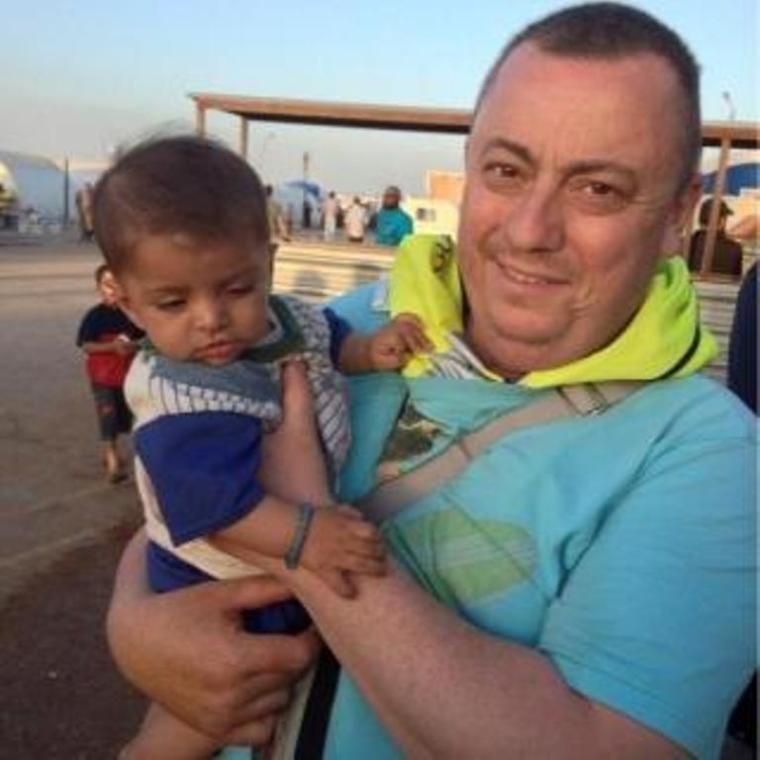 Islamic State, or ISIS, released a video showing the beheading of British aid worker Alan Henning. In the footage, which looks similar to the previous one showing the execution of another British hostage, David Haines, a masked militant threatens that an American hostage, Peter Kassig, will be next.
"I am Alan Henning. Because of our Parliament's decision to attack the Islamic State I, as a member of the British public, will now pay the price for that decision," Henning is shown as saying in the video released Friday.
A masked militant, with a British accent, then says: "Obama, you have started your aerial bombard of Shams (Syria), which keep on striking our people, so it is only right that we strike the next of your people."
The militant identifies the next target to be Kassig.
Kassig is 26 years old, and is from Indiana. He has worked in Lebanon, Turkey and Syria to help victims of the Syrian conflict, and was supposedly kidnapped from an ambulance in Syria in 2013, according to BBC.
"At this point we have no reason to doubt the authenticity of the video released earlier today," White House spokesperson Caitlin Hayden was quoted as saying. "We will continue to use every tool at our disposal – military, diplomatic, law enforcement and intelligence – to try to bring Peter home to his family."
Kassig's family released a statement, saying he had converted to Islam and that his name is "Abdul Rahman Kassig."
The statement pleads for the release of Kassig and "all innocent people being held hostage in the Middle East and around the globe," and urges prayers.
In a video showing the beheading of another British aid worker, Haines, on Sept. 13, ISIS had threatened that Henning, 47, could be next. In two previous videos, ISIS showed the execution of U.S. journalists James Foley and Steven Sotloff.
Henning's wife, Barbara, had urged ISIS, also known as ISIL, to release him. "I pray that the people holding Alan respond to my messages and contact me before it is too late," she said in a statement released by the U.K. Foreign Office last week. "When they hear this message, I implore the people of the Islamic State to see it in their hearts to release my husband," she said, according to The Telegraph.
The White House released a statement Friday evening.
"The United States strongly condemns the brutal murder of United Kingdom citizen Alan Henning by the terrorist group ISIL," it said. "Mr. Henning worked to help improve the lives of the Syrian people and his death is a great loss for them, for his family and the people of the United Kingdom. Standing together with our UK friends and allies, we will work to bring the perpetrators of Alan's murder – as well as the murders of Jim Foley, Steven Sotloff and David Haines – to justice. Standing together with a broad coalition of allies and partners, we will continue taking decisive action to degrade and ultimately destroy ISIL."
The U.K. Foreign Office is trying to verify the video. "If true, this is a further disgusting murder," it said in a statement. "We are offering the family every support possible; they ask to be left alone at this time."
British Prime Minister David Cameron responded to the killing of Henning by saying it "shows just how barbaric and repulsive these terrorists are."
Henning "had gone to Syria to help get aid to people of all faiths in their hour of need," Cameron said. "The fact that he was taken hostage when trying to help others and now murdered demonstrates that there are no limits to the depravity of these ISIL terrorists … We will do all we can to hunt down these murderers and bring them to justice."
ISIS, an al-Qaeda offshoot, has gained control of large swathes of territories in Iraq and Syria.
In Iraq, ISIS men have killed hundreds of civilians. Numerous members of the Christian and Yazidi minorities have also been killed, and tens of thousands of them have fled their homes.
ISIS, or Islamic State of Iraq and Syria, wants to form an Islamic emirate in the Levant region through "jihad." According to the CIA, ISIS has about 31,500 fighters across Iraq and Syria.
The terror group is believed to have hundreds of foreign fighters, including those from the United States and Europe.