ISIS Video Shows Kidnapped Assyrian Christian Converting to Islam; Jihadists Call It 'Voluntary'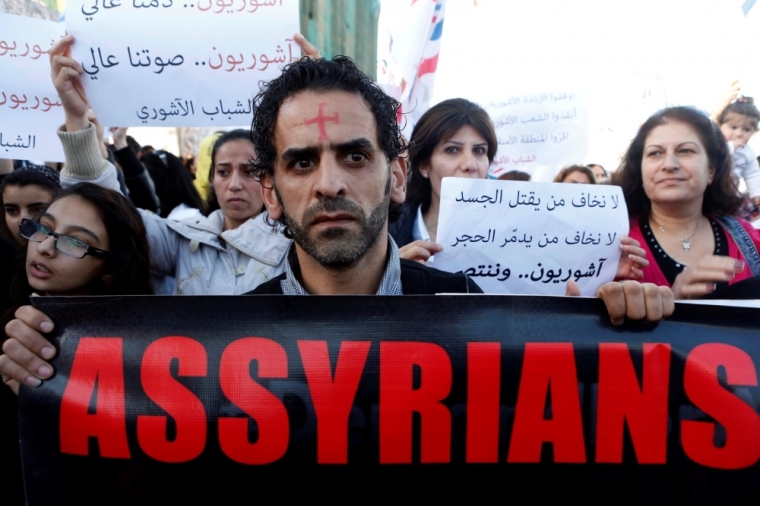 Terror group ISIS has reportedly released a video showing the conversion of one kidnapped Assyrian Christian into Islam. Previous reports have stated that the 200-plus Christian hostages have refused to deny Christ during ISIS' conversion attempts, but the latest video shows a man from the village of Tel Temit declaring that Muhammad is God's prophet.
"These forms of propaganda are repugnant, offend the conscience of every man and should provoke rebellion also on behalf of Muslims who have true religious piety" Archbishop Jacques Behnan Hindo, head of the Syrian Catholic archeparchy in Hassaké -Nisibi, told Fides News Agency in response to the video.
"It is obvious that the moral and physical violence on persons held hostage is another manifestation of barbarism in which we have fallen. We pray that the Lord helps and consoles those who suffer in his name."
The video has reportedly been spread throughout ISIS' websites. It identifies the villager as Sargon David, and shows him saying the formula of "Shahada," which declares "There is no God but God, and Muhammad is his prophet."
The jihadists, who have captured cities and towns across Iraq and Syria, kidnapped over 200 Assyrian Christians from 35 different villages in the Hasakah province in February.
One of the hostages that was later released, identified as Robert, revealed that ISIS has been trying hard to force the Christians to convert to Islam.
"They kept pressuring us to convert to Islam. It was their constant focus. But we were not mistreated." Robert said. "We said we would not convert. They said you must then pay the jizya [a Christian poll tax] or leave the country. That was the option given to us. We said we would pay the jizya but we would not convert."
ISIS has targeted Christians on a number of occasions in its attacks across the region, and back in February released a video showing the beheadings of 21 Coptic Christians that had been kidnapped from Libya. The video was titled "A Message Signed with Blood to the Nation of the Cross."
The latest video shows David saying that he "voluntarily" converted to Islam, and calls on other Christians in Syria to do the same. One of the ISIS militants in the video claims that others from the Assyrian hostages "have converted to Islam without any pressure from us."
ISIS has carried out a number of operations in March focused on destroying ancient historical sites and monuments, and has been tearing down both Christian and Shiite Muslim shrines in northern Iraq.
Last week ISIS showed photos of its fighters destroying a fourth-century memorial built by an Assyrian king.
"We are not imported into our lands in Syria, Iraq and Lebanon," Ignatius Joseph III Yonan, patriarch of Antioch and all the East of the Syrians of the Syriac Catholic church, told the Guardian. "We call on the world that calls itself civilised to help us stay in our land, and defend our rights as citizens."
"Condemnation is not enough. Our destiny is in great danger, the Christians and the other minorities in Iraq," he added.