Islamic Militants Hack to Death, Brutally Murder 106 Residents of Christian Farming Village in Nigeria
Islamic Militants Hack to Death, Brutally Murder 106 Residents of Christian Farming Village in Nigeria
Attacks by the Boko Haram on a Christian farming village in Nigeria on Saturday has left 106 residents dead.
Nearly 100 militants from the Nigerian Islamic terrorist group seeking to eradicate Christianity from the African country and instate Shariah law, entered the city on trucks and motorcycles on Feb 15, witness Ali Ndume has reported to the BBC.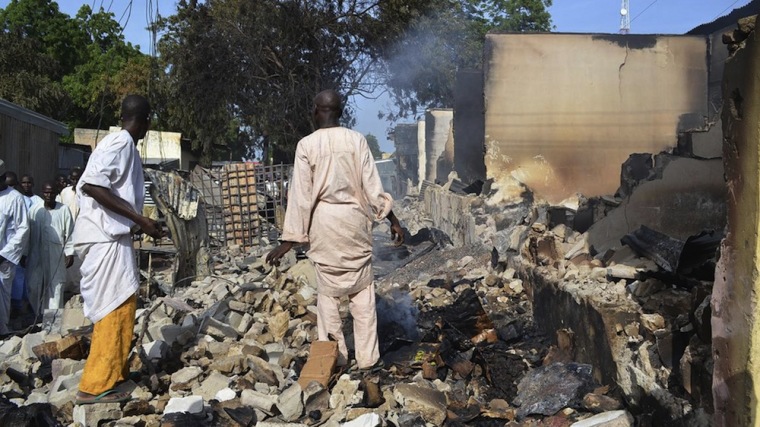 Boko Haram terrorists overwhelmed the town, opened fire on and hacked to death male residents who had gathered in the town square. From there, they marched door to door, searching for men who had attempted to hide, brutally shooting or cutting the throats of their victims. They also took the life of a grandmother who had attempted to save her grandson's life.
The local government chairman of nearby Madgali district, Maina Ularamu, told CNN that Boko Haram also looted the town's shops and businesses and "loaded all their spoils into vehicles owned by residents and fled into the bush."
Dozens of terrified residents subsequently fled their village to Ularamu's district in Adamawa state.
"All the dead bodies of the victims are still lying in the streets," resident Abubakar Usman told Reuters. "We fled without burying them, fearing the terrorists were still lurking in the bushes."
The Nigerian military left the area after nine of their soldiers were killed last week, leaving a region long-vulnerable to Boko Haram attacks even more exposed. They were reportedly not present throughout the five hour attack.
The massacre followed on the heels of another attack on Saturday morning where Boko Haram stormed Doron Baga, a fishing village along Lake Chad.
"They opened fire from all directions, forcing residents to jump into the lake in a bid to escape, and many drowned while others were gunned down," said Babagana Gwoni, a survivor of the attack, told CNN.
The terrorist group ransacked the town's fish and food supplies and torched its homes before leaving the village.
Christians living in Yobe, Borno and Adamawa, the country's three north-eastern states, are particularly susceptible to violence, as the majority of Nigeria's Christians live in the south, while its Muslim population primarily resides in the north.
In May 2013, the Nigerian government ordered emergency rule for all three states with the hopes of better cracking down on the terrorist organization. Yet it is questionable whether the law has mitigated the violence. Since May, more than 1,200 people have been killed from fighting related to Boko Haram and Fulani herdsman.
The ethnic Fulani herdsmen, some of whom come from outside the country, have been accused of colluding with Boko Haram, which also has ties to Al-Qaeda. The groups have used bombings, mass shootings and kidnappings in order to terrorize the Christian communities and drive them out of their homes.
According to Ann Bulwalda, the executive director of the Jubilee campaign: "Approximately 60 percent of the world's Christians that were killed for their faith [in 2013 were] in Northern Nigeria."