Islamic Radicals Chant 'Allahu Akbar' as They Hack to Death Atheist Student on Terror Hit List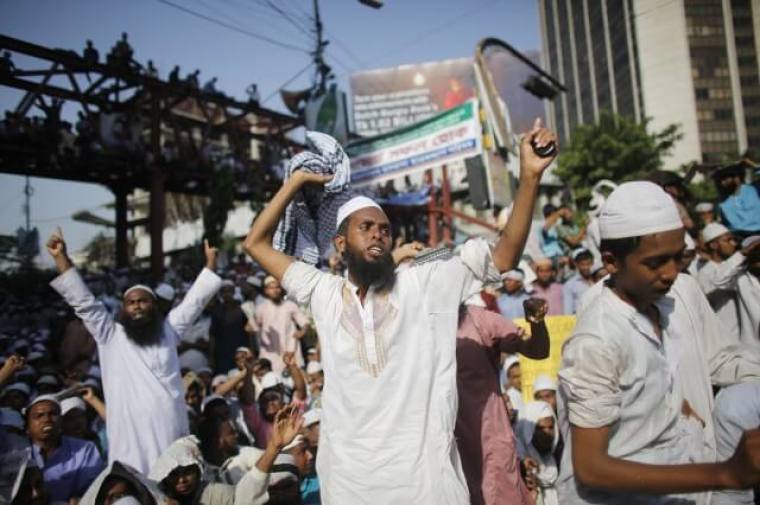 Suspected Islamic radicals hacked a student to death on the streets of Dhaka and were reportedly heard chanting "Allahu Akbar" during the murder.
Dhaka Tribune reported that the student, 28-year-old Nazimuddin Samad, was a law student at Jagannath University, who campaigned for secular causes on Facebook and spoke out against radical Islam.
Police in Dhaka said Samad was walking home with a friend following classes Wednesday night near Bahadur Shah Park when they were attacked by three assailants. The killers apparently intercepted the two student on a motorcycle and attacked them with machetes, hacking Samad to death, and later shooting him to make sure he was dead.
"He was on his way back home from his evening classes when he was circled by a group of three to four people," Senior Assistant Police Commissioner Nurul Amin of the Dhaka Police told CNN.
"First the attackers hacked Samad with machetes, then shot him."
Locals told police that the killers were chanting "Allahu Akbar" while carrying out the murder.
It is not yet clear what happened with the friend accompanying the secular student.
Imran Sarker, who leads a blogging and online activist network in Bangladesh, shared that Samad regularly posted on Facebook expressing views opposed to radical Islam.
"He was very vocal on issues of religious fundamentalism, war crimes, minority issues, corruption and injustice against women," Sarker told CNN.
Officials said the murder was a pre-planned attack, making it the sixth murder of a secular writer or publisher in Dhaka in 16 months.
In August it was revealed that at least 84 bloggers in Bangladesh who have spoken out against radical Islam are on a terror hit list. A number of the atheists have been killed by extremists wielding machetes.
Although Bangladesh remains an officially secular country, secular critics of the government often accuse authorities of not punishing radical attackers harshly enough, and not providing sufficient protection for those who do not follow the Islamic religion.
World leaders, including United Nations Secretary General Ban Ki-Moon, have denounced such attacks, noting that they impact on the exercise of freedom of expression in Bangladesh.
"He (Ban Ki-Moon) calls on the government of Bangladesh to bring those responsible for the murder of Neel and the other bloggers to justice in an expeditious manner and act to ensure that all Bangladeshis can enjoy freedom of expression and all other human rights without fear," the U.N. said following the murder of another atheits blogger, Niloy Neel.
JnU Proctor Nur Mohammad meanwhile revealed that Samad's family has been informed of his murder, as they await further details.
Police are asking locals who witnessed the murder to share more information about the assailants, which will help them identify the suspects.