James Dobson Awarded Winston Churchill Lifetime Achievement Award; Vows to Keep Fighting for Family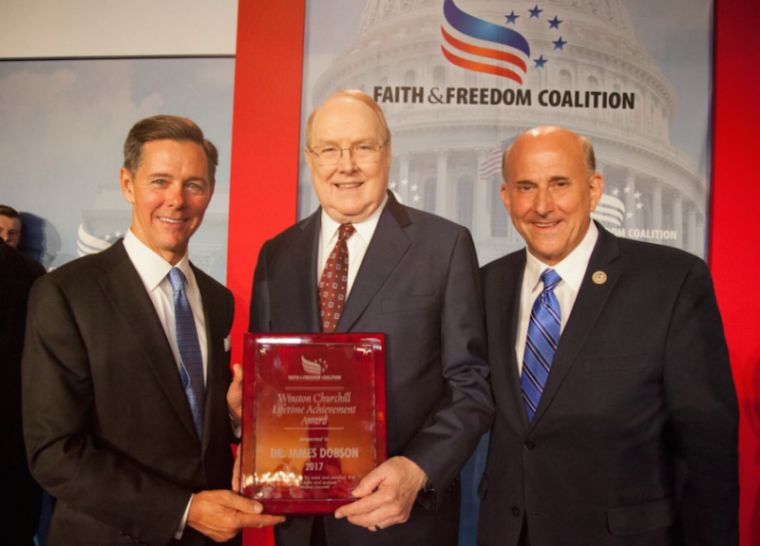 Evangelical Christian author Dr. James Dobson, founder and president of Family Talk, was presented with the Winston Churchill Lifetime Achievement Award at the Faith & Freedom Coalition's Patriot's Gala on Saturday. He issued a warning on moral issues in America.
Dobson, who is also the founder of Focus on the Family and served five U.S. presidents, was recognized for his 40 years in ministry and service to the American family and to the evangelical conservative movement. Previous recipients of the award include Phyllis Schlafly, Beverly LaHaye and Pat Robertson.
"Honored" to receive the award, Dobson stated, "I have been blessed to serve the institution of the family alongside so many talented and passionate individuals all of these years. It's on their behalf, as well as all the families that kept our ministry on the air for 40 years that I will humbly accept this award."
He stressed that he and his wife, Shirley, will continue fighting for family causes in their ministry.
"I pray that the work we are doing now, and in the years ahead, will continue to be a blessing to many generations to come," he vowed.
He also stressed that voters have an obligation to pass conservative ideas to the next generation, stating, "We need to do that for our sons and daughters because the moral issues are even poorer understood than before."
Faith & Freedom Coalition Chairman Ralph Reed presented Dobson with the award, noting that he has "served at the forefront of the evangelical conservative movement in America for decades, fighting for traditional marriage, the sanctity of human life and encouraging godly families."
"There is no one in this country who has done more to promote the values that Faith & Freedom stands for, and no one more deserving of this honor than Dr. Dobson," Reed added.
Dobson's ministry has largely focused on providing psychologically sound, biblically-based counsel on marriage, and has been referred to by publications such as The New York Times as "the most influential evangelical leader in the country."
Vice President Mike Pence, who congratulated Dobson on his award, also spoke at the Road to Majority conference, and told Christians that President Donald Trump is "fighting hard" for them.
Pence said that Trump will "never stop fighting for the values and ideals that make this nation great."
And "[Trump] is fighting hard for all of you," he stated, addressing the conservative audience.
Pence referred to Dobson as "his mentor."
"You've done more for faith and freedom in your lifetime ... than any one person could do in ten lifetimes," he told the conservative leader.
"Not only is your country grateful, but I say with confidence, great is your reward. You've made an eternal difference in the lives of millions."
Trump himself also congratulated Dobson in advance of the award, describing his work throughout the years as "amazing."
"Family is the foundation of American Life and we are proud to stand together with all of you to promote and protect family values," Trump said on Thursday at the beginning of the three-day conference.
"We are going to battle for every American who has lost a job, for every family who has lost a loved one, for every American of faith who has lost their rights and lost their freedom. The forgotten men and women will never, ever be forgotten again," Trump added.