Jesus' Burial Chamber Uncovered for First Time in Nearly 500 Years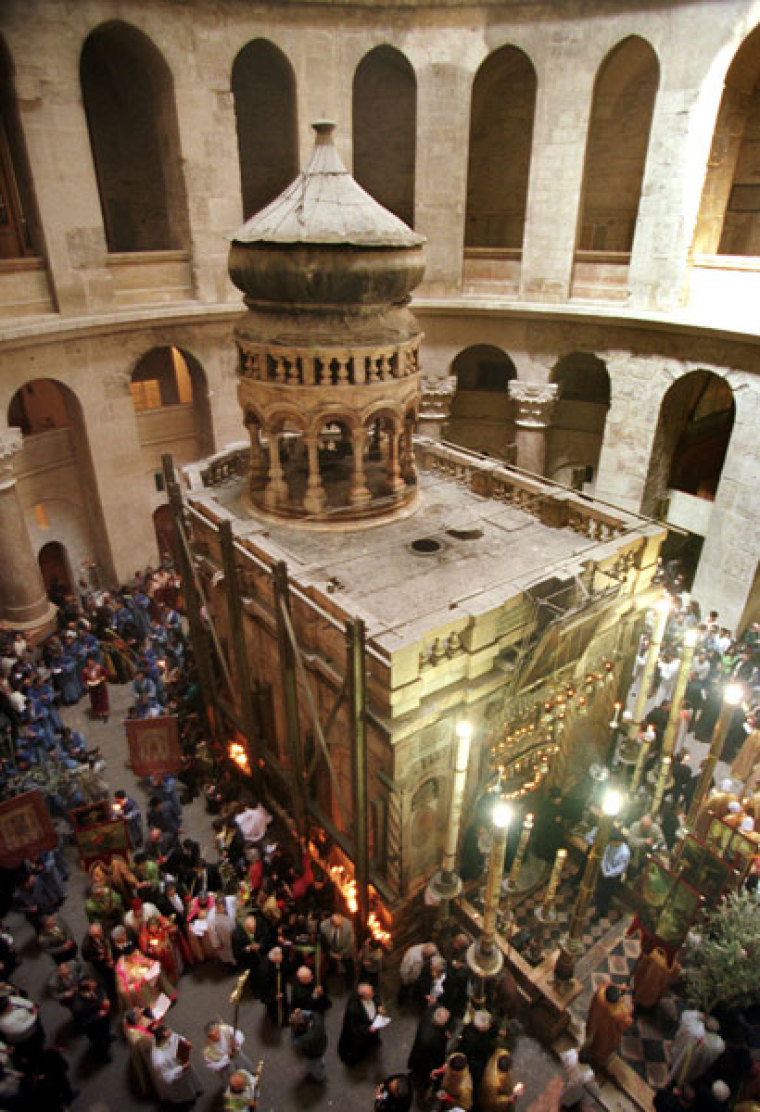 Scientists have reportedly uncovered for the first time since 1555 an ancient slab inside a chamber in the Church of the Holy Sepulchre in Jerusalem, which is believed to have once held Jesus' body.
The National Geographic reported that the slab in question had been covered by marble cladding since at least the mid 16th century.
"The marble covering of the tomb has been pulled back, and we were surprised by the amount of fill material beneath it," said archaeologist Fredrik Hiebert, a partner in the restoration project at Jesus' tomb. "It will be a long scientific analysis, but we will finally be able to see the original rock surface on which, according to tradition, the body of Christ was laid."
Jesus was crucified by the Romans somewhere around A.D. 30, as Christians believe, and His body was laid on a limestone slab in a tomb, before He resurrected from the dead. The women who came to anoint His body three days after his burial found that He was missing.
The Church of Holy Sepulchre is currently undergoing a massive restoration project, spearheaded by the leaders of three religious denominations who have control over the site - namely the the Greek Orthodox, Roman Catholic and Armenian Orthodox churches.
The $3.4 million project that will include peeling away layers of the tomb's outside, cleaning them and repairing them, reports earlier this year said.
The burial slab where Jesus' body is believed to have been laid is enclosed within a small structure known as the Edicule inside the tomb. MailOnine pointed out that the Edicule stands only a few hundreds yards from the site where Christ is believed to have been crucified.
Researchers are using the reconstruction as an opportunity to study the original surface of the tomb, and how it evolved as an important point of veneration for Christians.
"We are at the critical moment for rehabilitating the Edicule," said Chief Scientific Supervisor Professor Antonia Moropoulou of the National Technical University of Athens.
"The techniques we're using to document this unique monument will enable the world to study our findings as if they themselves were in the tomb of Christ."
The tomb has needed renovation for many years, as it suffered serious damage following an earthquake in 1927. The latest efforts to restore the site have been helped by notable donors, including Jordan's King Abdullah II, who gave close to $1.3 million to the project.
The Greek-Orthodox Patriarch of Jerusalem, Theophilos III, praised the gesture as a sign that Christians and Muslims can work together.
"His majesty constantly reiterates that Jerusalem's Muslim and Christian holy sites are a red line, which Jordan will not permit to be crossed. Also, that Jordan continues to uphold its religious and historic responsibilities toward the entirety of Al Haram Al Sharif with the utmost commitment and seriousness," Theophilos III said at the time.