Billy Graham Center to Display Jesus Sculpture Covered in Dirt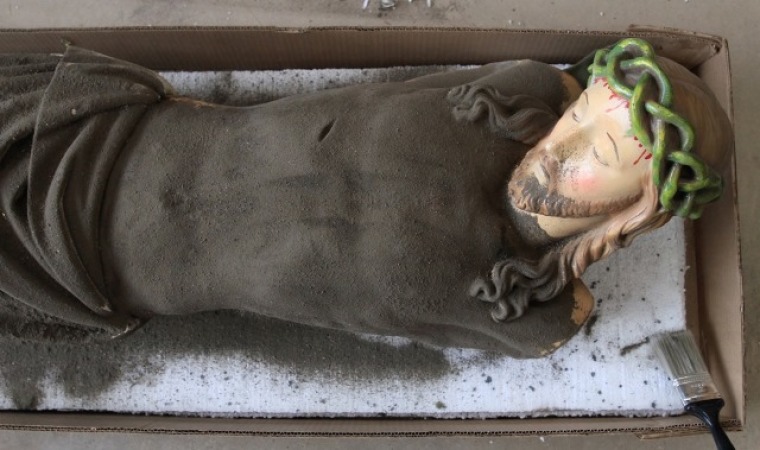 A 5-foot-tall ceramic sculpture of the crucified Jesus Christ covered in vacuum dust collected by the custodial staff at Wheaton College in Wheaton, Ill., will debut in the Biblical and Theological Studies department at the Billy Graham Center on April 22.
The display will be part of a 27-piece collection of Christian art created by Wheaton College staff, but none will be as controversial as the piece created by associate professor of art, David J.P. Hooker.
At first glance, seeing Jesus covered in a mass of dirt, skin cells, human hair and carpet fibers is alarming, but Hooker explains the art is not intended to be sacrilegious, but a representation of Jesus sacrificing himself to atone for the sins of humanity.
Hooker, who has named his sculpture "Corpus," told The Christian Post that he was terrified and resistant to the idea of creating a piece that dealt with the death and resurrection of Jesus.
"Jeffrey Greenman, [associate dean of Biblical and Theological Studies at Wheaton College], asked me if I would consider making a work for the department's new space," Hooker said. "So I started a process in which I was thinking with Jeffrey about a biblically-themed work that would fit the department."
"This is a subject I have never wanted to deal with," Hooker explained. "It's just too big for me. I mean, it is the epicenter of everything I believe in. How can you make a work of art about that?"
After a few days of contemplation, Hooker said he began to see how his ideas were coming together. "My interest in dirt, my interest in the history of objects, my fascination with the communion of saints and love of ritual."
Hooker thought his idea would be too controversial for the department, and he'd be "off the hook." Instead, Greenman was supportive of his idea, and so he started the process of creating the sculpture, which he said continues to be a difficult subject.
"There's been a lot of small revelations along the way," Hooker said about his work, in which he uses materials that are humble and often overlooked and discarded, as he examines the complex relationship between the sacred and the mundane.
"One of the interesting things for me has been the ways in which I have felt the physicality of Jesus' humanity while working on the piece," Hooker said. "I've been moved mostly by working on the feet and sides of the torso. There's something so vulnerable about those parts of the body, and how they are exposed."
Hooker has received 11 bags of dirt from the custodial staff, which he says have been supportive of his work. So far, he's used four bags of debris, and expects to use one or two more to compete the piece.
"My motivation for making work is much more related to an exploration of the materials than using them to explain an idea I may have," Hooker said. "These explorations are generally through a kind of ritualistic process that allows me time to contemplate and develop a kind of personal relationship with the materials as well as the form and space of the sculpture."
"So in a way, what I'm hoping the final work will do is invite others to contemplate and share in that journey of discovery," he added. "This really means I'm asking a lot of the viewer."
Although the piece isn't yet finished, Hooker sees it as displaying a universal message of hope.
"There's something hopeful in the affirmation that all creation is good, that we are miraculously grafted into Christ's body." Hooker said. "When people hear about the piece, I think they see it primarily about Jesus' death, a Good Friday artwork. I'm seeing more and more about his resurrection, an Easter Sunday artwork. I hope that will come through when it's finished."
Greenman believes the sculpture provides an accurate visual of humanity's sin "represented artistically by the ordinary dirt that covers Jesus' body. The pure and holy son of God becomes 'dirty' out of his love for human beings by suffering and dying in our place and on our behalf as sinners, in order that we might be cleansed, forgiven and set free to live in obedience to God. Through his blood spilled at the cross, Jesus washes away our dirt. His death brings us life."
"The fact that the body of Jesus is covered with material from vacuum cleaner bags collected from across campus is a tangible way of indicating our community's direct, everyday participation in the reality that the cross reveals," Greenman said about the sculpture that will be on permanent display in the department. "…we are confessing as a community of faith that we are sinners needing our dirt to be washed away, confident that Jesus has taken our dirt upon himself so that we might be cleansed."
Greenman added that Hooker's sculpture provides viewers the opportunity to respond to God's truth. "It asks us to pause, reflect, and even prayerfully meditate on the Bible's message that Jesus paid the penalty for our sins, mine and yours."
For Hooker, the sculpture displays emotions of both sorrow and the hope. "The tension between the two, and the mystery; I'm often reminded of 2 Corinthians 5:21: 'For our sake he made him to be sin who knew no sin, so that in him we might become the righteousness of God.' That verse, more than any other, is central to how I think about the piece."