Jews Are Saved Even Without Believing in Christ, Vatican Claims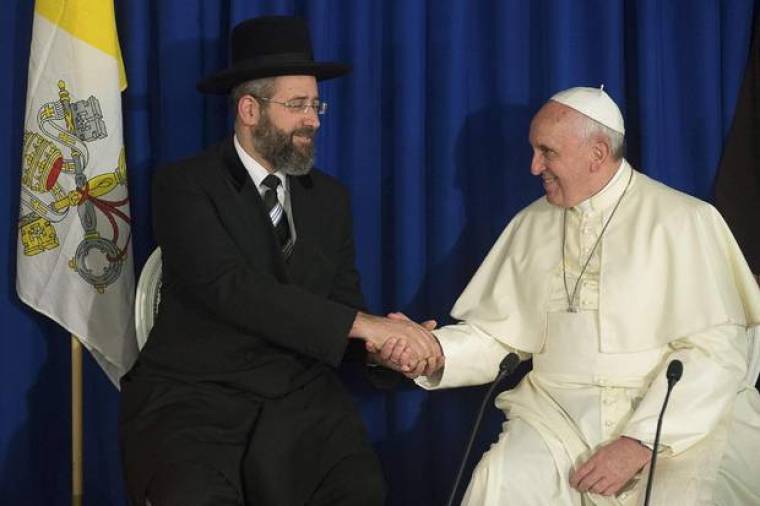 The Vatican's Commission for Religious Relations with Jews has released a major new document claiming that Jews are saved even without believing in Jesus Christ.
The theological document, titled "The Gifts and Calling of God are irrevocable," was presented by a group of Catholic and Jewish leaders during a press conference at the Vatican on Thursday.
"That the Jews are participants in God's salvation is theologically unquestionable, but how that can be possible without confessing Christ explicitly, is and remains an unfathomable divine mystery," the document argues, in part.
The theologians, including Cardinal Kurt Koch and Fr. Norbert Hofmann of the Vatican Commission, reflect on that "mystery," but note that Catholic doctrine rejects that there can be more than one path to God.
"Since God has never revoked his covenant with his people Israel, there cannot be different paths or approaches to God's salvation," they add.
"The theory that there may be two different paths to salvation, the Jewish path without Christ and the path with the Christ, whom Christians believe is Jesus of Nazareth, would in fact endanger the foundations of Christian faith."
The document further talks of a "highly complex theological question" in how "Christian belief in the universal salvific significance of Jesus Christ can be combined in a coherent way with the equally clear statement of faith in the never-revoked covenant of God with Israel."
The Vatican also says that conversion outreach efforts by Christians toward Jewish people are a "very delicate and sensitive matter."
It says that it "neither conducts nor supports any specific institutional mission work directed toward Jews," but at the same time notes that Christians are "called to bear witness to their faith in Jesus Christ also to Jews."
The text concludes by stating that Jews and Christians come together through "humanitarian aid for justice and peace in the world" in which they "bear witness to the loving care of God."
"No longer in confrontational opposition but cooperating side by side, Jews and Christians should seek to strive for a better world," it states, adding the words of Pope John Paul II from November 1980, when the pontiff said that Jews and Christians must commit themselves together for peace for all people, "with the fullness and depth that God Himself intended us to have, and with the readiness for sacrifices that this goal may demand."
Israeli news site Arutz Sheva said that Catholic-Jewish relations have been improved under Pope Francis, who once jointly published a book on ethics, morality and faith with his long-standing friend and Argentinian Rabbi Abraham Skorka.
Francis is also to become the third pope in history to visit Rome's main synagogue on Jan. 17, 2016.
Back in September, Francis greeted the Jewish community around the world on Yom Kippur, the Day of Atonement on the Hebrew calendar.
"I would like to send my greetings to the Hebrew community, to our Jewish brothers, for whom today is a sacred day, Yom Kippur," Francis said during a visit to Washington D.C. "I hope the Lord brings down his blessing of peace and will keep in life and holiness, according to the Word of the Lord we have heard today: Be Holy, for I am Holy," he added.