Jill Duggar 5 Days Overdue, Spending Time Volunteering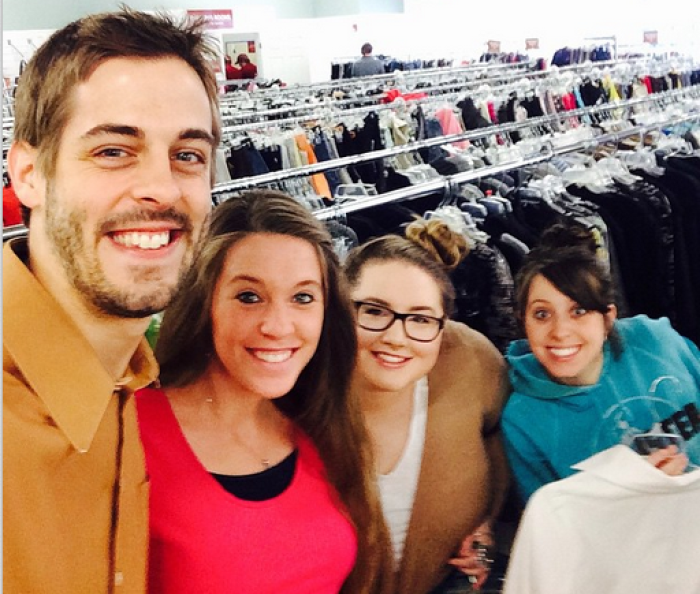 "19 Kids & Counting" star Jill Duggar is now six days past her due date but has no plans of slowing down; she and husband Derick Dillard volunteered at the Compassion Center on Saturday.
Duggar and Dillard posted a photo of themselves happily volunteering on Saturday, showing that Baby Dilly had not yet made his entrance. However, Duggar previously told People magazine that she didn't expect her little boy to arrive on time.
"I have told myself, 'First-time moms often go a week and a half over, so don't get discouraged,'" Duggar said. She noted she was "planning on the baby coming late, no big deal—if you have it in your head that way, you won't get discouraged." She also revealed that if the baby did not arrive on May 24, his due date, he would likely arrive on April 5.
Duggar is a midwife-in-training and studying to take her exam later this year. She recently helped deliver a baby and said that it's a unique opportunity to study for her exam while being pregnant.
"It is really exciting to be studying this when pregnant. It takes on a whole different light when you are studying about what you are going through," Duggar explained.
She and Dillard celebrated their engagement anniversary on Sunday and posted a photo of the special day to Instagram.
"One year ago today, the sweetest man in the whole world asked me to marry him! I said, 'yes, totally!' … now, 9 months into marriage we await the arrival of our little #babydilly," Duggar wrote.
The couple spoke with The Christian Post not long after announcing the pregnancy and shared what they hoped for their child and any other children they may have.
"It's really exciting just thinking about being parents," Duggar said. "I'm sure we'll be getting plenty of advice from our parents. I've always dreamed of being a mother and having kids and so it's something that I've prepared for while growing up and taking care of babies and loving on them."
"I had heard less about parenting than Jill, but getting to experience that ourselves and finally being at the point, that season in our lives," Dillard said. "Ultimately, we want to be an example for them … and help them be open, not afraid to come to us about anything."