John Crist pokes fun at virtual reality churches in hilarious new video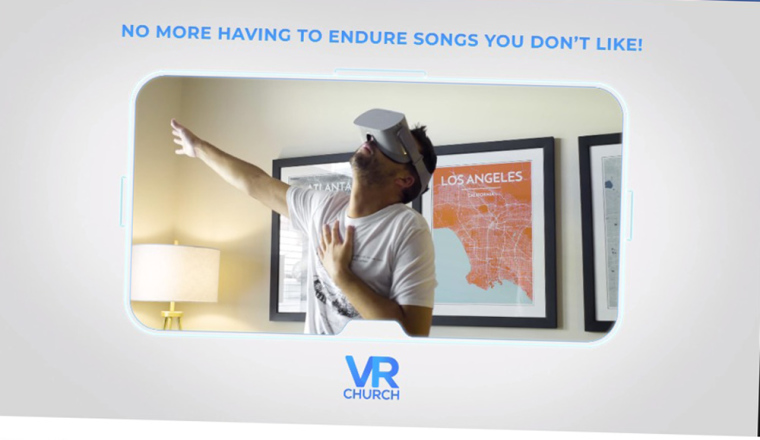 Popular Christian comedian John Crist has uploaded a new video to his widely followed YouTube account poking fun at virtual reality worship services.
In a sketch uploaded Tuesday, the Crist video is a mock advertisement for a virtual reality system for people to use instead of going to a church.
"Choose your own denomination, worship leader and sermon topic, all from the comfort of your couch," reads the video's description.
The satirical ad notes that the virtual reality church will help provide the correct clothing for the chosen worship service, the type of worship, and allow people to skip social interactions including "that awkward hold hands with the person next to you thing we still do."
Further custom options allow the user to choose how skinny their worship leader's jeans can be and an option for the simulation to tell the user when their favorite football team is playing.
"Finally, an option for people asking the question, 'How can I make Sunday morning even more about me?'" jokingly stated Crist.
Skye Jethani, an author and pastor who co-hosts the Holy Post podcast, explained on social media that while the video was satirical he considered it "the logical endpoint of popular Consumer Christianity."
"The values mocked here are taken very seriously in 'video venue' churches offering different worship styles every weekend & by church growth gurus surveying attenders' preferences," tweeted Jethani.
The concept of virtual reality churches has been the subject of debate, with at least one Los Angeles, California-based entity, named VR Church, planning to offer such services.
"Our mission is to explore and communicate God through virtual reality, augmented reality, and next generation technologies. All are welcome to attend our services," the VR Church website says.
Pastor Christopher Benek, who specializes in theology and technology, saw a benefit to developing VR tech to help the physically disabled and others unable to be physically present at a worship service.
"The main impact that VR is going to have on the global church is that it is going to, one-day, enable Christians to easily gather from a variety of places without being in the same physical location," Benek wrote in a 2015 op-ed published by The Christian Post.
"This will enable persons who are homebound, sick, caregivers, without transportation, on vacation, or severely disabled to participate in worship with the larger community of faith without needing to leave the place where they are physically residing."
Roger E. Olson, professor of Christian Theology of Ethics at George W. Truett Theological Seminary of Baylor University in Waco, Texas, warned that virtual reality churches would have issues with pastoral ministry.
"Can a pastor really 'pastor' (shepherd) a congregation if he or she never is among them?" asked Olson in a blog post from January.
"Is there really total commensurability — spiritually — between seeing and hearing a local pastor preach, pray and teach bodily, physically, and seeing and hearing a speaker via satellite feed or internet connection?"